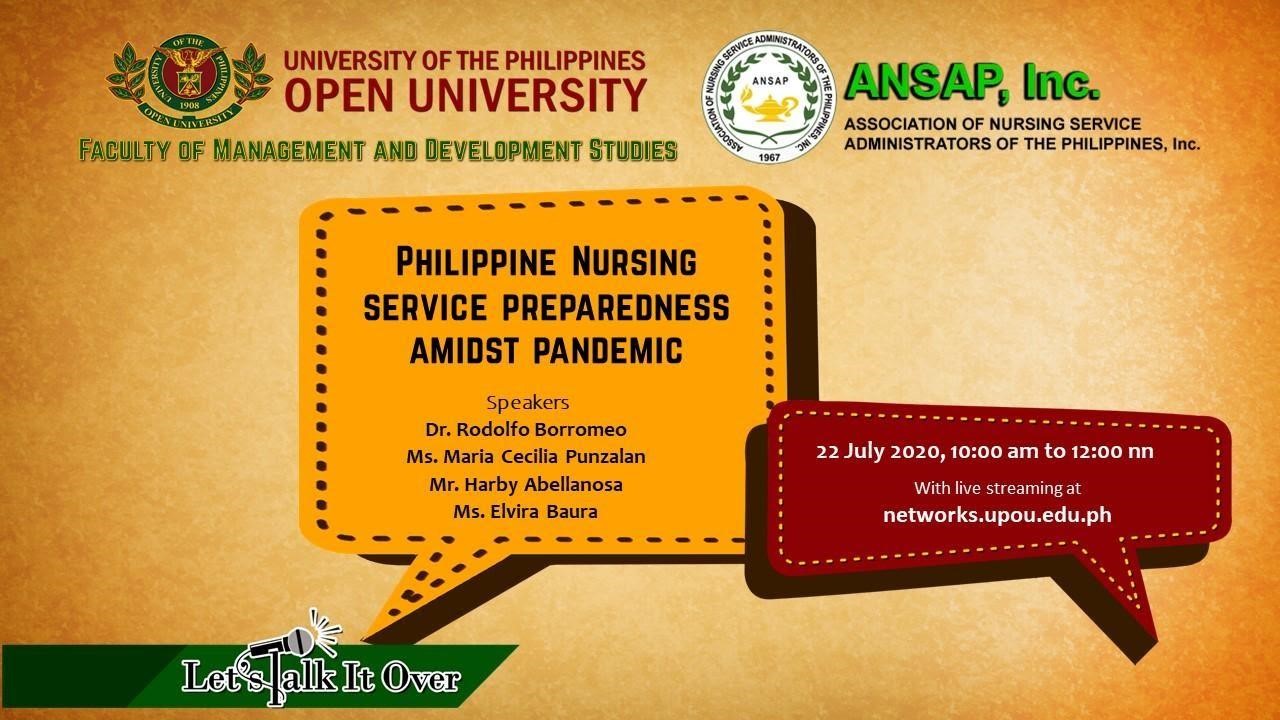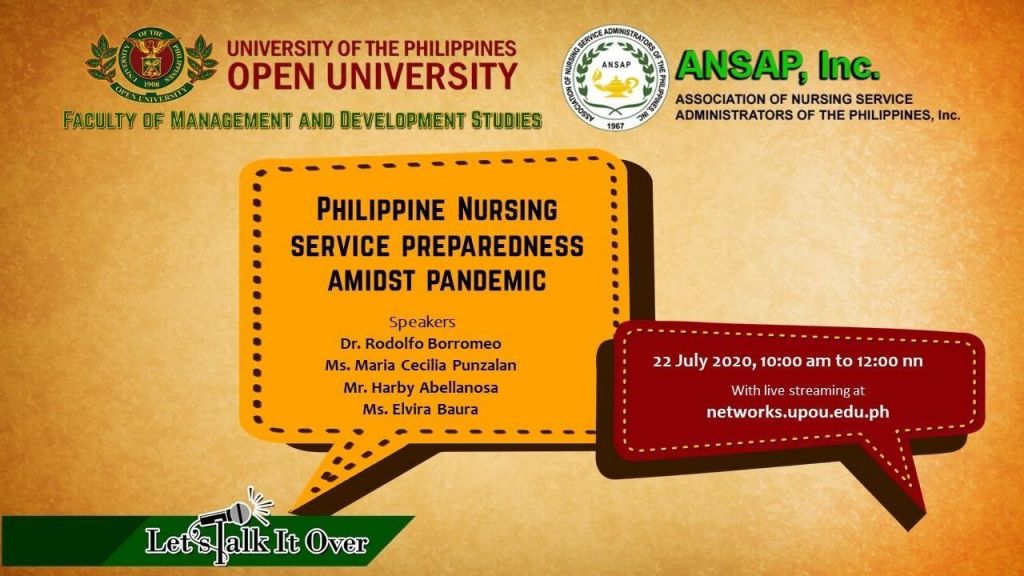 The University of the Philippines Open University's Faculty of Management and Development Studies (FMDS), Master of Arts in Nursing (MAN) program organized a Let's Talk it Over (LTiO) webinar on "Public Health Preparedness amidst Pandemic: Nursing Experience" on 24 September 2020 livesreamed via UPOU Networks.
Ms. Nelia A. Rafael of the Manila Health Department shared the challenges that the nurses encountered, such as the sudden shift in their daily routine, depletion of human resources, fear of the unknown disease, and double-burden responsibility. Despite these challenges, the nurses' resilience and commitment to their job helped the community as they adapted and transformed themselves to overcome this pandemic. Ms. Rafael said that when they looked back at this pandemic, they will be able to say that they are public health workers – frontliners who faced COVID-19.
Ms. Leizyl Marie Omena, public health nurse from San Enrique Iloilo, discussed how this pandemic changed their lives as nurses. She emphasized that nurses cannot beat this disease alone, and they need to collaborate and work hand-in-hand with other sectors. She discussed their best practices in contact tracing, infection prevention and control, laboratory access, clinical care, and logistics support. Ms. Omena said that we have to understand that difficult decisions will be made to protect people's lives and there should be a balance between public safety and economic interest, which in turn, will help us get through the challenges during these trying times.
Ms. Meg Leslie Yu of the City Health Office of Cagayan de Oro presented their strategies in dealing with the current situation in their city. They intensified health education in the community and placed informational materials in strategic areas since prevention is the heart of public health. Ms. Yu shared some of their data to further discuss the situation in their community. She emphasized that as part of the implementing body, nurses need to be aware of all the protocols and be able to coordinate with other health workers, different agencies, and authorities. She ended the discussion by stating that caring for people is a part of the public health workers' lives not just in health but also in other aspects such as giving free food or meals, providing transportation, and even giving advice when someone came to them talking about their problems.   
MAN Assistant Professors and webinar moderators Rita C. Ramos and Ria Valerie Cabanes, closed the event by concluding that in public health, embracing the new normal does not mean setting aside all other health programs  and regular services and just focusing on this COVID-19 pandemic; nursing professionals  must continue doing all their regular health programs and at the same time adjust to the current situation to provide the best health care to their community. With over 2000 online participants, the MAN program hopes that this webinar served its purpose of sharing the reality that our frontliners are experiencing amidst this pandemic. 
Written by Rachel Anne Chin Sales
Edited by Larry Cruz & Primo G. Garcia