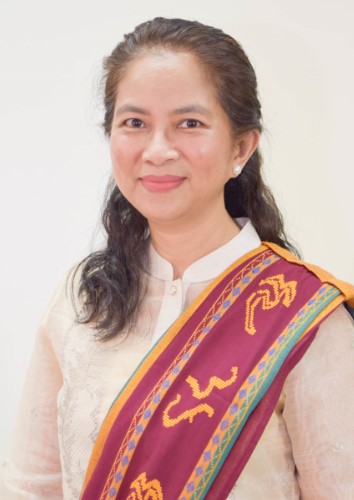 Dr. Maripres U. Sarinas, Assistant Professor of the University of the Philippines Open University (UPOU) Faculty of Management and Development Studies (FMDS), was appointed as the new Secretary to the Faculty of FMDS effective 06 February 2020. She succeeded Asst. Prof. Rita C. Ramos who served for four years and who has been recently appointed as the University Registrar.
Dr. Sarinas obtained her Bachelor's degree in Agricultural Business, Master's degree in Public Affairs and PhD degree in Environmental Science from the University of the Philippines Los Baños. Prior to being hired as a faculty, she was a University Extension Associate – Research, Extension and Professional Staff (REPS) in the same unit.
Dr. Sarinas' research interests focus on community-based approaches to natural resource conservation and management. She has also presented several research works in local and international conferences.
Dr. Sarinas also served as a course coordinator for continuing education programs or non-formal courses offered by FMDS – the Satoyama Online: Living in Harmony with Nature in 2015 and as co-Course Coordinator for Basic Land Use Planning in 2016. Upon her return to UPOU after finishing her Phd in 2019, Dr. Sarinas became a faculty member under the Graduate Certificate in/Master of ASEAN Studies program. (JFDePasion-Guevarra)