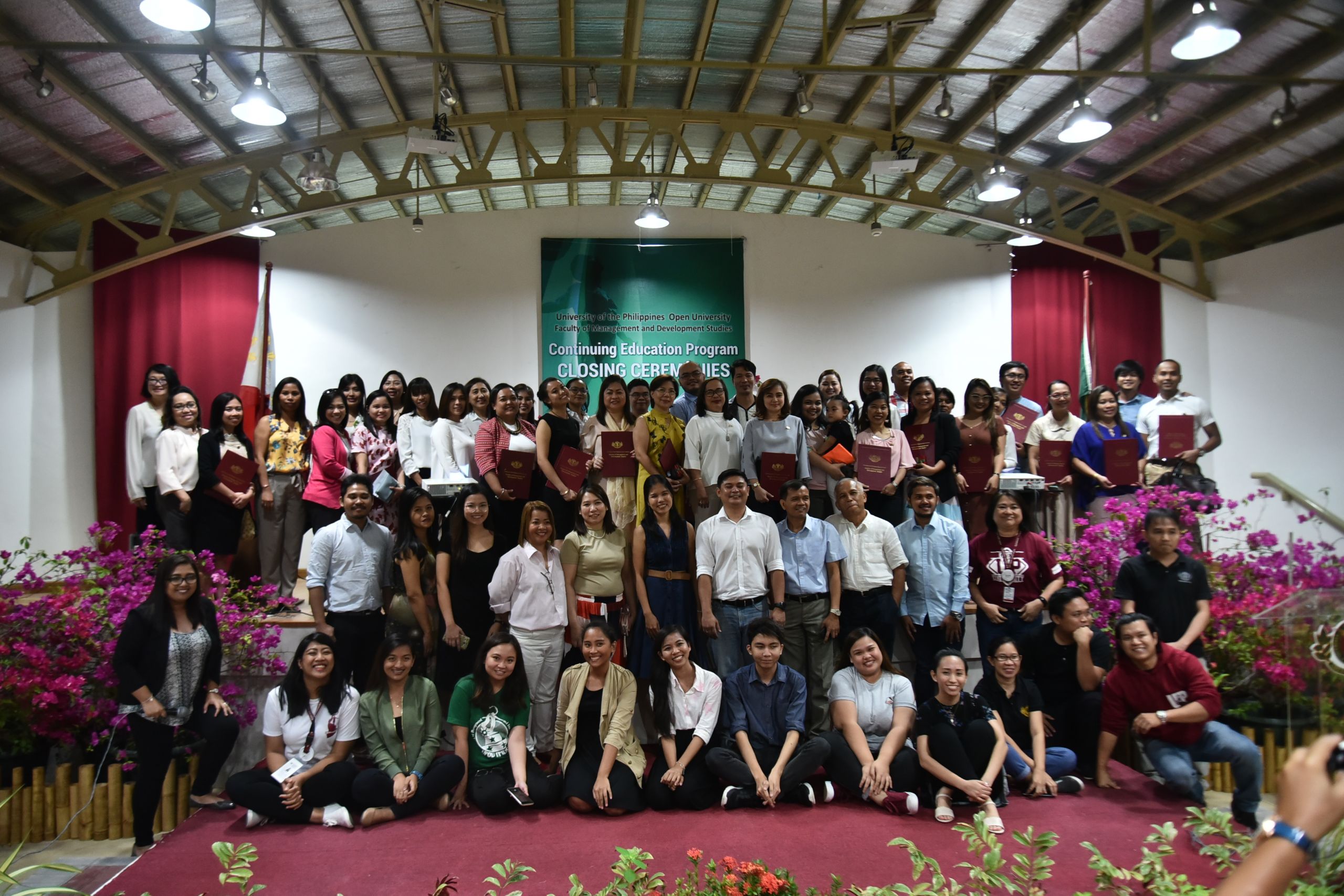 The Faculty of Management and Development Studies (FMDS) of the University of the Philippines Open University (UPOU) recognized its course completers and top learners in the Continuing Education Program (CEP) Closing Ceremonies held on 1 December 2018 at the Centennial Center for Digital Learning (CCDL) Auditorium, UPOU Headquarters, Los Baños, Laguna.
A total of 176 completers from 10 courses have received their certificates of completion during the ceremonies. FMDS recognized 67 of these learners with distinction and 32 with high distinction. The awarding of certificates was facilitated by Asst. Prof. Rita C. Ramos, FMDS Secretary to the Faculty.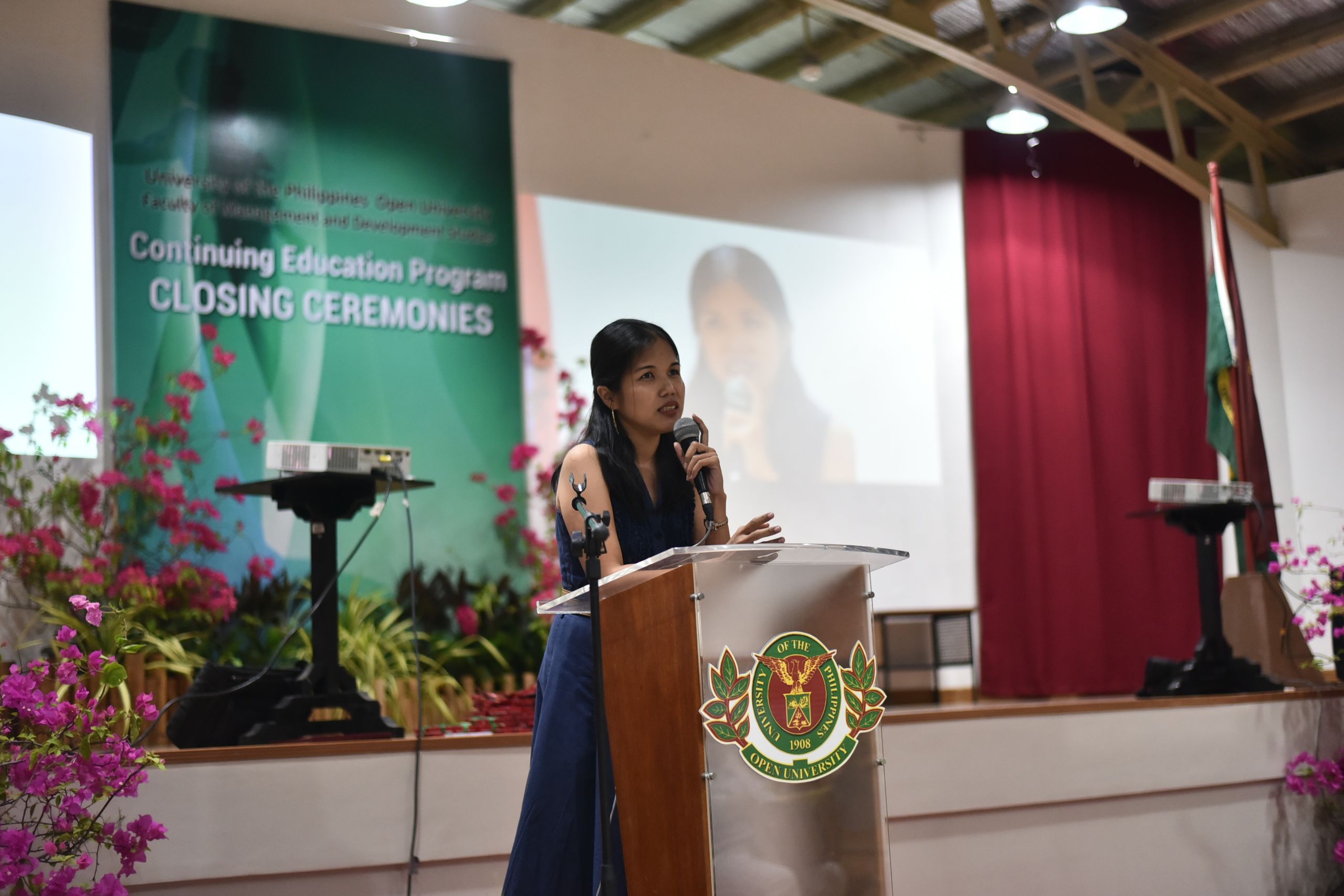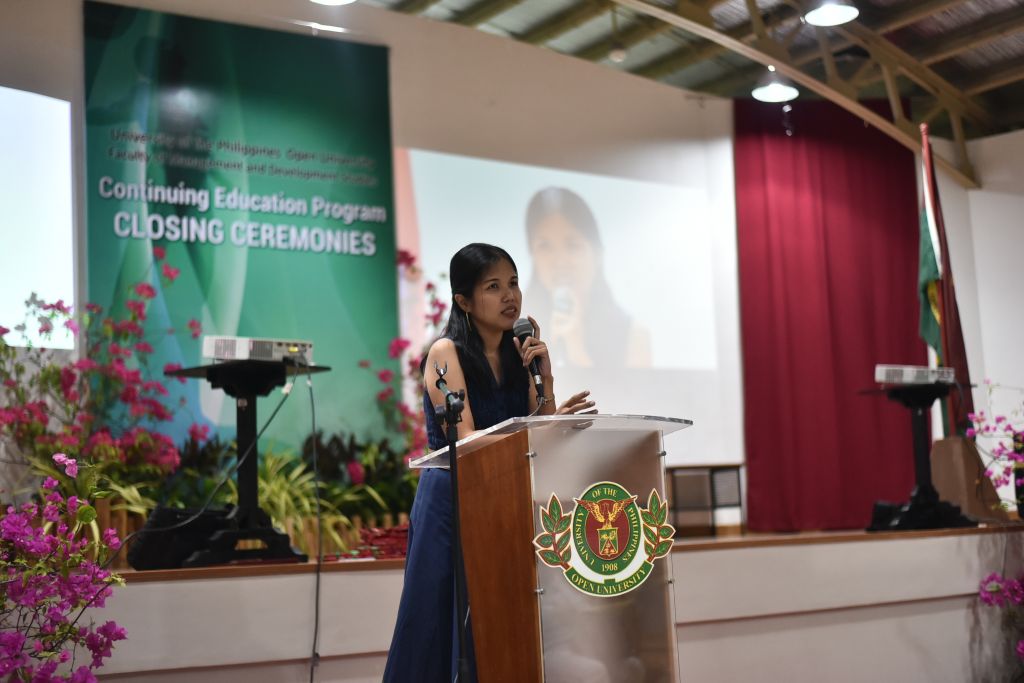 Entrepreneur and CEP alumna Cherrys O. Abrigo was the guest speaker for the ceremonies. Abrigo finished the Organic Agriculture Course under the FMDS in December 2016 and is now the owner of a environmentally conscious enterprise, Sierreza Zero-waste and Artisan Cafe. At the ceremonies, she recounted her experiences from being a student volunteer with the Ugnayan ng Pahinungod, to being a successful and experienced figure in the corporate world, and returning to community service with her learnings from her previous work as well as the lifelong learning that she continues to pursue, with FMDS among others. In her speech, Abrigo emphasized the importance of passion towards one's work and the conscious consideration of the larger community in one's endeavor.
The ceremonies also included messages from the top learners who completed with the highest distinctions in their respective courses. The representatives for the Health and Social Development Cluster who delivered their messages were:
Irish Mae C. Chiu, CCSN
Leona Paula L. Macalintal and Dave P. Calubaquib, FMNP
Ruby Jean P. Sabremonte, RUNA
For the Environmental Cluster, the top students who represented their respective courses were:
Marie Antoinette F. Bangabang, CCA&DRM
Cassandra R. Soto, OA
Elvie A. Ochoa, RCRANRM
Lastly, the representatives for the Entrepreneurship Cluster were:
Kathrina A. Hernandez, eCom
Ria Katrina Ixara Instrella, NEP
Christopher P. Cheng, PED
Marlyn B. Pedro, SAfE
The course representatives shared their experiences as learners in their respective courses. They emphasized the advantages of the flexible and convenient open and distance learning offered in UPOU. They also expressed their gratitude to the FMDS-CEP Team, their Course Coordinators, classmates, family, and friends.
Asst. Prof. Rita C. Ramos delivered the opening remarks while Mr. Larry N. Cruz, FMDS-CEP Program Development Associate, gave the closing remarks. Ms. Jeniffer F. de Pasion, University Extension Associate, served as the Master of Ceremonies.
Completers who could not physically make it to the event remained connected with the ceremonies through the UPOU Networks live streaming. This service was provided by the UPOU's Multimedia Center in collaboration with the UPOU's Information and Communication Technology Development Office. The UPOU's Information Office, on the other hand, provided assistance in the photodocumentation of the event. (ACDelValle)