DOST Secretary Inspires Completers in CEP Closing Rites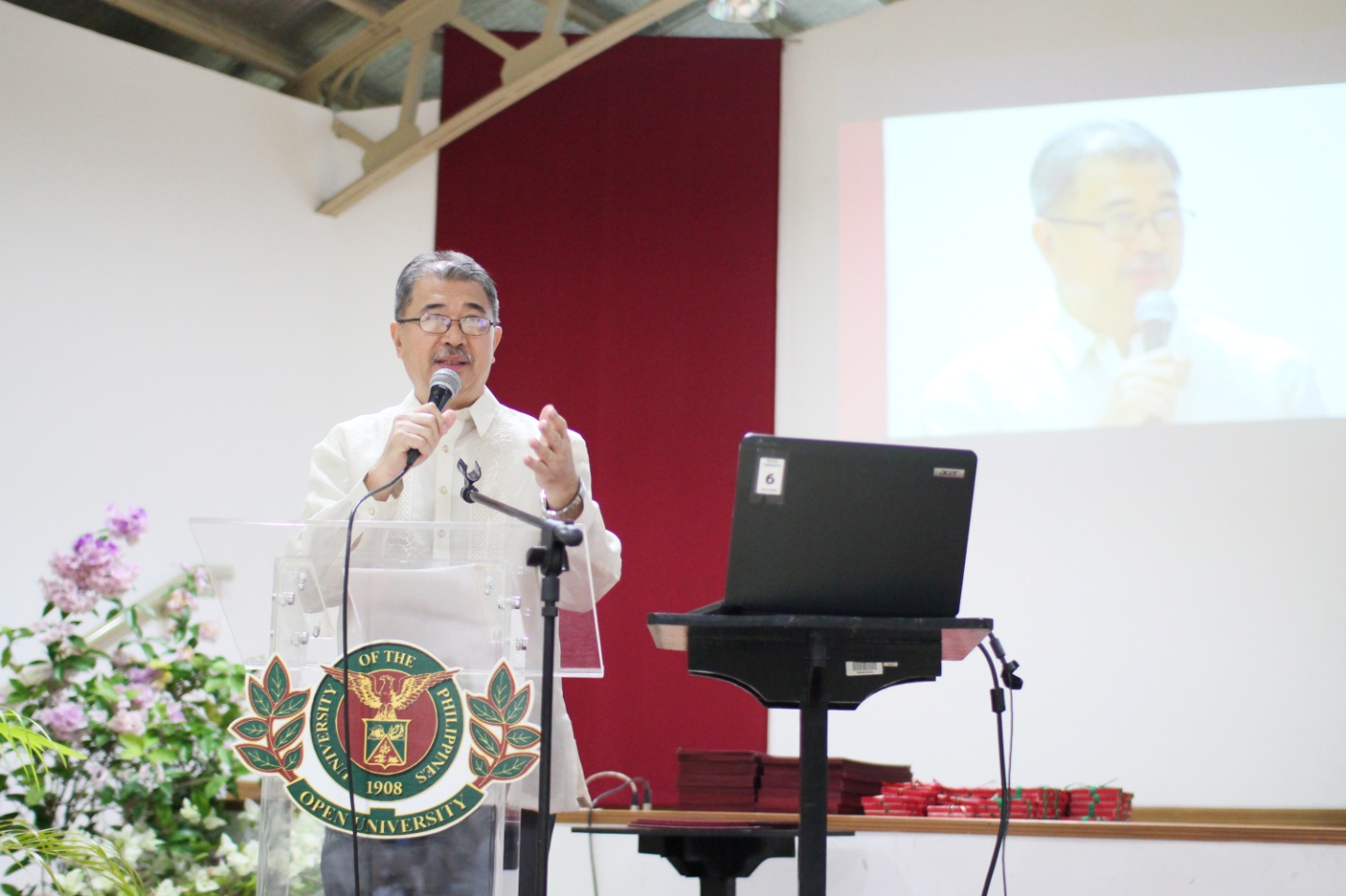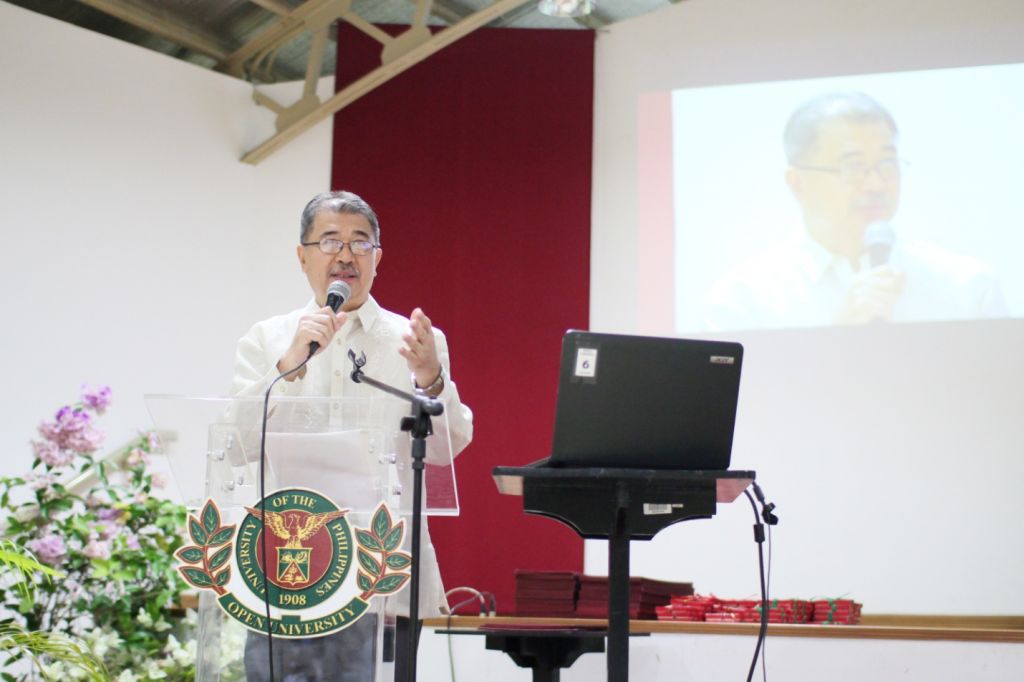 DOST Secretary Fortunato T. de la Peña gives his inspirational message to the CEP course completers
"If we are to ever progress as a nation, I sincerely believe that we will need many more people like you," Professor Fortunato T. de la Peña, Secretary of the Department of Science and Technology (DOST), told the 151 course completers in his inspirational message in the Continuing Education Program (CEP) Closing Ceremonies held by UPOU's Faculty of Management and Development Studies (FMDS) on December 03, 2pm, at the Centennial Center for Digital Learning (CCDL) Auditorium, UPOU Headquarters, Los Baños, Laguna.
Sec. de la Peña was instrumental in initiating the two longest running continuing education (non-formal) courses of UPOU—Personal Entrepreneurial Development (PED) and New Enterprise Planning (NEP)—which had touched the lives of over a thousand lifelong learners. He was the Director of the University of the Philippines-Institute of Small Scale Industries (UP-ISSI) when PED and NEP courses were conceptualized, developed, and delivered via distance education mode in the late '90s under the then School for Distance Education (SDE) of UPOU in UP Diliman. He also served as the first Course Coordinator of both courses when they were initially offered under the then Faculty of Management Sciences (FMS) of UPOU in 2002.
Expanding ICT application
At the start of his message, he noted how Information and Communications Technology (ICT) had broadened its applications. From Business Process Outsourcing (BPO), it has extended to highly technical and relevant scientific, technological, and creative realms. "My dear graduates, you are all shining testaments to the fact that ICT goes far and beyond BPO," he stated.
A well-deserved praise
Sec. de la Peña also commended the course completers in his speech. He said that their achievement is worthy of praise as they have acquired skills that would help them in their chosen careers.
Bedrocks of a progressive society
Despite the diversity of the learner's courses and motivations in taking up the course, he underscored that all of them share a common denominator—they are motivated and they all took the opportunity for self-improvement in UPOU. According to him, self-motivation and self-improvement, the two traits which he believes the learners possess, are the bedrock of a progressive society. Thus, he challenged them to share their knowledge and blessings for the benefit of the country and the Filipino people.
Government as primary arm in national development
He also emphasized that the government or the DOST, in particular, is always there to help the learners accomplish their mission. As Sec de la Peña said, the government has pledged to provide much greater support for the people who join them at the forefronts of national development.
CEP-related DOST programs
Sec. Dela Peña also shared some of DOST's programs/services which are in line with business/entrepreneurship, agriculture, and rural development. These are the Small Enterprise Technology Upgrading Program (SETUP), OneStore, and innovative packaging assistance which all assist small businesses and start-ups; and the Smart-Agri Program and Food Innovation Centers located nationwide which help increase agricultural productivity especially in the rural areas. Completers of CEP can take advantage of these programs as they pursue their business or social development initiatives.
DOST: Producing high-quality science and engineering graduates
The abovementioned DOST programs would not be successful without the experts behind their implementation, Sec. de la Peña stressed. Thus, before ending his speech, he also took the opportunity to introduce two of the DOST's key agencies which are known in producing high-quality science and engineering graduates. These are the Science Education Institute and the Philippine Science High School. Both offer high school, undergraduate, and graduate degrees.
After his message, FMDS Dean Dr. Primo G. Garcia, assisted by FMDS-CEP Program Development Associate Mr. Larry Cruz, awarded Sec. dela Pena a certificate of appreciation and tokens from the university as a way of thanking him for gracing the event.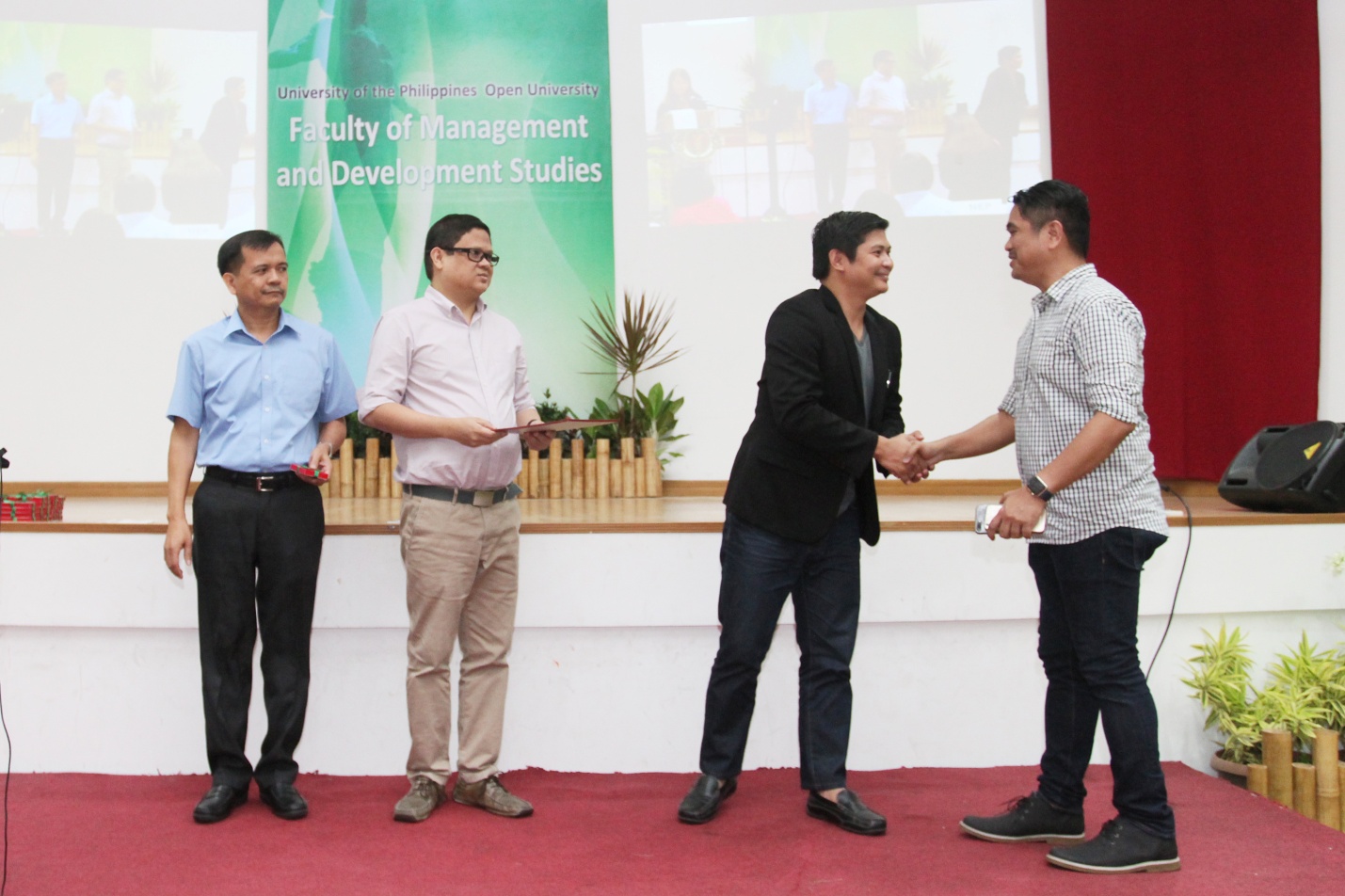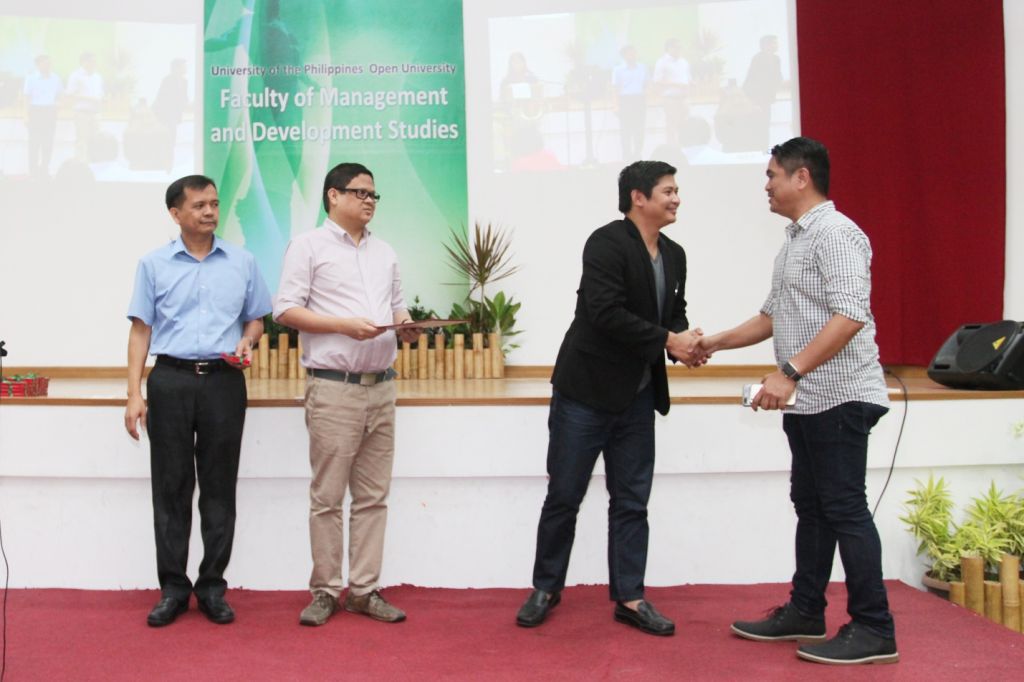 Mr. Larry N. Cruz, FMDS-CEP Program Development Associate, and Dr. Primo G. Garcia, FMDS Dean, award the certificate and tokens of appreciation to the guest speaker—DOST Secretary Fortunato T. de la Peña