FMDS REPS bags Best Presenter award at 2nd ASEAN University Conference on Public Relations and Communication (APRC2016)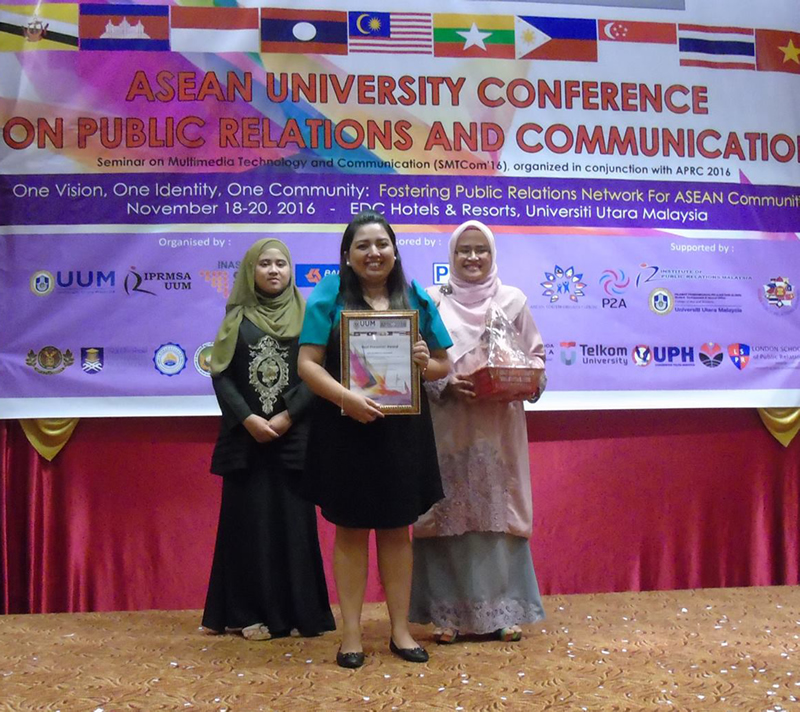 Ms. Jeniffer F. De Pasion, University Extension Associate I under the Faculty of Management and Development Studies (FMDS) was awarded the Best Presenter in the 2nd ASEAN University Conference on Public Relations and Communication (APRC2016) with the theme "One Vision, One Identity, One Community: Fostering Public Relations Network For ASEAN Communities" held on 18-20 November 2016 at EDC Hotel and Universiti Utara Malaysia (UUM), Kedah, Malaysia.
Her paper entitled "The Use of Blogs and Comics as a Student Support Communication Tool for Incoming Online Students," which she ca-authored with Assoc. Prof. Joane V. Serrano, Ms. Paula Grace M. Muyco and Mr. Christian C. Guevarra, discussed the use of blogs and comics as communication tools for incoming online students, specifically in supporting and engaging them to maximize their online learning experience. Furthermore, the results of the study helped FMDS in designing appropriate communication tools and student support strategies targeted to those without prior knowledge about online learning.
Meanwhile, other faculty and staff members of UPOU also presented papers during the conference. Along with Ms. De Pasion, Ms Anna Elizabeth Cañas-Llamas of UPOU Information Office also won the Best Presenter Award for her paper entitled "Communicating with Perspective Students: Public Relations Media and Strategies of a University Information Office."
APRC 2016, where UPOU serves as a partner institution is the second conference organized by Universiti Utara Malaysia under The Institute of Public Relations Malaysia Students Association – Chapter UUM (IPRMSA-UUM) and Student Development & Alumni Office (PPA), College of Arts & Sciences. The conference aims to provide a venue for ASEAN participants to discuss and share best practices in the fields of public relations and communication as well as develop positive intercultural relations among each other.