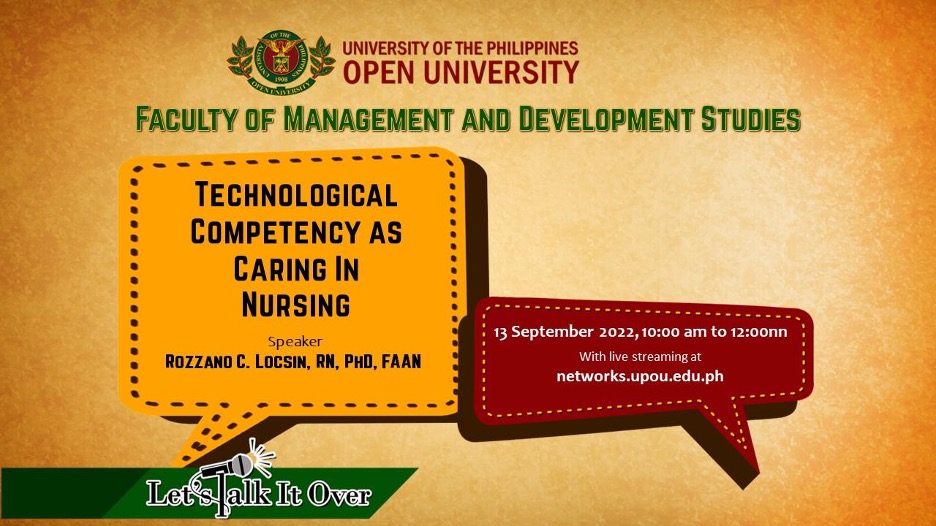 The  Master of Arts in Nursing (MAN) program of the UP Open University (UPOU) Faculty of Management and Development Studies (FMDS) conducted the Episode 3 of the Nursing Theories in the Philippine Context series of webinar titled "Technological Competency as Caring in Nursing" on  13 September 2022. The webinar was moderated by the MAN Program Chair, Asst. Prof. Ria Valerie Cabanes.
In this third episode, Dr. Rozzano C. Locsin, Professor Emeritus at Florida Atlantic University,served as the resource speaker. Dr. Locsin published several articles in different journals, authored books, and  now serves as a manuscript reviewer in different nursing journals. He was inducted as a Fellow of the American Academy of Nursing (FAAN) in 2006. He is one of the Filipino inductees who have made significant contributions to nursing and is  based in the Philippines.
His discussion in this webinar focused on the mid-range theory of technological competency as caring in nursing. His theory is built around three main components: technology, caring, and competence. He emphasized how a person can use various technologies (things that make things more efficient) to provide care, and how in this day and age, a professional nurse is challenged to be technologically savvy when responding to nursing calls of duty. The harmonization of these concepts places nursing practice within the context of modern healthcare while also acknowledging that both concepts can coexist.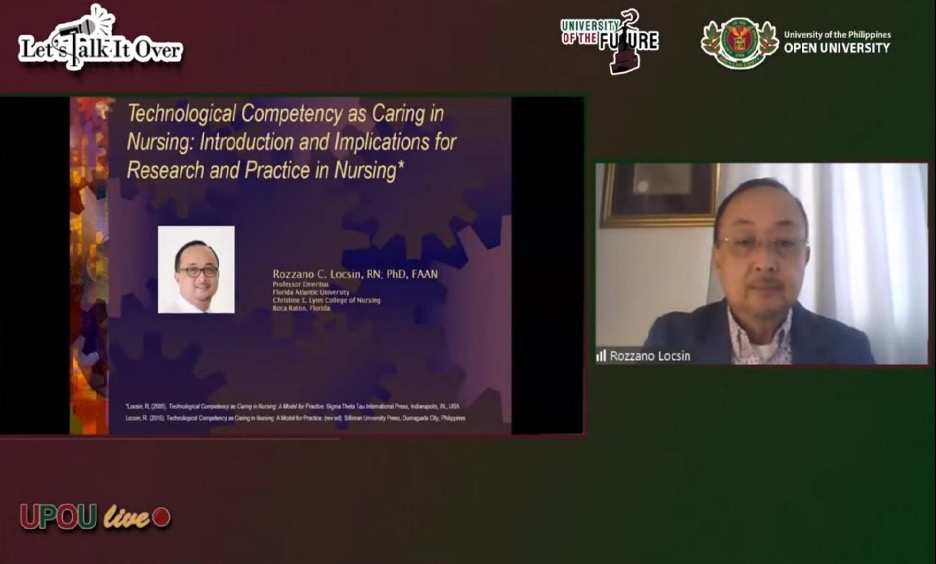 He discussed the three dimensions of technology in his theory: technology as completing human beings, technology as machine technologies, and technology that mimic human beings and human activities. 
He also elaborated on the Universal Technological Domains of the theory and the process of nursing including Technological Knowing, Designing, and Participative Engaging. The nursing encounter, in which nursing as Knowing Persons as Caring is practiced, falls under the purview of the Universal Technological Domain. The "space of togetherness" refers to the reciprocal interaction between the nurse and the individual receiving nursing care, and it is within this area that all nursing takes place.
During the open forum, an important question on gender issues was raised. Dr. Locsin answered  that although women dominated the nursing profession and men dominated the field of technology, this  does not have an impact on how caring and technology is perceived through the lens of this theory. He emphasized that using technology/computers does not have gender specific functions and gender has no bearing on technological knowledge and participatory engagement.
The webinar was able to present another nursing theory authored by a Filipino. The MAN program intends to continue the series' final episode in November. The videos will be stored in UPOU networks so that students, nurses, nursing educators, and researchers can watch them again and use them as online educational resources.
Written by: Rachel Anne Joyce Sales  • Edited by: Asst. Prof. Ria Valerie Cabanes and Dr. Joane V. Serrano