The Faculty of Management and Development Studies (FMDS) held a hybrid seminar titled "Advancing Gender Equality, Sustainability, and Inclusive Society: Role of Permaculture, Community Forest Development, and Native Trees as Sustainable-Based Livelihoods in the Philippines" last 21 March 2023, at 2:00 PM at the Centennial Center for Digital Learning (CCDL) Auditorium as part of the UP Open University's celebration of #NationalWomen's Month, #InternationalWomen's Day, and #InternationalDayofForests.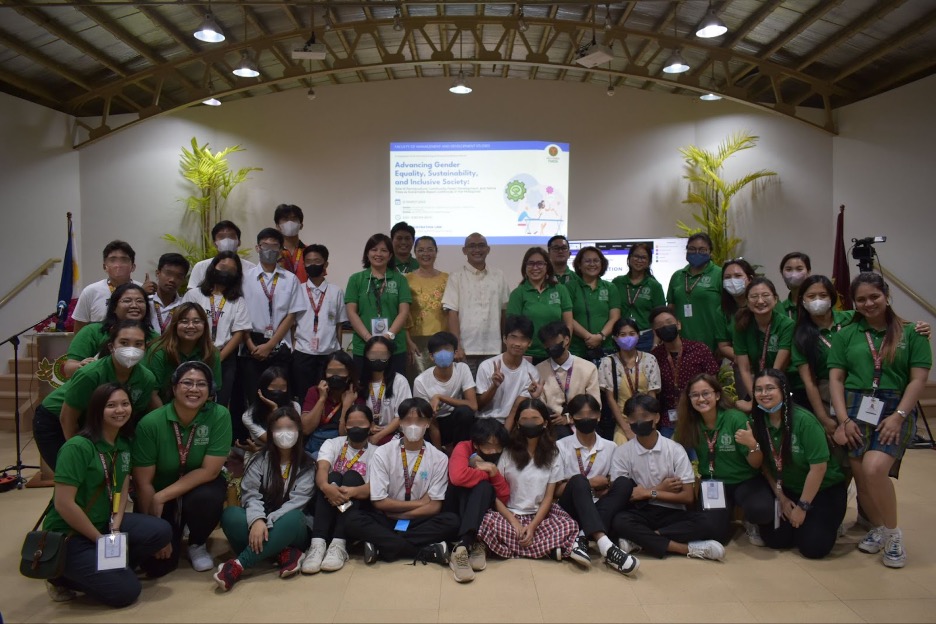 FMDS Dean Joane V. Serrano, Forester and Asst. Prof. Karl Abelard Edberto L. Villegas, Jr., Office of Gender Concerns (OGC) Director Finaflor F. Taylan, Ms. Nenieveh Glinoga (GIFT), together with the FMDS faculty, staff, and students from Los Baños Community National High School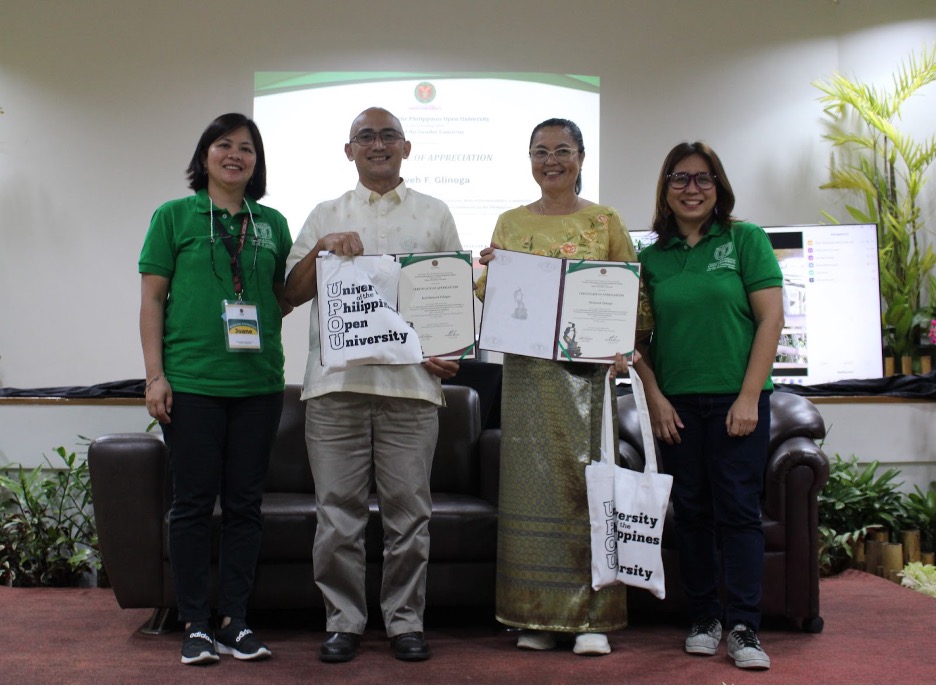 (L-R) FMDS Dean Joane V. Serrano, Forester and Asst. Prof. Karl Abelard Edberto L. Villegas, Jr., Ms. Nenieveh Glinoga (GIFT) and OGC Director Finaflor F. Taylan during the awarding of the certificates
The first speaker, Forester Karl Abelard Edberto L. Villegas, Jr., an assistant professor from the Faculty of Management and Development Studies (FMDS), started his presentation by sharing information on the Philippine forest lands and forest cover status. He later elaborated on the United Nations Sustainable Development Goals contribution to the mitigation of forest degradation and the different types of Philippine native trees and their novel uses. Forester Villegas ended his presentation by highlighting women's contribution to community forest restoration by sharing cases in Cambodia, Oriental Mindoro, and Palawan and forestry policies relevant to the planting of native trees.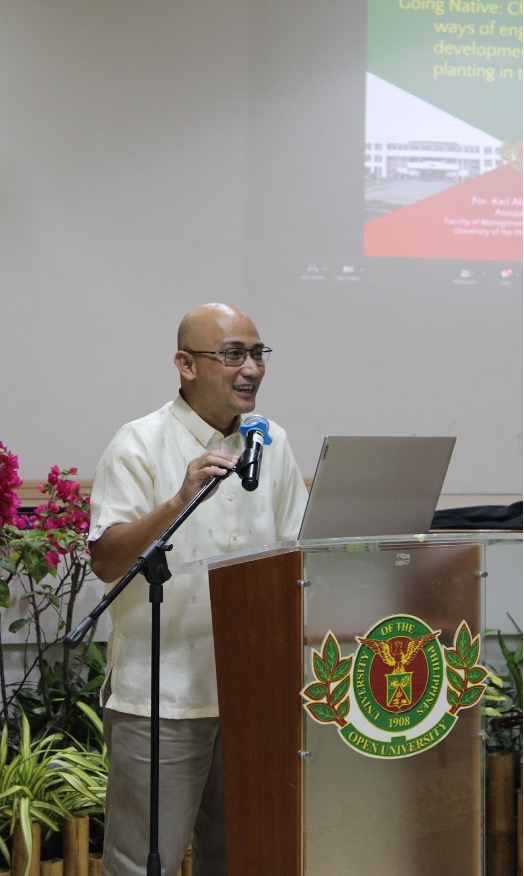 Asst. Prof. Karl Abelard Edberto L. Villegas, Jr. during his presentation
The next speaker is a permaculture designer and owner of the Glinoga Integrated Farm in Tabajongan (GIFT), Ms. Nenieveh Glinoga. Miss Glinoga narrated how their farm started, addressing farming struggles, and how the women contributed to the farm revival. During her presentation, she highlighted systems of farming that helped them and their farm recover with the help of their farm workers, who are mostly women.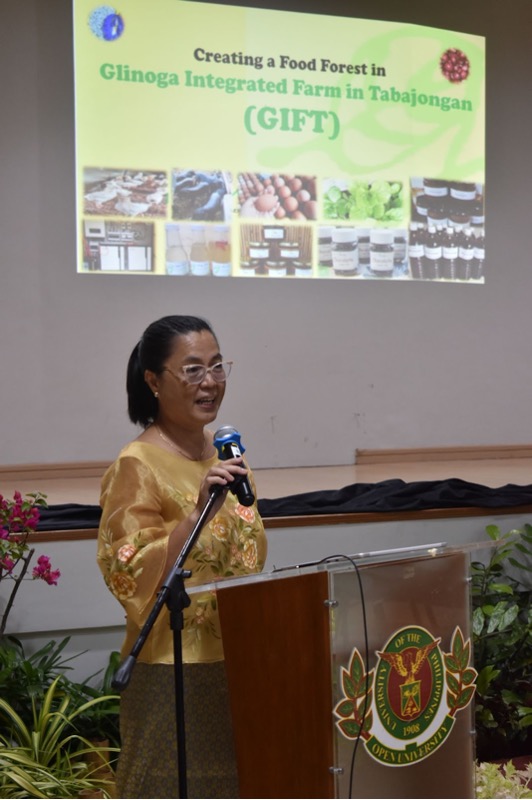 Ms. Nenieveh Glinoga (GIFT) during her presentation
During the event, a quick icebreaker was given to the student attendees in the form of questions on native tree names, women's role in forest development, and permaculture. 
The third and last speaker, Ms. Nida Collado, the vice president of the Community-Based Forest Management People's Organization (CBFMPO) Federation, began her presentation by discussing gender stereotypes about women and how they are being perceived as weak by today's society, especially women leaders. She also expressed how women have limited opportunities in the provinces. With this, they founded community-based forest and coastal management associations, starting in Sitio Macatumbalen, San Vicente, Palawan, in 2002. Ms. Collado also discussed the struggles of being a woman leader, which are mostly being a woman, the need for community support, and a lack of knowledge. With this, she reminded the viewers to do research, ask when needed, and practice lifelong learning. She also shared the importance of empowering women and realizing their strengths, therefore building their self-esteem.
Ms. Nida Collado during her online presentation
Questions from the physical and online participants were also entertained by the speakers during the seminar, such as those about the youth and women's sectors involvement in agriculture.
The recently concluded event is in line with the United Nations' International Day of Forests, which is celebrated annually on March 21 with this year's theme "Forests and Health". For those who were not able to attend the event, the recording can still be accessed via the UPOU Networks Facebook page and UPOU Networks YouTube Page.
Written by : Camille Hemedes • Edited by Larry Cruz