FMDS Holds Closing Ceremonies for Continuing Education Program Completers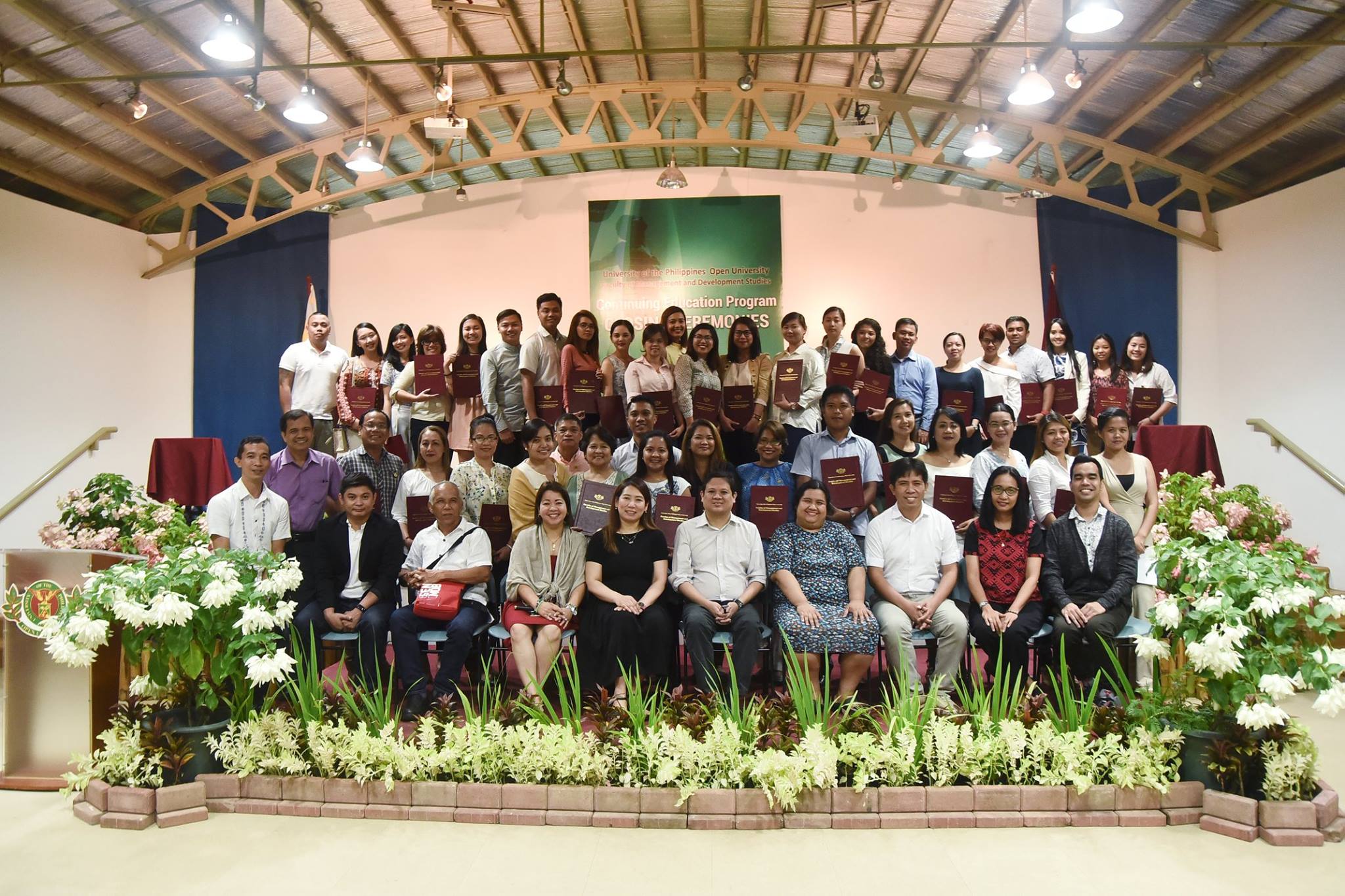 FMDS-CEP Course Completers with Dean Primo G. Garcia, Program Development Associate Larry N. Cruz, Secretary to the Faculty Rita C. Ramos, FMDS faculty and staff and CEP Course Coordinators
The Faculty of Management and Development Studies (FMDS) of UP Open University recognized its course completers and top learners in the Continuing Education Program (CEP) Closing Ceremonies held on 17 June 2017 at the Centennial Center for Digital Learning (CCDL) Auditorium, UPOU Headquarters, Los Baños, Laguna.
A total of 127 from 10 courses have complied with all the requirements for completion. Sixty learners received certificates for having completed their courses with distinction and high distinction. Asst. Prof. Rita C. Ramos, FMDS Secretary to the Faculty, facilitated the awarding of the certificates.
Lean management expert, best-selling author, and international speaker Mike Grogan inspired the completers during the closing rites. Mr. Grogan is enthusiastic about motivating Filipinos to become more proactive and productive. He believes that Filipinos are the greatest human potential in the world. In his inspirational message, he emphasized, "The greatest history is not in the past, but is in the future. This is the generation that will build the first world Philippines."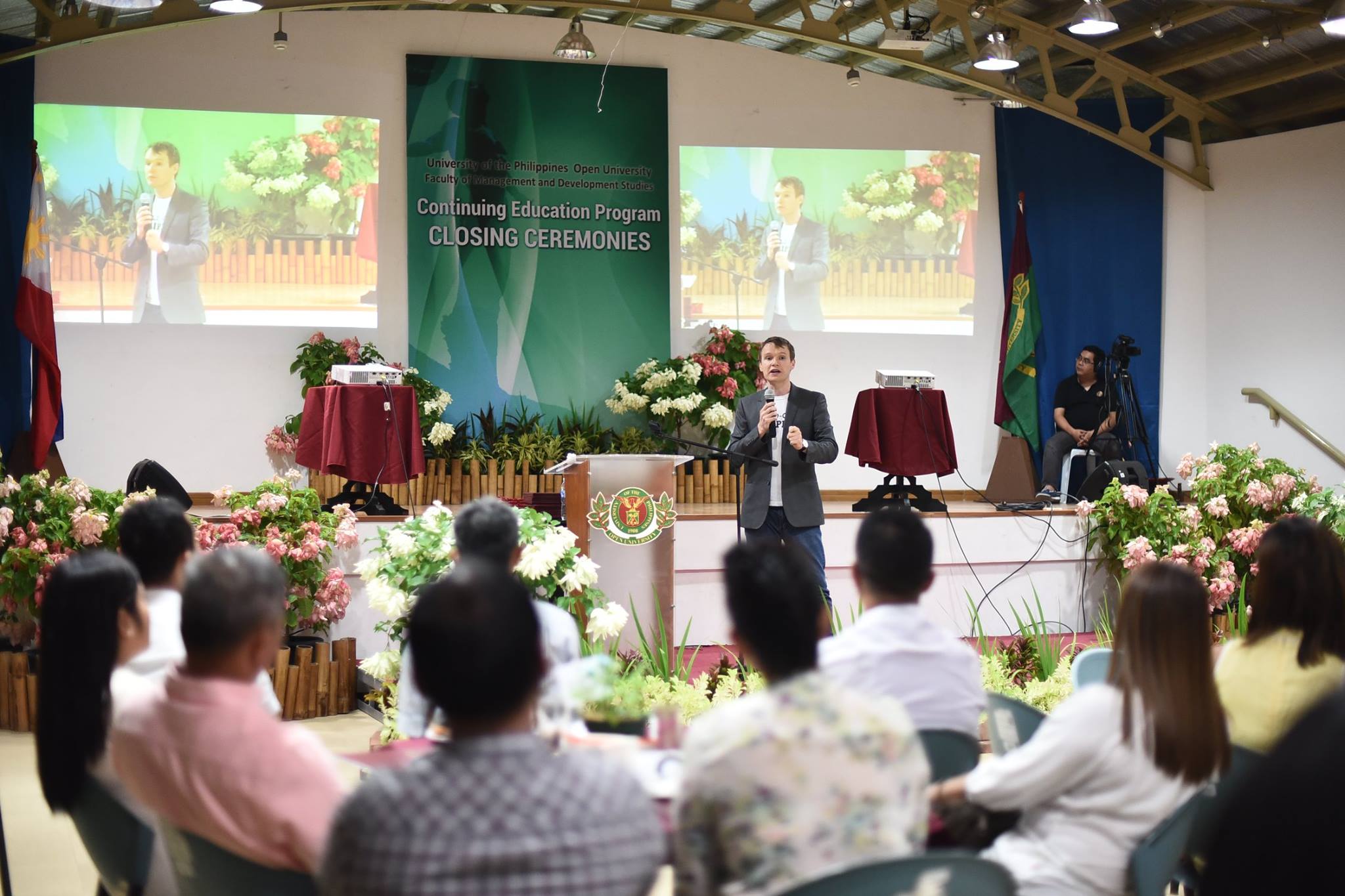 Guest Speaker Mike Grogan, a best-selling author and international speaker, gives his inspirational message to the CEP course completers
The following top learners/course representatives also delivered their messages on behalf of their classmates: Maria Jezreel Cathereen P. Marchan, Introduction to Electronic Commerce (eCom); Allenie Anne J. Santiago, New Enterprise Planning (NEP); Pauline Marie R. Quinto, Personal Entrepreneurial Development (PED); Chrisren G. Morata, Simplified Accounting for Entrepreneurs (SAfE); Mae A. Valdez, Integrating Climate Change Adaptation and Disaster Risk Management in Policies, Plans and Investments toward Inclusive and Sustainable Agricultural and Rural Development (CCA&DRM); Jenny Lyn C. Pascua-Likigan, Organic Agriculture (OA); Runelita N. Panganiban, Responding to Climate Risks in Agriculture and Natural Resources Management (RCRANRM); Apryll O. Apostolides, Caring for the Child with Special Needs (CCSN); Billie Kim P. Nucum and Oscar R. Reyes II, Financial Management in Nursing Practice (FMNP); and Jar-Aisa J. Isnain, Research Utilization in Nursing Administration (RUNA). They were introduced by the following Course Coordinators present in the event: Mr. Ramon Manuel T. Nisperos (eCom and NEP); Ms. Tricia C. Ascan (SAfE); Prof. Raymundo M. Lucero (OA); Mr. Chito L. Patiño (RCRANRM); and Dr. Marie Grace A. Gomez (CCSN).
The course representatives shared their experiences as learners in their respective courses. They stressed how flexible and convenient distance education is for some of them who are unable to attend a traditional classroom set-up due to work and/or family obligation. They also expressed their gratitude to the whole FMDS-CEP Team, their Course Coordinators, classmates, family, and friends. Offshore representatives of CCSN, RCRANRM and RUNA had their messages video-recorded.
Dr. Primo G. Garcia, FMDS Dean, delivered the opening remarks while Mr. Larry N. Cruz, FMDS-CEP Program Development Associate, gave the closing remarks. Ms. Jeniffer F. De Pasion-Guevarra, University Extension Associate, served as the Master of Ceremonies.
The UPOU's Multimedia Center, in collaboration with the UPOU's Information and Communication Technology Development Office made the event available online via live streaming at UPOU Networks.