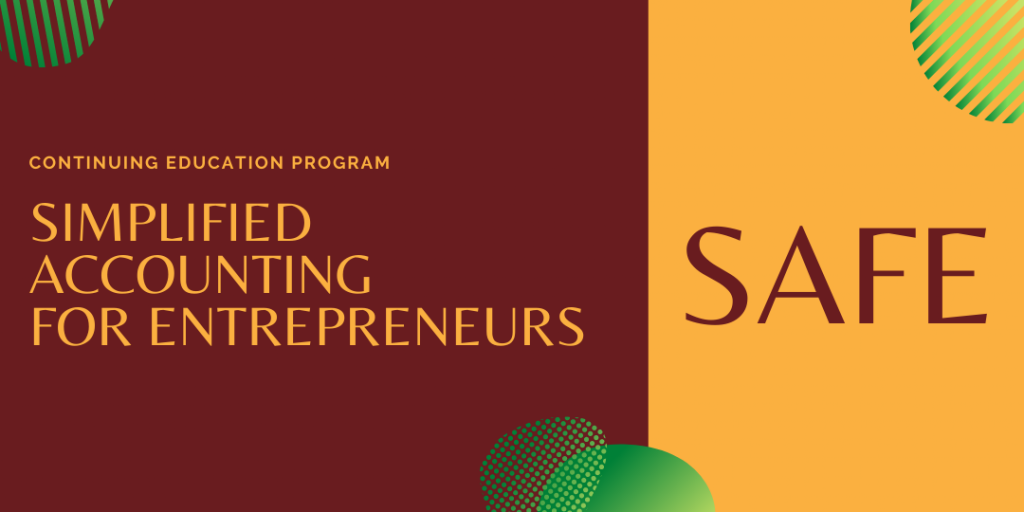 Course Description
This course on simplified accounting for entrepreneurs is designed to provide participants with the basic knowledge and skills in recording financial transactions as well as in preparing financial statements of a business enterprise. While the main focus is those engaged in service businesses (as this is the simplest), the concepts and the procedures are almost the same for those in the merchandising and manufacturing/processing businesses. The course hopes to assist entrepreneurs who do not have accounting background in understanding the accounting process and how it can be used to assist entrepreneurs in making financial decisions in the day-to-day operations of the business.
Course Objectives
At the end of the course modules, the learner will be able to:
Identify the importance of accounting, its principles, and the nature and purpose of the information it provides in a business enterprise;

Identify the different financial statements;

Determine financial transactions and its proper classification;

Understand the accounting equation and how transactions affect the equation;

Describe the accounting cycle;

Record and summarize financial transactions in the book of accounts, prepare trial balance, make the adjustments, prepare financial statements, and close the books; 

Describe the use of special journals and ledgers; and 

Understand how cash flows affect the operations of the business and prepare a simple cash budget.
Course Outline
The course is divided into 8 modules. Each module is provided with course materials which may include reading materials and multimedia lecture/presentation. 
Module 1 –

Accounting Overview

Module 2

–

Basic Financial Statements

Module 3

– 

Accounting Principles

Module 4

– 

The Accounting Equation

Module 5

– 

Using Debit and Credit in Recording Transactions

Module 6

– 

The Accounting Cycle

Module 7

– 

Special Journals and Ledgers

Module 8

– 

Cash Flow Analysis
Course Delivery and Materials
The course is delivered online using the following materials:
Course guide (available at the course site)

Course manual (soft copy)

Assignment guide 

Power point presentations 

Additional resource materials (supplementary materials or online references)
Course Requirements
The participant should be competent in using a computer. This would involve proficiency in creating documents, spreadsheets and presentations.
The participant should have access to the Internet. He should also have a valid and working email address for communication purposes. In case he has multiple email accounts, he should indicate which email account he will use to communicate with the course coordinator.
At some point in the course, the participant may be asked to purchase an item online. For this activity, he should have a credit card to make an online payment. In case he does not have one, inform the course coordinator for an alternative activity.
Enrollment
Interested participants may register online using the Online Sign-up form, or visit the Faculty of Management and Development Studies, UPOU HQ, Los Baños, Laguna. Details of course offering will be emailed a month before the start of class. (This includes the admission form with the assessment of fees and payment procedures.)
For inquiries, please email FMDS at fmds[email protected] or call us at (049) 536-6010.