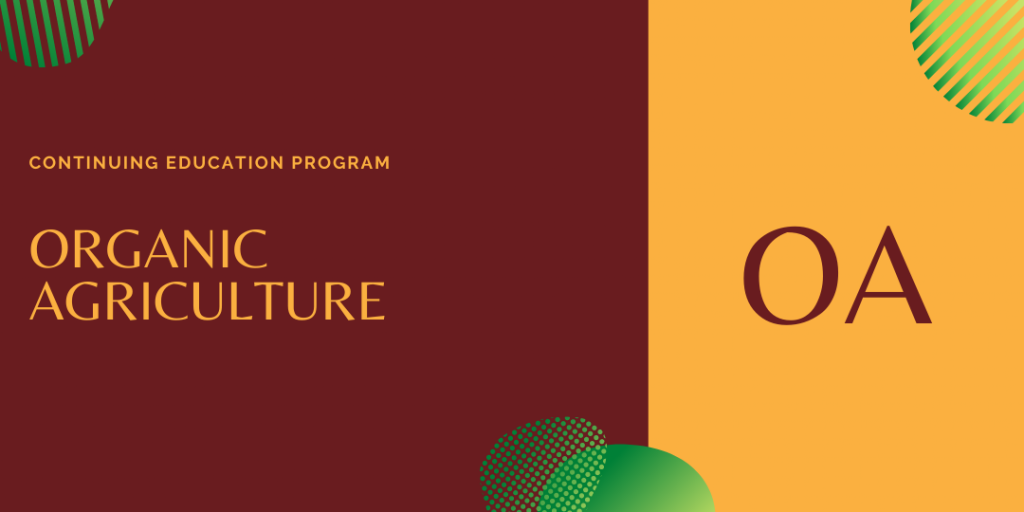 Course Description
This course is designed to provide participants with the basic knowledge, skills and attitudes necessary for implementing and promoting organic agriculture activities and programs. While the main focus is for agricultural technicians, this course will also benefit many other stakeholders interested in organic agriculture. This course will clarify concepts and issues about organic agriculture as well as provide practical techniques and guidelines on implementing organic agriculture projects.
Course Objectives
The course aims to produce learners who are able to appreciate, practice and promote organic agriculture.
At the end of the course, the learners are expected to:
Identify the ecological concepts and current issues in organic agriculture versus conventional farming;
Demonstrate appropriate organic farming techniques and strategies used in crop and animal production;
Plan strategies for marketing organic products and organic farm inputs;
Recognize organic certification standards and procedures;
Advocate for organic agriculture; and
Perform and develop skill in simple independent scientific inquiry to instill in them that science based decisions are important and urgent.
Course Content
The course covers the following:
Module 1. Introduction to Organic Agriculture
Module 2. Principles and Related Concepts of Organic Agriculture
Module 3. Close Encounters with the Soil in Organic Agriculture
Module 4. Organic Fertilizers
Module 5. Organic Pest Management
Module 6. Organic Crop Production
Module 7. Organic Animal Production
Module 8. Fair Marketing of Organic Products
Module 9. Organic Certification and Guarantee Systems
Module 10. Promoting Organic Agriculture
Enrollment
Interested participants may register online using the Online Sign-up form, or visit the Faculty of Management and Development Studies, UPOU HQ, Los Baños, Laguna. Details of course offering will be emailed a month before the start of class. (This includes the admission form with the assessment of fees and payment procedures.)
For inquiries, please email FMDS at fmds[email protected] or call us at (049) 536-6010.