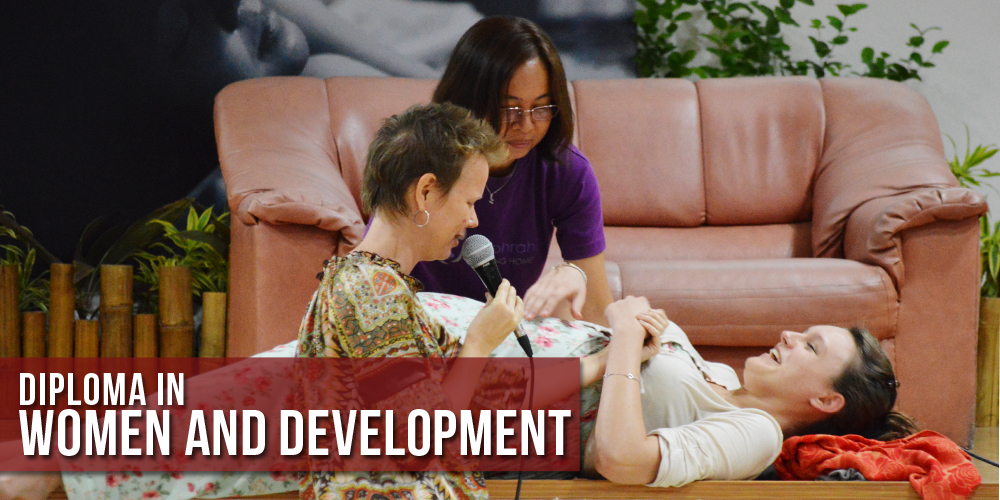 Diploma in Women and Development
Program Description
The Diploma in Women and Development is a unique combination of theoretical and training perspectives that aims to provide a historical and concise outlook to the study of gender and development in empowering and achieving the full potential and total development of women. The program is designed for members of academic institutions, government, non-government and people's organizations who are interested and/or involved in women's concern, gender and development work.
Program Goals
The program aims to enable students to:
Examine the condition and position of women and men in local, national, regional and global settings;
Conduct and disseminate researches towards greater participation and empowerment of women;
Assess development frameworks and strategies as these affect women and men, and encourage the formulation and propagation of alternatives that aim to strengthen women's movements and organizations;
Critique existing theories and at the same time engage in theory building which can better capture the realities and perspectives of women in the Philippines and other countries of the South;
Provide theoretical knowledge and practical skills in teaching, research, planning, organizing, and training through direct field experiences; and
Facilitate advocacy of women's issues and networking for women's empowerment.
Admission Requirements
To be considered for admission, an applicant must satisfy the following requirements:
A bachelor's degree, preferably in the field of Social Sciences, from a recognized academic institution;
A satisfactory academic record;
A high level of intellectual capacity and integrity; and
A high English proficiency level (as evidenced by a TOEFL certification) for foreign applicants.
These will be determined through (1) an examination of an applicant's undergraduate credentials and (2) a review of references from former professors and professional supervisors.
Admission Policies
A Program Admission Committee, headed by the Program Chair of the Diploma in Women and Development Program, will convene to deliberate on the documents submitted by the applicants. The OUR then informs the students of the results of the admission.
If all documents and requirements have been fulfilled by the student, he/she will be admitted as a regular student. A student will be given provisional status if he/she failed to submit the needed requirements for admission to the program. One year will be given to the student to complete the said requirements.
Mode of Instruction
All courses, except for the fieldwork, will be delivered mainly by distance education mode. Fieldwork course, an integral part in women and development education, requires face-to-face supervision and this will be accomplished with the support of local preceptors working under the overall direction of the faculty-in-charge of the course
Prospective applicants are advised that the program requires one field instruction course which involves working in an assigned agency for 170 hours, usually on regular working hours.
Students whose employment will not allow for an adjustment of their work schedule for fieldwork with another agency may apply for a work-study scheme. In this scheme, they could conduct their fieldwork in the agencies where they are working provided that they satisfy the guidelines to become fieldwork agencies.
Courses
The program consists of 21 units – 15 units of core courses and 6 units of electives – which can be completed in three to four semesters.
Program of Study
Students are expected to take the courses in the following sequence:
Year
First Semester
Number of Units
Second Semester
Number of Units
1

WD 201

3 units

WD 230

3 units

WD 210

3 units

WD 291

3 units

2

Elective 1

3 units

SW 280 (course substitution for CD 280)

3 units

Elective 2

3 units
Elective List (Choose 2 courses only = 6 units total)
Program Policies
Fieldwork (Practicum)
Fieldwork, which is offered in collaboration with women, gender and development agencies, forms an integral part of the preparation of students for professional responsibilities in women, gender and development. It provides a forum for the critical integration of theoretical and experiential learning in women and development education.
The Program Chair acts as the Fieldwork Coordinator. She serves as the administrator of the fieldwork program, specifically on developing fieldwork manual/guide which stipulates the policies in fieldwork, looks for and approves fieldwork agencies, oversees the supervision of students, facilitates the understanding of UPOU and agency for fieldwork and addresses other concerns related to fieldwork.
A school fieldwork supervisor will also be needed to do weekly supervision of students to ensure that the field placement achieves the fieldwork objectives. He/she will serve as a faculty-in-charge (FIC) for the particular fieldwork subject. An agency fieldwork supervisor, who comes from the fieldwork agency of the student, will be the one to supervise the day-to-day activities in the field. The agency fieldwork supervisor should have at least a master's degree in any development discipline.
The Fieldwork Coordinator selects and approves agencies which can become fieldwork agencies of students. Below are the minimum considerations in selecting and approving agencies/organizations to become fieldwork agencies:
The interest of the agency in providing field instruction to students;
The agency's affiliation preferably with a licensed and accredited institution/ agency or other organizations and with accredited programs;
The agency's existing programs and services that can meet the expectations/objectives of fieldwork enrolled in;
The agency has qualified and willing (at least one) licensed social workers who will provide instruction/supervision to students;
Only students who completed their core courses are allowed to take their fieldwork subject.