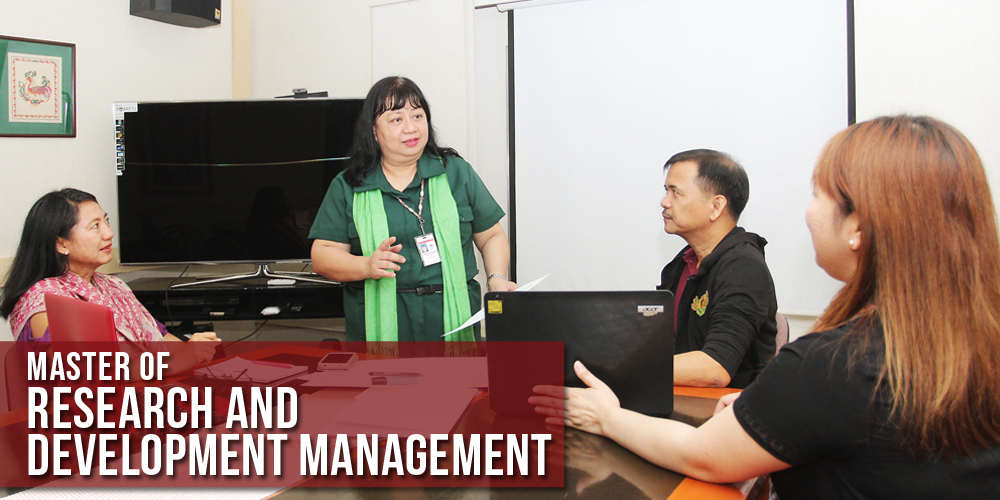 Master of Research and Development Management
The MR&DM is a flexible and fully online graduate program designed to develop knowledge and skills in effective leadership of government and private R&D organizations and research funding institutions. The specialized curriculum covers the development, management, and implementation of research initiatives, including developing research collaborations and partnerships, proposal preparation and submission, contracts negotiation and management of research projects, financial management, technology commercialization, intellectual property rights, and compliance with government regulations and policies. The curriculum also includes management courses that place emphasis on leadership, ethics, and strategic planning with focus on project and technology management. The program is intended for researchers, scientists, engineers, and support personnel of HEls. government agencies, and private research organizations who would like to improve their R&D management skills and capabilities.
Program Outcomes
The MR&DM program aims to produce graduates who are able to:
Demonstrate enhanced managerial leadership with an R&D-oriented perspective in organizing,
directing, monitoring and evaluating R&D organization;
Influence the transformation of R&D system as a productive, dynamic, cost-effective,
environmentally adaptive, socially relevant, ethical and development-oriented organization; and
Lead in implementing strategic R&D management innovations in technology generation,
commercialization, and societal development
The MR&DM program will be offered online, consistent with UPOU's mandate to provide opportunities for alternative access to quality higher education by offering baccalaureate and post-baccalaureate degree programs by distance education, as well as RA 10650 (Open Distance Learning Act), which provides for expanding access to educational services by institutionalizing open distance learning in Philippine higher education.
Admission
To qualify for admission, applicants must have:
Admission requirements

Bachelors degree from a reputable higher education institution; and
Relevant work experience in a supervisory or managerial capacity.

Other admission requirements:

Applicants to the MR&DM program without relevant work experience in a supervisory or managerial capacity will be admitted initially to the DR&DM program.
DR&DM program graduates are qualified for admission to the MR&DM program, provided that they have a GWA of 2.0 or better. Admitted DR&DM graduates will need to validate or re-enroll all courses taken more than five (5) years from their admission to the MR&DM program.
Other UP System rules on admission may apply.
Mode of Instruction
All subjects are offered online. The content (lessons) will be delivered via print, video, websites, or an online resource. Your teacher, called Faculty-in-Charge (FIC), will not do live lectures in the virtual classroom (called Myportal). You will be required to read modules, articles, and other online references. In some subjects, you will be asked to view some online videos.
One common learning activity is the online discussion forum. Students are also required to submit assignments, which could come in a variety of formats and types. In some subjects, you may also be asked to do some collaborative activities.
Program Structure
The 36-unit curriculum is offered in two tracks: thesis and non-thesis. The thesis track requires the application of the appropriate research methodology in an, inquiry on processes, relations. structures, emerging innovations, and/or problems or gaps in the R&D organization. The non-thesis track, on the other hand, requires a special problem where knowledge and skills learned in the program are applied to address a specific problem, gap, or need in an organization or agency setting.
A comparison of the two tracks is given in below.
Curriculum
The program can be completed in 7-8 semesters as shown in the program of study below. The thesis and special problem can be completed in two semesters.
Program of Study
Students are expected to take the courses in the following sequence:
Year
First Semester
Number of Units
Second Semester
Number of Units
Mid-Year
1
RDM 201
3 units
RDM 220
3 units
RDM 211
3 units
RDM 231
3 units
2
RDM 202
3 units
RDM 203
3 units
Comprehensive Exam (after all core courses)
RDM 251
3 units
RDM 293
3 units
3
Elective
3 units
RDM 298*
3 units
Elective
3 units
Elective*
3 units
RDM 300**
6 units
*Non-thesis track
**Thesis track
For DR&DM Graduates who wish to proceed to MR&DM
Year
First Semester
Number of Units
Second Semester
Number of Units
1
RDM 202
3 units
RDM 293
3 units
RDM 203
3 units
Electives
3 units

Comprehensive Exam

(after all core courses)

2
R&DM298*
3 units
Elective*
3 units
R&DM300**
6 units
Program Policies