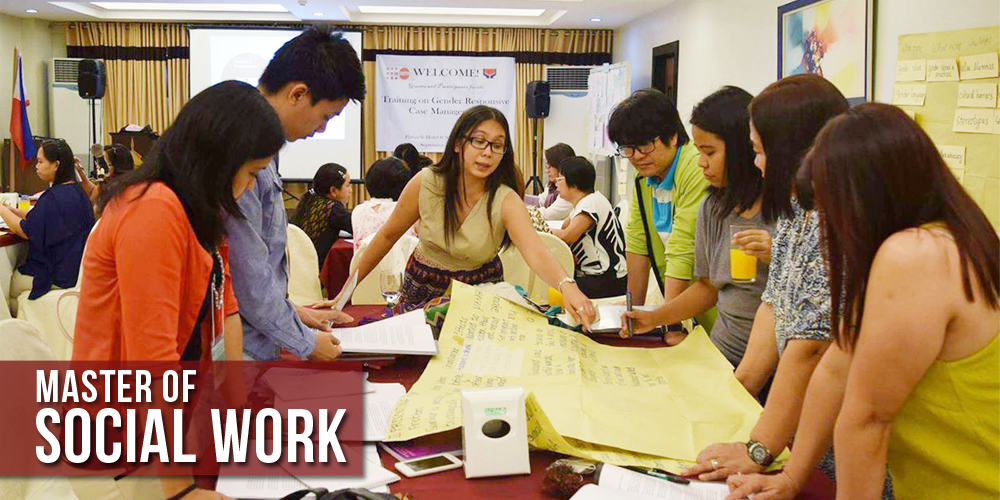 Master of Social Work
Program Description
The Master of Social Work program is designed for professionals engaged in social welfare and social development work who wish to pursue master's degree that would equip them with a higher level of competence for direct practice and leadership in their field of practice. This program is open to individuals with a bachelor's degree in social work and to those without a BSSW pursuing a diploma in social work with a GWA of 2.0 or better.
Program Goals
The Master of Social Work aims to prepare students to assume leadership roles in social administration, clinical practice or community organizing.
Admission Requirements
A bachelor's degree from a recognized academic institution;
A high level of intellectual capacity and integrity; and
A high English proficiency level (as evidenced by a TOEFL certification) for foreign applicants.
These will be determined through (1) an examination of an applicant's undergraduate credentials and (2) a review of references from former professors and professional supervisors.
Admission Policies
A Program Admission Committee, headed by the Program Chair of the Social Work Program, will convene to deliberate on the documents submitted by the applicants. The OUR then informs the students of the results of the admission.
If all documents and requirements have been fulfilled by the student, he/she will be admitted as a regular student. Since work experiences are highly considered and important while studying, a regular student is recommended to enrol maximum of 6 units per semester.
A student will be given provisional status if the student failed to submit the needed requirements for admission to the program. The student will be given one year to complete the needed documents.
A student will be given a probationary status if the GWA of the student from his/her previous degree or from preceding semester as a student of UPOU is lower than 2.0. The student needs to acquire a GWA of 2.0 or better in his/her succeeding 12 units within two semester; otherwise, the student will be advised to shift to Diploma in Social Work program.
Mode of Instruction
All courses, except for the field instruction courses, will be delivered mainly by distance education mode. Field instruction courses, an integral part in social work education, requires face-to-face supervision and this will be accomplished with the support of agency field work supervisor working under the overall direction of the faculty-in-charge of the course.
Prospective applicants are advised that the program requires at least one field instruction course for those with BSSW while those without a BSSW will need two field instruction courses. Each course requires working 320 hours in an assigned agency during their regular working hours.
Those without a bachelor's degree in social work and intend to pursue a Master of Social Work and complete the 1,000-hour requirement for professional social work training will be required to enrol in a total of five field instruction courses.
Those whose employment will not allow for an adjustment of their work schedule for field instruction with another agency may apply to have a work-study scheme. In this scheme, they could conduct their field instruction in the agencies where they are working provided that they satisfy the guidelines to become fieldwork agencies.
Courses
The program consists of 39 units, with varying tracks based on chosen area of specialization (clinical practice, social administration and community organizing), for professionals entering directly to Master's degree and more than 39 units for individuals coming from Diploma program. After successfully completing all courses, candidates must take and pass a comprehensive examination to earn the degree.
Plan of Study
Additional courses to be taken by DSW graduates proceeding to MSW:
DSW graduates with Bachelor's degree in Social Work
Plan A: with thesis
SW299.2 (Social Work Research II)
SW281 (Field Instruction II)
SW 300 (Thesis)
Plan B: with comprehensive exam
SW299.2 (Social Work Research II)
SW281 (Field Instruction II)
Elective
Cognate
Comprehensive exam
2. DSW graduates without BSSW and those who need 1000 hours of Field Instruction (for licensure exam)
Plan A: with thesis
SW 299.2  (Social Work Research II)
SW 281 Field Instruction II)
SW 280.2 (Field Instruction: Special Client Group 1)
SW 280.3 (Field Instruction: Special Client Group 2)
SW 300 (Thesis)
Plan B: with comprehensive exam
SW 299.2  (Social Work Research II)
SW 281 (Field Instruction II)
SW 280.2 (Field Instruction: Special Client Group 1)
SW 280.3 (Field Instruction: Special Client Group 2)
Comprehensive exam
Program Policies