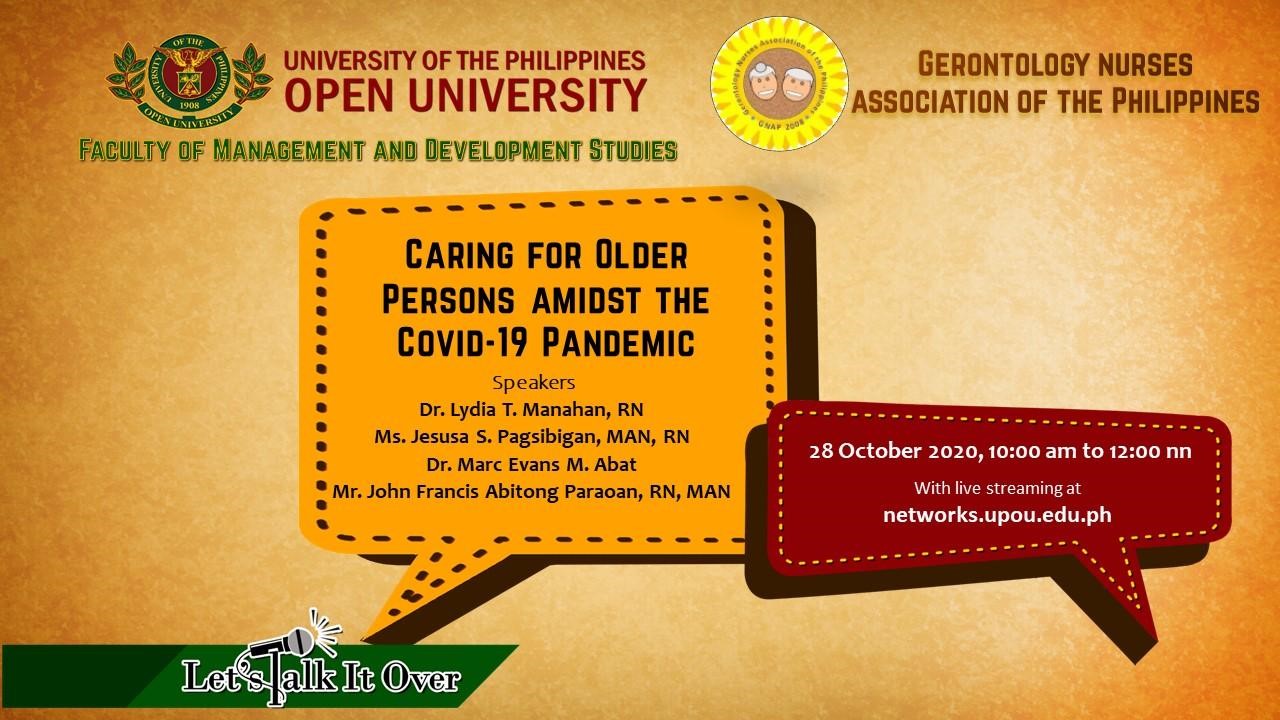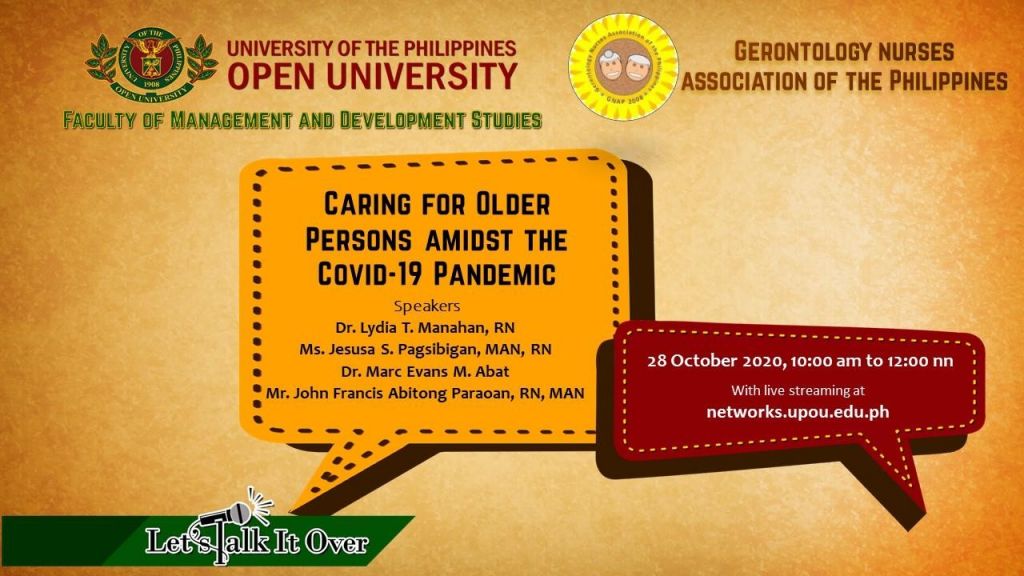 The University of the Philippines Open University's Faculty of Management and Development Studies' (FMDS) Master of Arts in Nursing (MAN) program in collaboration with the Gerontology Nurses Association of the Philippines (GNAP) conducted a Let's Talk it Over (LTiO) webinar entitled "Caring for the Older Person amidst COVID-19 Pandemic" on 28 October 2020 via UPOU Networks.
The webinar started with an invocation by Dr. Carmencita M. Abaquin, GNAP Board Member, and followed by the opening remarks of the GNAP President, Dr. Araceli O. Balabagno, who emphasized the relevance of this topic given the increasing dilemma of nurses in taking care of older persons during this vulnerable situation. The speakers were introduced by  Ms. Pearl G. Po, another GNAP Board Member. The moderators were Asst. Professor Ria Valerie Cabanes and Asst. Professor Rita Ramos of the MAN Program.
The first speaker was Dr. Lydia T. Manahan, the Founding President of GNAP, who talked about the conditions that bring about vulnerability and frailty in older persons. She also situated nursing care in terms of problem identification, appropriate tools for assessment and interventions. 
Dr. Marc Evans M. Abat, Chair of Philippine Specialty Board of Geriatric Medicine. Dr. Abat explained the post-COVID situation of older persons, including the higher risk for hospitalization and death due to worsening of co-morbidities. He also gave advice on how to manage the different concerns of older persons after COVID which starts with good discharge planning and monitoring. e also the importance of ensuring  regular access to health care, supply of medications, and social and economic support during this pandemic. 
Subsequently, Asst. Professor Jesusa S. Pagsibigan, GNAP Board Member, discussed how to carry out psychosocial support for older persons with dementia and their family caregivers. She talked about the behavioral changes and the psychosocial needs of older persons and gave out different interaction strategies that can help family caregivers in understanding palliative care which is important during this pandemic. 
 The last speaker was Mr. John Francis Paraoan, a nurse supervisor at the Mariano Marcos Memorial Hospital and Medical Center and a member of the COVID-19 response team of Infectious Diseases nurses in the same hospital. He narrated the experiences in caring for older persons towards functional ability and explained strategies on how to empower older persons to increase their self-care, health promotion and maintenance. 
The webinar ended with the closing remarks of the GNAP Vice President, Dr. Eligio S. Razalan. The webinar is part of MAN Program's thrust  to collaborate  with other nursing organizations in disseminating relevant health information to the public  during this pandemic. 
Written by Rachel Ann Chin Sales
Edited by Primo G. Garcia