It has been a long COVID-19 year for teachers and students. Meanwhile, the planet kept getting hotter, with 2020 tying for the hottest year that humans have ever experienced. Yet it is likely that 2020 will be one of the coolest years in the next 100 unless we change course quickly. As we head into Earth Month (or April), how can educators engage students with this critical issue?
This April, the University of the Philippines Open University (UPOU) is helping overworked teachers, from every subject, bring climate change into the classroom. This opportunity is not just for environmental science classes. Climate change touches every discipline: psychology, political science, engineering, literature, natural science, art, communication, music, economics, philosophy and more.
On April 7, 9:00–10:30 AM, along with more than 100 universities around the world, UPOU is hosting an interactive webinar with four speakers sharing their perspectives on climate solutions and climate justice from the Philippines. The webinar discussion will focus on practical solutions that we can do right here over the next year to help solve climate change, while also creating much-needed jobs and responding to societal injustices as we recover from COVID.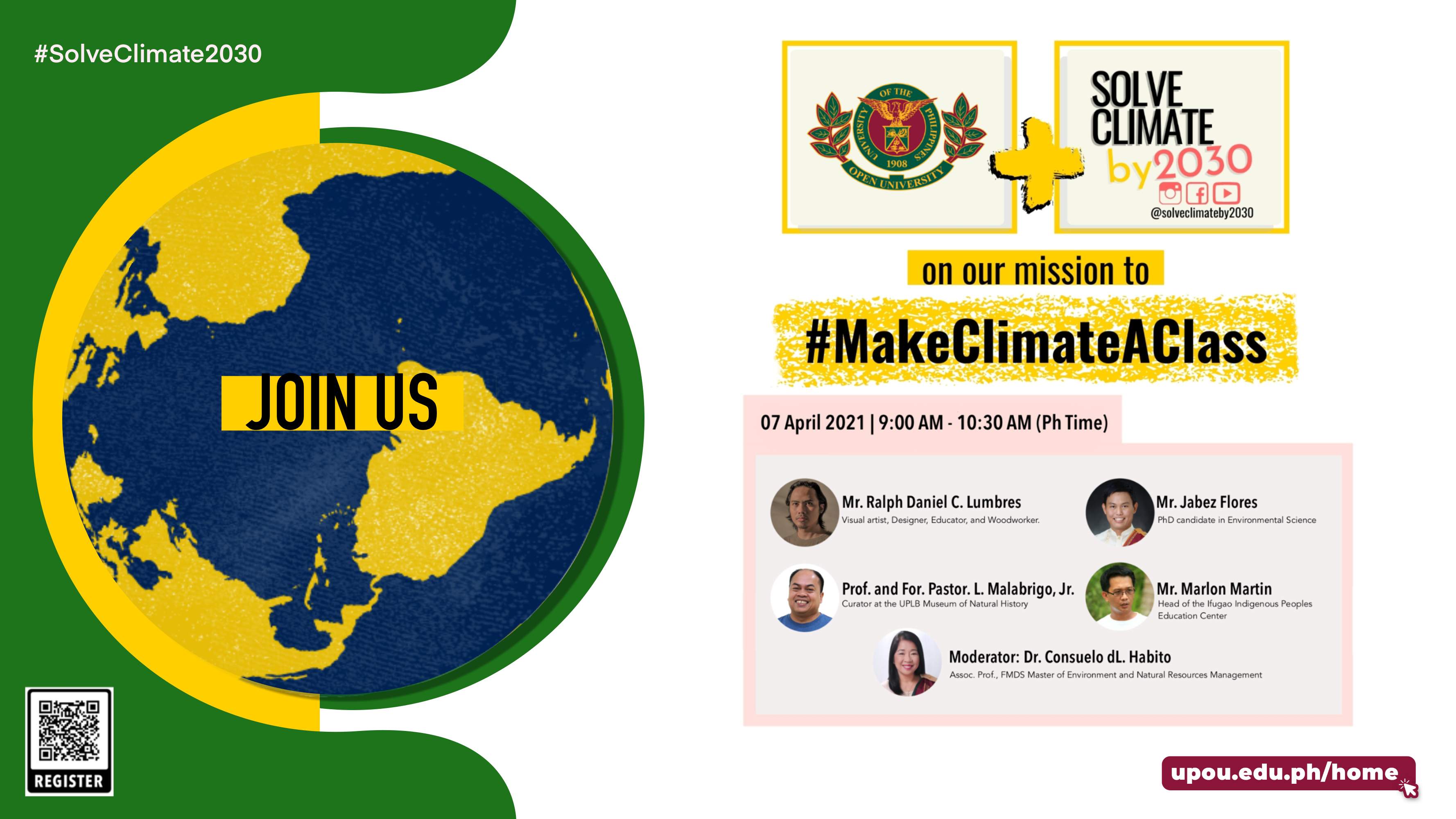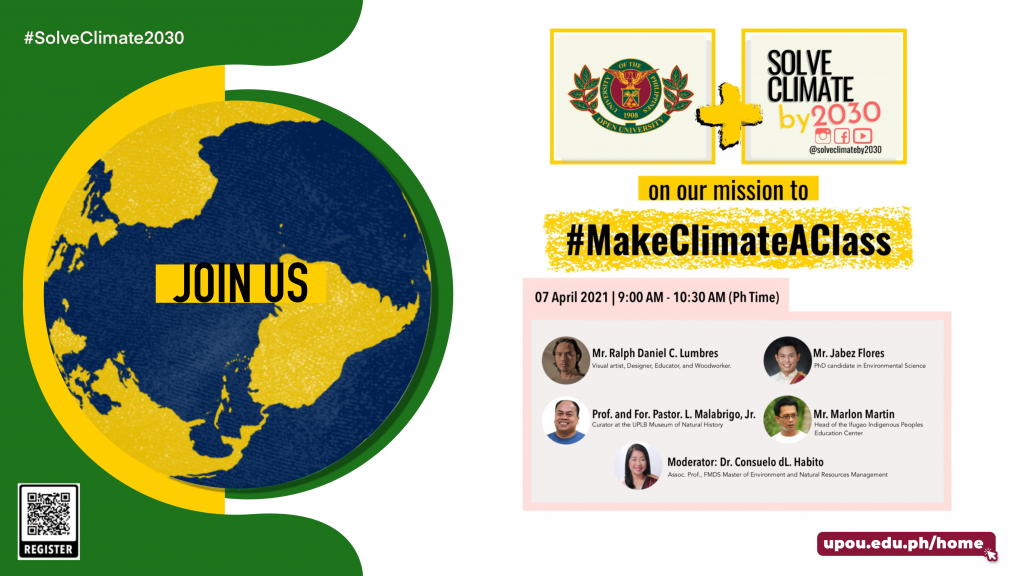 Teachers can use the webinar to #MakeClimateAClass by assigning it as homework. Then there are one-page Teachers Guides available to lead a one-class period discussion about climate change from the perspective of your subject area. The Guides, for over two dozen different disciplines, have been developed by a global climate education project based at Bard College in New York.
The April 7 webinar features:
Mr. Ralph Daniel Lumbres, Founder and Director of Prodjx Artist Community
Mr. Jabez Joshua Flores, PhD Candidate in Environmental Science at UP Los Baños
Mr. Marlon Martin, Chief of Operations at Save the Ifugao Terraces Movement
Prof. and For. Pastor Malabrigo, Jr., Associate Professor at the College of Forestry and Natural Resources at UP Los Baños
The speakers will talk about concrete solutions to climate change, from arts to permaculture to indigenous knowledge to native trees, and take questions from the audience. The webinar is open to the public, and interested participants can register through this link.
After assigning this overview of climate solutions here in the Philippines as homework, artists can talk with their students about effective climate imagery; Literature professors can talk about Climate fiction (cli-fi); Psychology teachers teach about climate anxiety and denial, and Business professors discuss how companies can help drive climate solutions.
"The world's top climate scientists have told us we have ten years to act to hold global warming to the low end," said Dr. Joane V. Serrano, faculty organizer for the webinar. "This April, students deserve a class period to talk about climate solutions and climate justice—from many different disciplinary perspectives. Join us for the UP Open University webinar on April 7, and ask every teacher you know to #MakeClimateAClass." ▪
Written by Rhea Ariele R. Pascua • Edited by Joane V. Serrano