Los Banos— As the Philippines begins a recovery from the COVID-19 pandemic, the University of the Philippines Open University (UPOU) is joining more than 100 universities around the world to focus the world on a critical question: What can we do this year to help solve climate change while supporting struggling communities that have faced joblessness, sickness and loss?
On 7 April 2021 at 9:30 a.m. (PST), UPOU will host a public webinar on the topic of "Climate Solutions: The Philippine Context". Members of the public can register through this link.
This will be one of 125 similar events held across the planet in early April, as part of a global project called Solve Climate By 2030, sponsored by Bard College in New York. Worldwide—from Australia to Kyrgyzstan, Colombia to the Philippines, and South Africa to Hungary—audiences will hear local perspectives about steps that can really help the nation solve climate change, while creating much-needed jobs and income.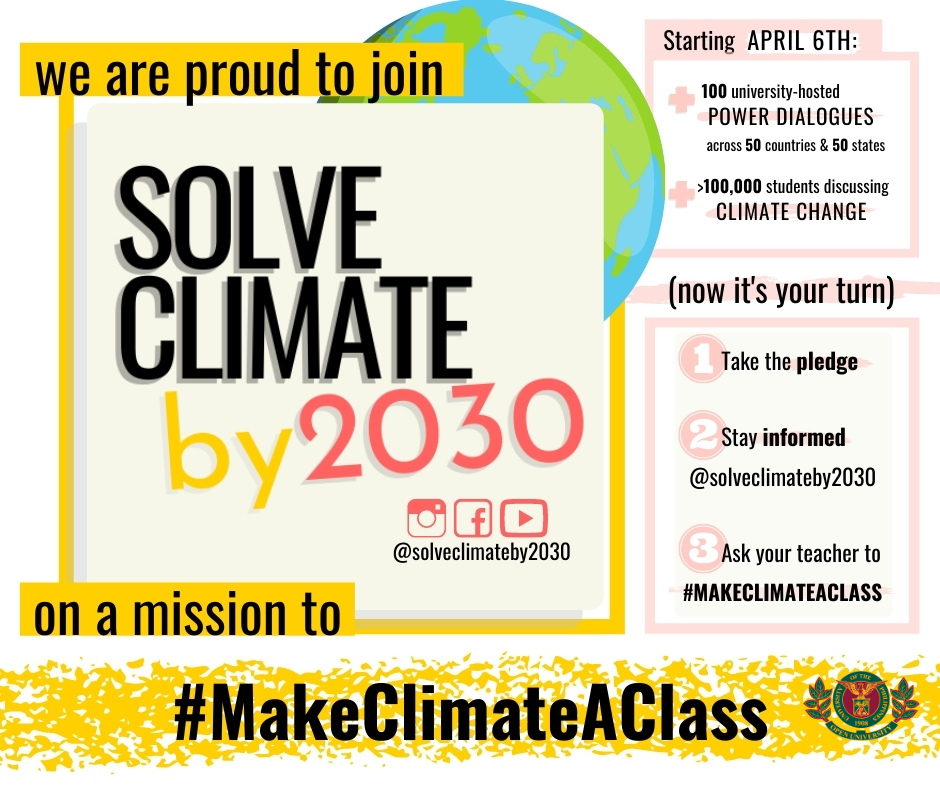 Here in the Philippines, the panel will feature Mr. Ralph Daniel C. Lumbres, a visual artist, designer, educator, and woodworker who will talk about how an artist can respond to climate problems; Mr. Jabez Flores, a graduate of MENRM at UPOU and a Doctoral student of Ph.D. Environmental Science at UPLB who will focus on how permaculture can address climate problems in the country and the world; Mr. Marlon Martin, an Ifugao who heads a non-profit heritage conservation organization in Ifugao, Philippines who will talk about how indigenous knowledge can help address climate problems; and Professor and Forester Pastor Malabrigo Jr., Chairperson of the Department of Forest Biological Sciences, College of Forestry and Natural Resources, and Manager of the UPLB Land Grant Management Office, will talk about how planting native trees can help address climate change.
Dr. Eban Goodstein, economist and Director of the Solve Climate project at Bard College urges climate-concerned teachers at the college, university, and high school level to assign the webinar as homework — either live or recorded — and then engage students in this critical dialogue. "UPOU is taking a leadership role among global universities on education for climate solutions", said Goodstein. "The experts they have brought together for this event have an important message about what we can and must do now to stabilize the climate."
Dr. Joane V. Serrano, Associate Professor of the Faculty of Management and Development Studies and Dr. Consuelo dL Habito, Professor and Program Chair of the Master of Environment and Natural Resources Management (MENRM) Program of FMDS-UPOU are the lead organizers of the April 7th event for UPOU. "We now have less than ten years to solve climate, and this can be achieved, only if each of us do our part," said Dr. Serrano. Dr. Habito urges the public to "Please join us in this important conversation." For more information contact us through these email addresses: [email protected] or [email protected]. ▪
Written by Rhea Ariele R. Pascua • Edited by Joane V. Serrano