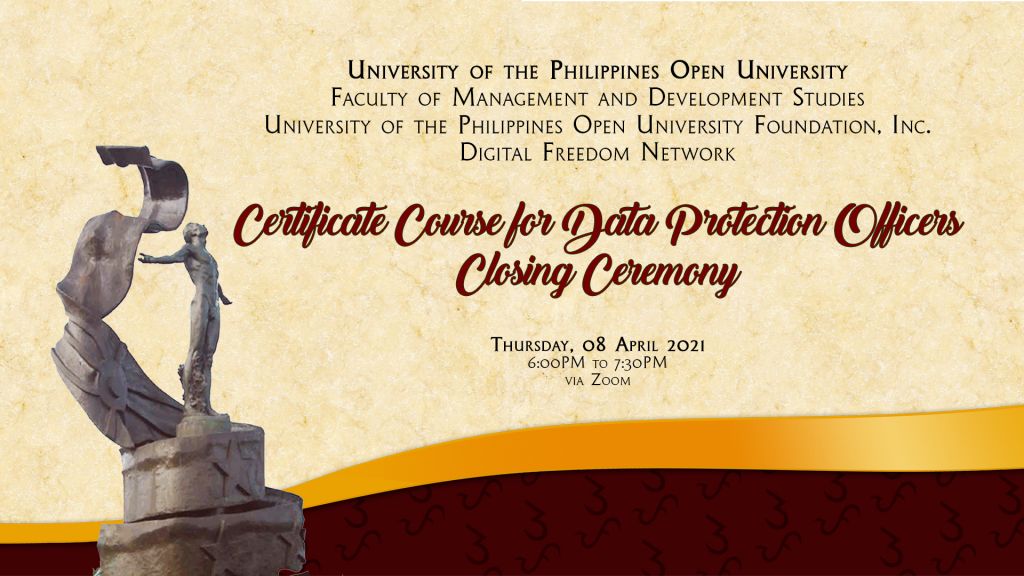 The Closing Ceremony officially started with the welcome/opening message of Dr. Primo G. Garcia, FMDS Dean and UPOU CCDPO Coordinator. Dean Garcia expressed his appreciation to all who joined the event to witness the awarding of certificate of completion to 27 learners who finished the first offering of the CCDPO. He said that as we strive for free flow of information and operational efficiency, it is also the responsibility of our respective organizations to protect the fundamental human right of privacy. "It is for this very reason why we at the UPOU-FMDS have agreed to partner with the DFN to offer this online course on data privacy" he added.
Atty. Oliver Xavier A. Reyes, DFN Policy Officer and CCDPO Coordinator presented the first batch of course completers who finished the CCDPO. A total of 27 learners from five public and 17 private organizations were recognized and awarded certificates of completion during the event.
A toast for the inaugural batch of CCDPO course completers followed and led by Atty. JJ Disini, DFN Executive Director. This is in appreciation of the time and effort given by the learners in the initial offering of the course. Atty. Disini proceeded with a brief discussion of the creation of a UPOU-DFN DPO Network which may serve as a venue for sharing and updating data privacy information, resources and expertise. In view of this, he encouraged the course completers to organize and join the proposed network.
The following were also acknowledged for serving as Lecturers in the four-week online course: Atty. JJ Disini, Atty. Oliver Xavier A. Reyes, Atty. Paula Kathryn Marie G. Filart, Atty. Roberto Miguel O. Raneses, Atty. Paulo Miguel Francisco A. Sumilong, and Engr. Kamaneson Ganeson. They were recognized for the data privacy information, resources and expertise they shared during the course offering.
Atty. Reyes formally ended the program with his closing remarks. He thanked and congratulated the course completers and the UPOU for the successful offering of CCDPO.
Mr. Larry N. Cruz (Overall Coordinator), Ms. Mary Grace C. Perez (Assistant Coordinator), Mr. Emmanuel A. Casubha (Video Editor), Ms. Jeniffer F. De Pasion-Guevarra (Master of Ceremony) and the UPOU Multimedia Center represented by Dir. Luisa A. Gelisan and Mr. Allan S. Nunez served as the organizing team of the event.
The next offering of the CCDPO is set on 12 April-10 May 2021. For more information, please send an email to [email protected] Interested participants may register online using the Online Sign-Up Form.▪
Written by Larry N. Cruz • Edited by Primo G. Garcia