Diploma in/Master of Research and Development Management (D/MR&DM) Program Chair, Dr. Jaine C. Reyes, presented the study on "Niching R&D Management in the S&T Ecosystem" at the UP Los Baños (UPLB) Diamond Jubilee Professorial Chair Lecture held on April 29, 2021, 2:00 PM – 4:00 PM. The event was hosted by the UPLB College of Public Affairs and Development (CPAf) and co-hosted by UP Open University Faculty of Management and Development Studies (UPOU FMDS), Department of Science and Technology Philippine Council for Agriculture, Aquatic and Natural Resources Research and Development (DOST-PCAARRD), and the Southeast Asian Regional Center for Graduate Study and Research in Agriculture (SEARCA). The lecture was streamed online via UPLB CPAf's Facebook page.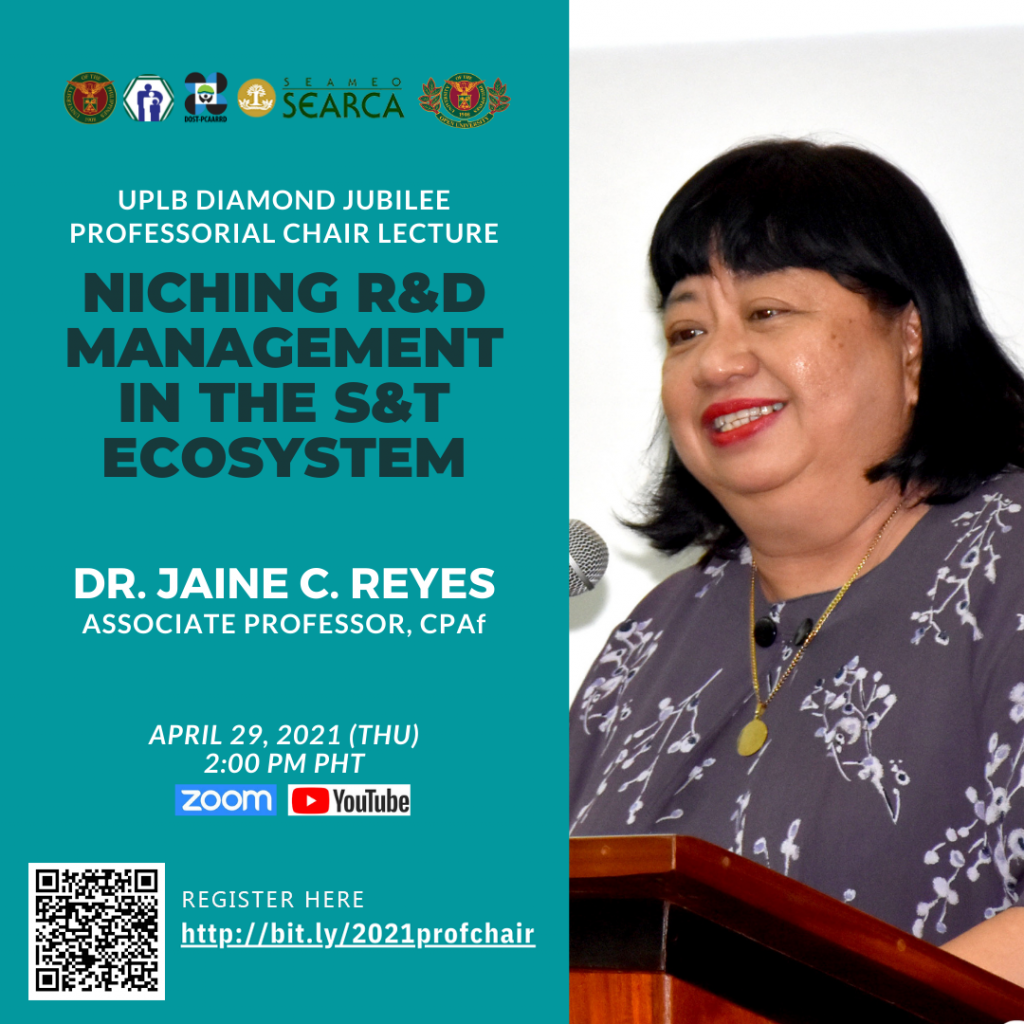 The professorial lecture officially started with the welcome message from Dr. Rowena DT. Baconguis, Dean of UPLB CPAf. She highlighted the significance of R&D management in the transitioning from the 4th to the 5th industrial revolution as well as in the priority thrust and strategies of S&T organizations. Following the opening remarks were messages from the co-hosts of the event, Dr. Reynaldo V. Ebora, Executive Director of DOST-PCAARRD, Dr. Glenn B. Gregorio, Director of SEARCA, and Dr. Primo G. Garcia, Dean of FMDS UPOU. Prof. Jose Vincent B. Querijero, former DR&DM Program Chair, gave the introduction of the UPLB Diamond Jubilee Professorial Chair Awardee, Dr. Jaine C. Reyes, and a brief background of the awardee's decade-long experiences in research management.
This was followed by the lecture of Dr. Reyes, which primarily aimed to establish the niche of research and development management as a field of study in the applied social science discipline and to situate its relevance to the S&T ecosystem. She examined R&D management in the S&T ecosystem across a timeline–from the start-up phase of research management to its dawning, blooming, and eventually to its grounding and uprooting, up to its long metamorphosis.

Dr. Rogelio V. Cuyno, first and former Chancellor of UP Mindanao and currently a Professorial Lecturer of the DR&DM program, along with Dr. Melinda F. Lumanta, UPOU Vice Chancellor for Academic Affairs and DR&DM faculty member served as discussants of the lecture. Dr. Cuyno discussed the framework of the ecosystem and niche system of research management as well as the ripple effect of the research management niche. Dr. Lumanta's discussion highlighted the importance of sustainability in research management by highlighting capacity building in existing R&D programs and courses. The discussions were followed by an open forum which was moderated by Asst. Prof. Ephraim C. Quinones, the master of ceremonies for the event.

Dr. Susan T. Bacud, UPLB College of Agriculture and Food Science University Researcher and DR&DM Senior Lecturer, presented the synthesis of the professorial lecture. Dr. Evelie P. Serrano, Director of UPLB CPAf Institute for Governance and Rural Development formally closed the event.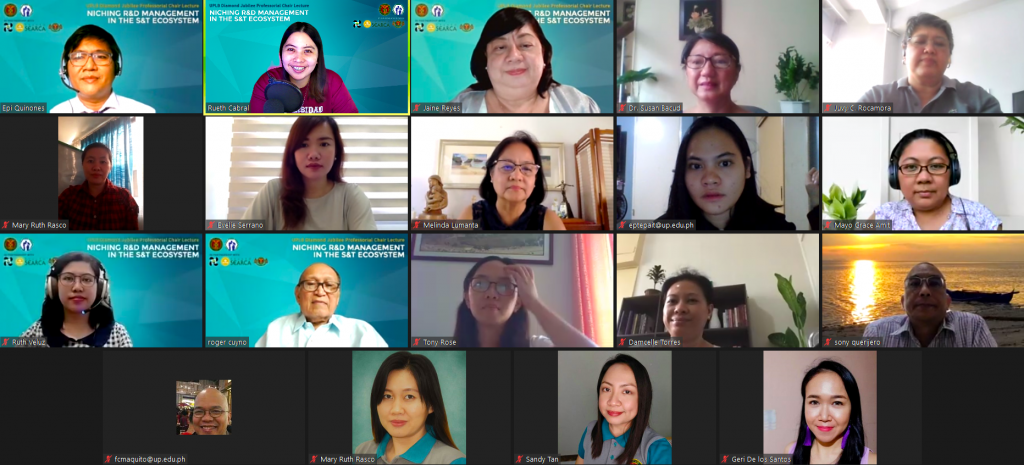 Written by Ellaisa Ruth B. Veluz • Edited by Larry N. Cruz