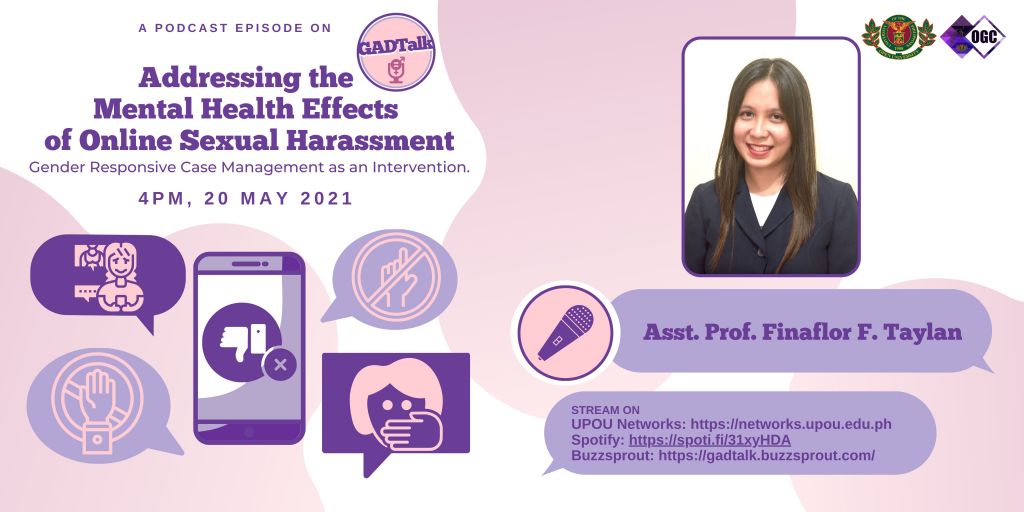 The University of the Philippines Open University (UPOU) Office of Gender Concerns (OGC) in collaboration with the Diploma in/Master of Social Work and Diploma in Women and Development programs of the UPOU Faculty of Management and Development Studies (FMDS) will be releasing the second GADTalk podcast episode on 20 May 2021, 4:00 PM.
Asst. Prof. Finaflor F. Taylan, a faculty at FMDS UPOU and former director of UPOU OGC, will serve as the resource speaker for the second podcast episode titled: Addressing the Mental Health Effects of Online Sexual Harassment: Gender Responsive Case Management as an Intervention. This episode is a question and answer (Q&A) type of discussion and will focus on the mental health effects and the process of GRCM as an intervention for the victims of online sexul harassment. This event aims to address UPOU's target of mainstreaming gender and prevent sexual harassment in the virtual classrooms and landscape.
This shall be followed with a monthly release of podcasts, until December 2021, on various concerns pertaining to sexual harassment in the cyberspace. The podcast will be released via the UPOU Network's website, Buzzsprout, and Spotify.
Everyone deserves personal safety regardless of sex, gender identity, or sexual orientation. UPOU stems from this belief, and seeks to promote open communication and be an advocate for positive social change, and empower individuals.
Written by Jenine R. Bagos