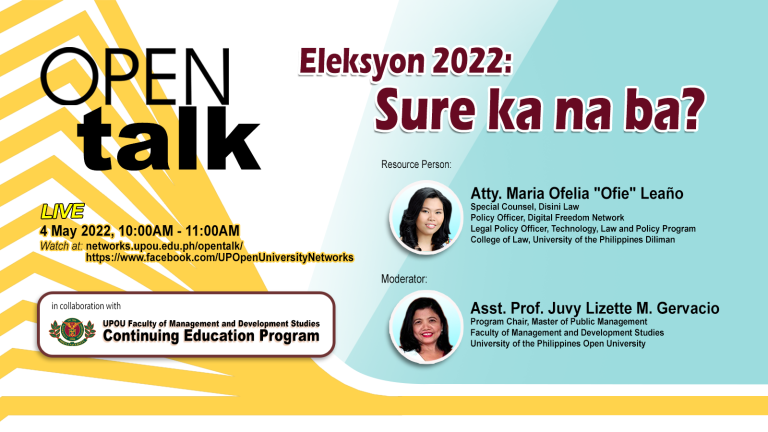 With the upcoming 2022 Philippine national elections,  OPENTalk episode 23 titled "Eleksyon 22: Sure ka na ba?" featured a discussion on the roles and responsibilities of government elected officials, voters' roles, rights, and responsibilities on  4 May 2022, from 10:00 to 11:00 AM, streamed live via the UPOU Networks, UPOU Networks Multimedia Center Facebook Page, and on Youtube.
The resource speaker for the episode was Atty. Maria Ofelia "Ofie" Leaño, Special Counsel at Disini Law, Policy Officer at the Digital Freedom Network (DFN), and Legal Policy Officer at Technology, Law and Policy Program, College of Law, University of the Philippines Diliman. She also serves as the coordinator of the UP Open University (UPOU) Faculty of Management and Development Studies (FMDS) Certificate Course for Data Protection Officers (CCDPO), a project with DFN and the University of the Philippines Open University Foundation, Inc. (UPOUFI).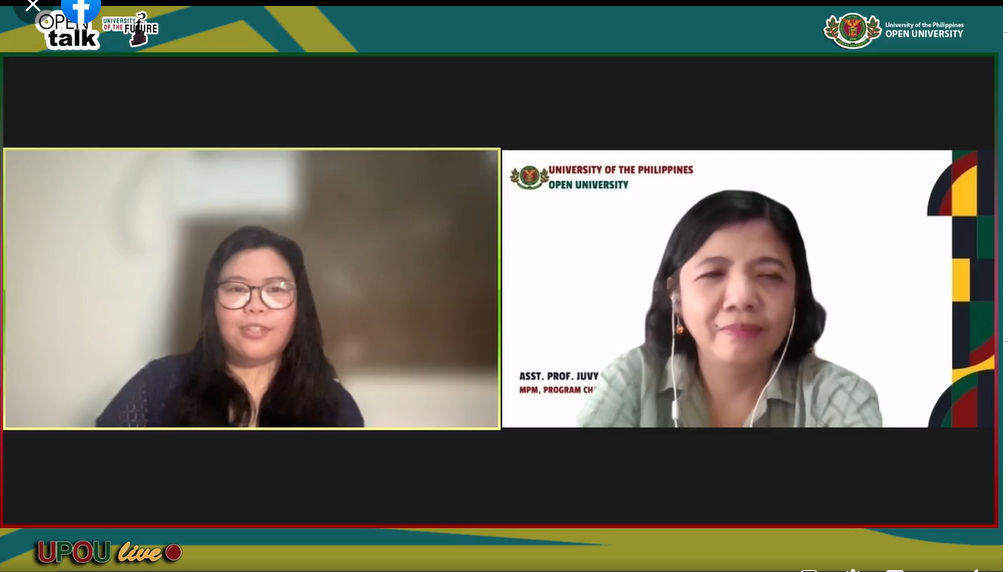 Atty. Leaño discussed the roles and responsibilities of the three branches of the government from various levels, voter's rights, their scope of duties, and the implications of voting and not voting. She also shared a few reminders during and after the casting of votes.
As the discussion went further, Atty. Leaño encouraged the viewers to be critical as she reminded them that every vote cast, gives the candidate the right, authority, and power — and that the right to suffrage shall not be abused. She also noted, "bumoboto tayo ng tao na ang prinsipyo ay tulad sa atin sa paniniwala na kapag ang mga ito ay naupo… ay gagawin po nila ang mga proyekto na alinsunod sa mga nais nating gawin din bilang pilipino. Representative natin sila" (We elect people whose principles reflect ours in the belief that once elected, they will implement projects in line with our goals and ambitions as a Filipino citizen. They are our representatives.). The utilization of various platforms and tools in knowing more about the candidate's background aside from the frequently used social media was also encouraged, as well as the importance of discerning what's real and not when it comes to getting information.
Questions from the viewers were also accommodated such as the role of party lists, volunteering as a poll watcher, and election hours. 
The session was moderated by Asst. Prof. Juvy Lizette M. Gervacio, Program Chair of the Master of Public Management (MPM) program and hosted by Asst. Prof. Ria Valerie Cabanes, Program Chair of the Master of Arts in Nursing (MAN) program of FMDS-UPOU. 
The 23rd episode simulcast has reached 406 live views across all media platforms and was restreamed live via the UPOU Networks Facebook page on May 7, 2022, two days before the national elections. This episode may also be rewatched on www.networks.upou.edu.ph.
Written by Camille Hemedes