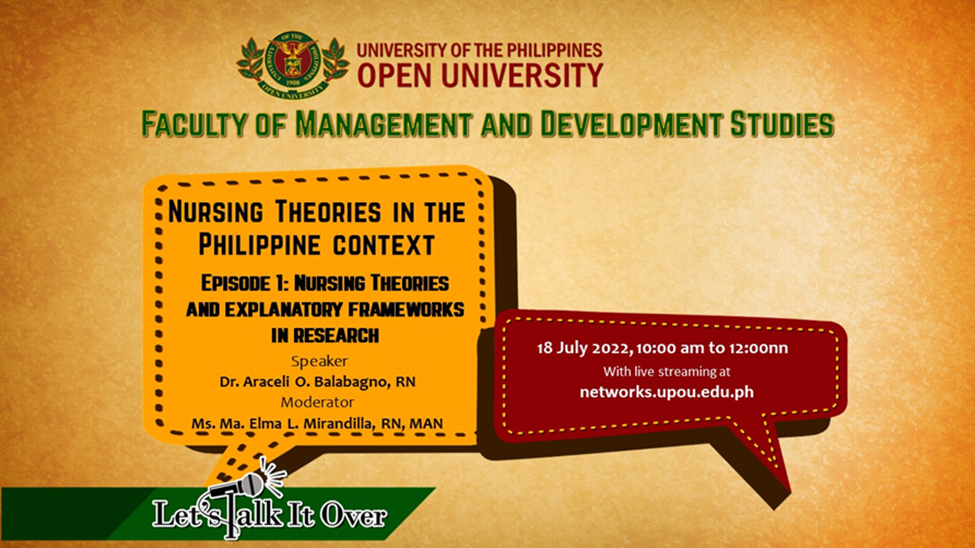 The Master of Arts in Nursing (MAN) Program of the Faculty of Management and Development Studies (FMDS), University of the Philippines Open University (UPOU) held a webinar titled "Nursing Theories in the Philippine Context, Episode 1: Nursing Theories and Explanatory Frameworks in Research" on 18 July 2022.  The speaker of the event was Dr. Araceli O. Balabagno, MAN and UP College of Nursing professional lecturer and the former president of the  Gerontology Nursing Association of the Philippines (GNAP). The webinar was moderated by Ms. Ma. Elma L. Mirandilla, lecturer  of the MAN program. 
The webinar started with the opening remarks from Dr. Joane V. Serrano, Dean of the FMDS. Dean Serrano expressed that by participating in this series, students will be able to use existing Filipino nursing theories and models for their thesis and research.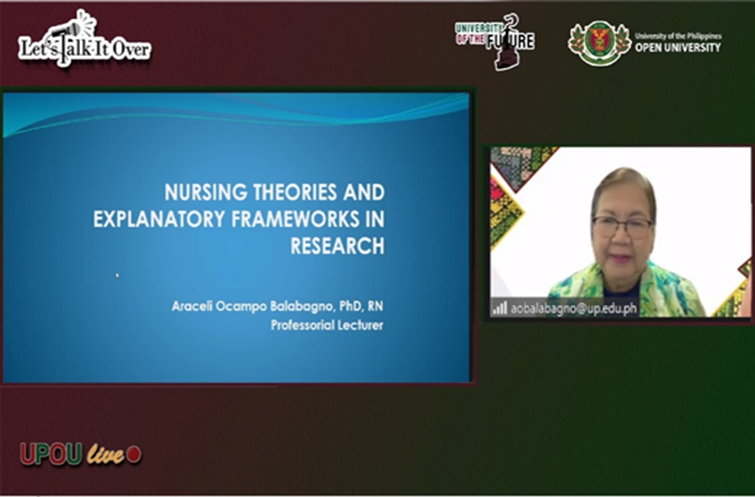 Dr. Balabagno's discussion was divided into two parts, starting with the use of theories in nursing research to support the conceptual framework development, followed by  the generation of nursing knowledge. She discussed how she was able to conceptualize her own framework entitled Ripple-wave-rooted theory. She also shared four studies by Dr. Carmencita Abaquin, Dr. Cecilia M. Laurente, Asst. Prof. Rita C. Ramos, and Dr. Djoko Sutopo to elaborate how one can generate substantive and explanatory frameworks. Dr. Balabagno also discussed evidence of the uniqueness of Philippine nursing in the generation of knowledge. The 1.5-hour discussion was followed by an open forum.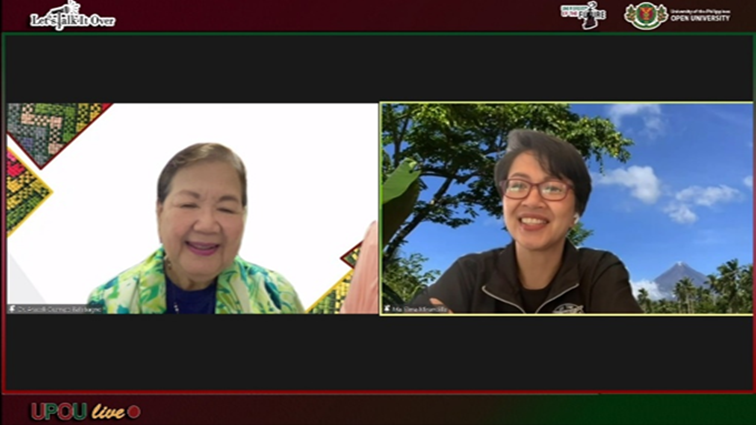 The webinar ended with closing remarks by the MAN Program Chair, Asst. Prof. Ria Valerie D. Cabanes. This webinar is the first episode of the Nursing Theories and Models in the Philippine Context being organized by the MAN program this year. 
The webinar can be watched through this link. 
Written by: Rachel Anne Joyce C. Sales