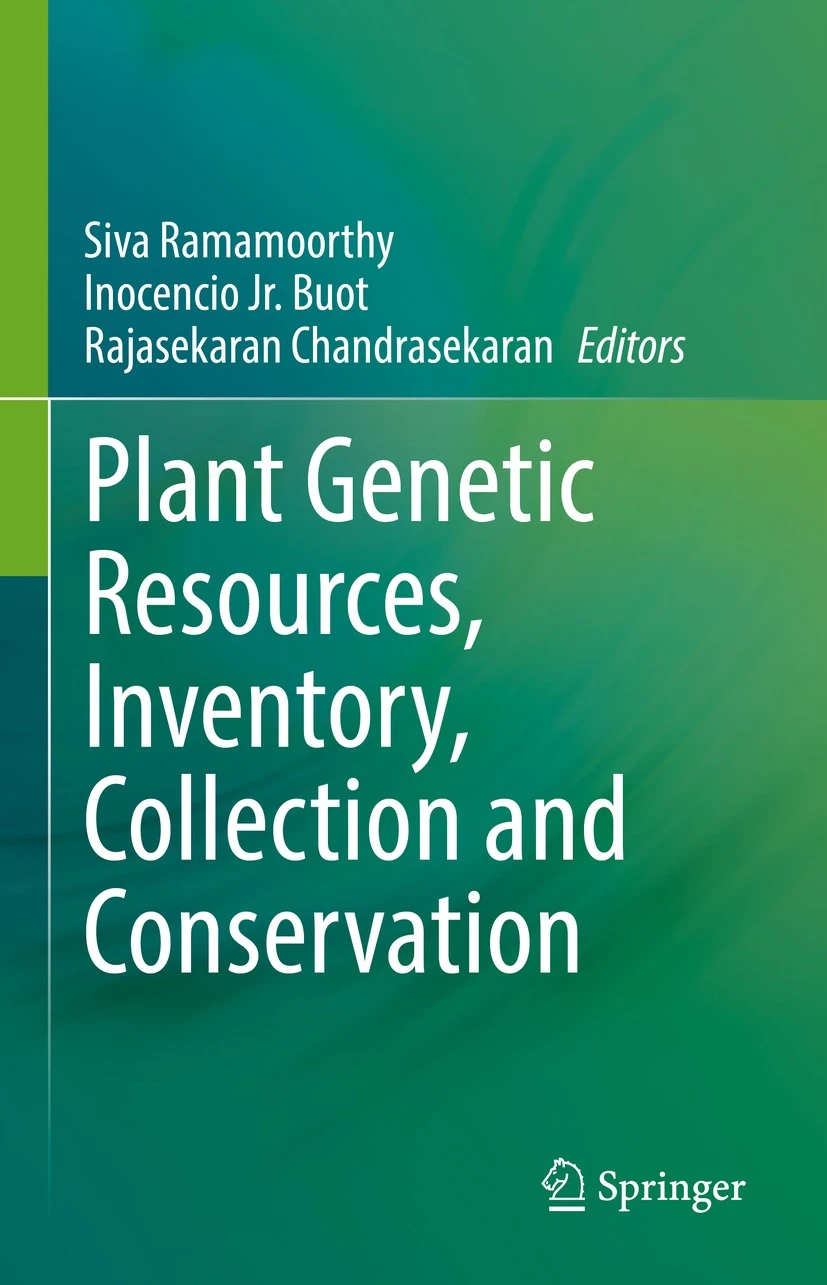 Dr. Inocencio Buot Jr., University of the Philippines Open University (UPOU) Affiliate Professor from UP Los Baños (UPLB) and former Dean of the Faculty of Management and Development Studies (FMDS)-UPOU, served as editor and writer of a book titled "Plant Genetic Resources, Inventory, Collection, and Conservation." Five of the 23 published chapters were also written by UPOU faculty members, including Dr. Buot himself.
The book was co-edited by Dr. Siva Ramamoorthy and Dr. Rajasekaran Chandrasekaran of Vellore Institute of Technology, India, and was published by SpringerLink — an online collection of peer-reviewed journal articles and book series in the sciences, social sciences, and humanities. It aimed to explain, address, and elaborate the threats and strategies, policy issues, and recent tools on floral biodiversity conservation. 
One of the identified conservation tools was the geographic information systems (GIS). This was discussed by Dr. Ricardo Bagarinao, Dean and Professor of the UPOU Faculty of Education (FEd), in a chapter titled "GIS and Its Role in Plant Genetic Resources Use and Conservation." The chapter aimed to explain how GIS can be used for conservation and management of plant genetic resources (PGRs) through a literature review. These roles included the 1) identification of conservation sites, 2) development of accession explorations and collection plans, 3) georeferencing of germplasm in gene banks, 4) integration of different kinds of georeferenced data, and 5) development of a pest monitoring map.
Similarly, a chapter on "Plant Diversity of Mount Makiling Forest Reserve: Implications to Management and Conservation" was published by Dr. Inocencio Buot Jr., together with Dr. Damasa Magcale Macandog, Dr. Vachel Gay Paller, Prof. Nerissa Torreta, Prof. Ivy Amor Lambio, Prof. Annalee Hadsall, Prof. Marjorie delos Angeles, Dr. Cleofas Cervancia, Ms. Sarena Grace Quiñones, and Mr. Jeoffrey Laruya, faculty members and staff of UPLB. The authors conducted a vegetation survey along the slopes of Mt. Makiling — a forest reserve located between Laguna and Batangas — where 24 species of mosses from 19 families, and 44 fern species from 22 genera and 17 families were collected. More understory species were found in the middle to lower elevations of Mt. Makiling than in higher elevations — with Loganiaceae as the most represented family. The authors also observed various activities in Mt. Makiling, such as pollination and floral visitation of bees and illegal conversion of forest areas into agricultural areas. The collected data would be used for conservation plans of Mt. Makiling's plant diversity.
Another chapter on conservation, titled "Identification and Conservation of Culturally Important Trees Used for Traditional Houses in Ifugao, Philippines," was written by Dr. Consuelo Habito, Professor of UPOU Faculty of Management and Development Studies (FMDS), together with Dr. Rosalie Mendoza and Prof. Pastor Malabrigo of UPLB and Mr. Raymundo Dong-e. The study aimed to identify different wood species used in the construction of traditional houses in Kiangan, Ifugao. Thirty-two (32) wood species were identified, most of which were indigenous and endemic. Results of the study suggested that indigenous knowledge was reflected in the choice of wood used, and this knowledge could contribute to the cultural preservation of traditional Ifugao houses.
Dr. Joane Serrano, Dean and Professor of UPOU FMDS, also wrote a chapter on "Situating Plant Genetic Resource in the K-12 Curriculum: A Critical Review," together with Dr. Sherry Marasigan of UPLB and an affiliate faculty of the UPOU Faculty of Education (FEd), and Ms. Janele Ann Belegal of FMDS-UPOU. The authors highlighted the role of education in PGR conservation and argued that the K-12 curriculum should include concepts and strategies on PGR conservation. Through an archival analysis using critical perspective, the authors discussed how PGR was situated in secondary education. Results showed that PGR was part of the K-12 curriculum through the 1) learning competencies, 2) content standard and performance standard, 3) content, 4) core area learning standard and spiraling of concepts, and 5) course description. In addition, the authors provided analysis for further improvement of situating PGR in the K-12 curriculum.
Dr. Jabez Joshua Flores, UPOU FMDS Lecturer, and Dr. Inocencio Buot Jr. also published a chapter titled "An Inventory of Commonly Cultivated Plant Species in Permaculture Farms in the Philippines." The chapter aimed to identify the commonly cultivated plant species in permaculture farms through an inventory in 12 permaculture sites in the Philippines. Furthermore, it sought to determine the use of plant species through key informant interviews (KII) and focused group discussions (FGD) with the farm staff. The inventory found 215 plant species, with Colocasia esculenta and Capsicum frutescens as the most commonly cultivated crops in 83% of the sites, and had 46 average species richness per farm. Meanwhile, results of the KII and FGD showed that the majority of the crops were utilized for household consumption.
The book covers other topics such as rice, medicinal plants, and PGR policy frameworks. It can be accessed via subscription through this link. 
Written by: Rhea Ariele Pascua • Edited by: Dr. Joane V. Serrano