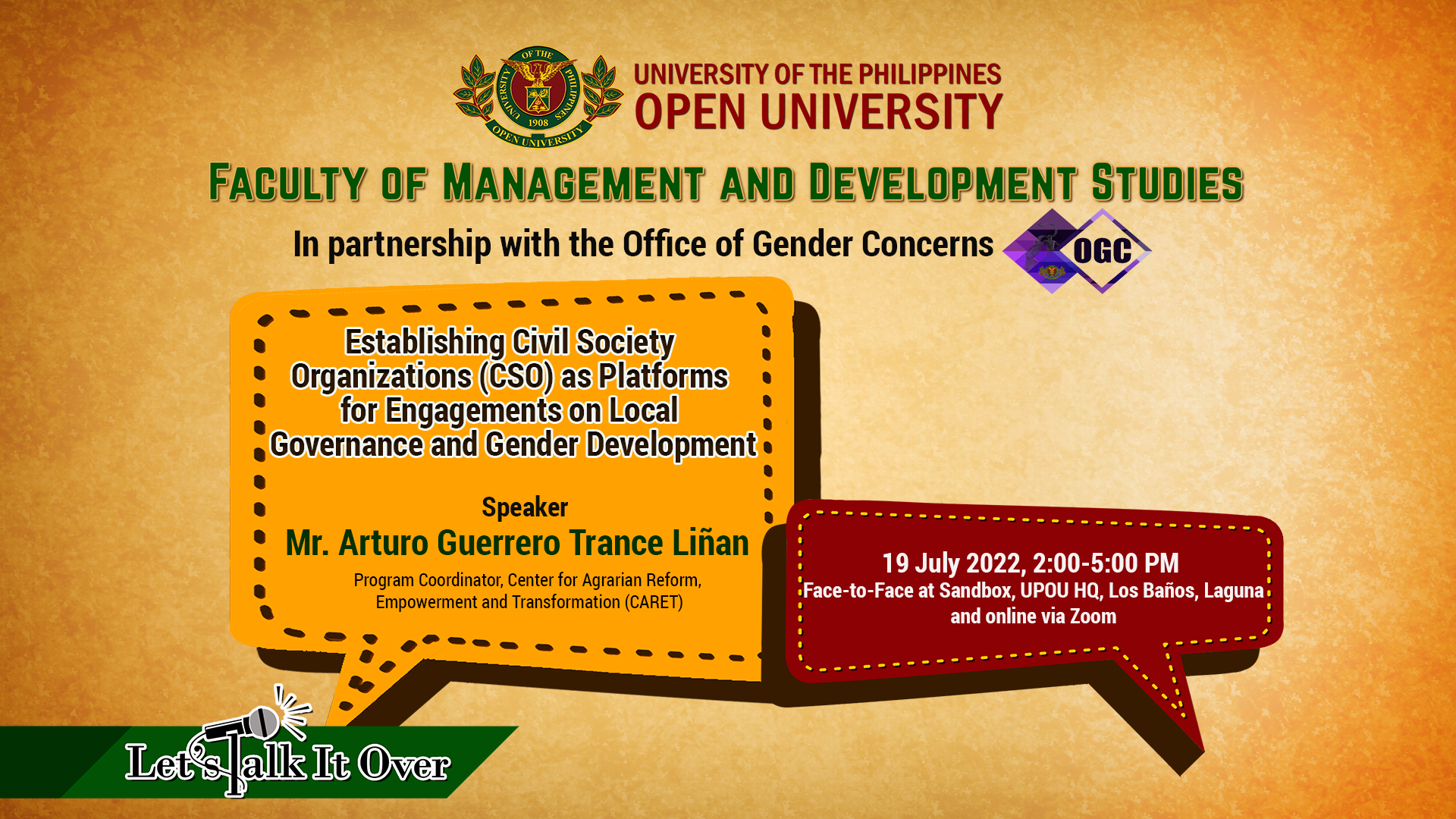 The Faculty of Management and Development Studies (FMDS) in partnership with the Office of Gender Concerns (OGC) conducted a seminar entitled "Establishing Civil Society Organizations (CSOs) as Platforms for Engagements on Local Governance and Gender Development" on 19 July 2022 in a hybrid set-up. The speaker of the event was Mr. Arturo Guerrero Trance Liñan,Program Coordinator of the Center for Agrarian Reform, Empowerment and Transformation (CARET). Mr. Liñan discussed the changes and the importance of citizen engagement towards the development of our country. The webinar was hosted and moderated by  Ms. Gelyzza Marie Diaz, OGC Staff. 

Dr. Finaflor Taylan, Director of OGC and Program Chair of the Diploma in/ Master of Social Work (D/MSW) and the Diploma in Women and Development (DWD), opened the webinar with the welcoming remarks. Dr. Taylan shared that the rights and responsibilities of the citizens include the ability to mobilize the public through community organizing and to address macro and micro problems such as gender issues. She mentioned that community mobilization and forming CSOs are important components of the democratic processes that are and should be practiced in our country towards better quality of life especially for the marginalized.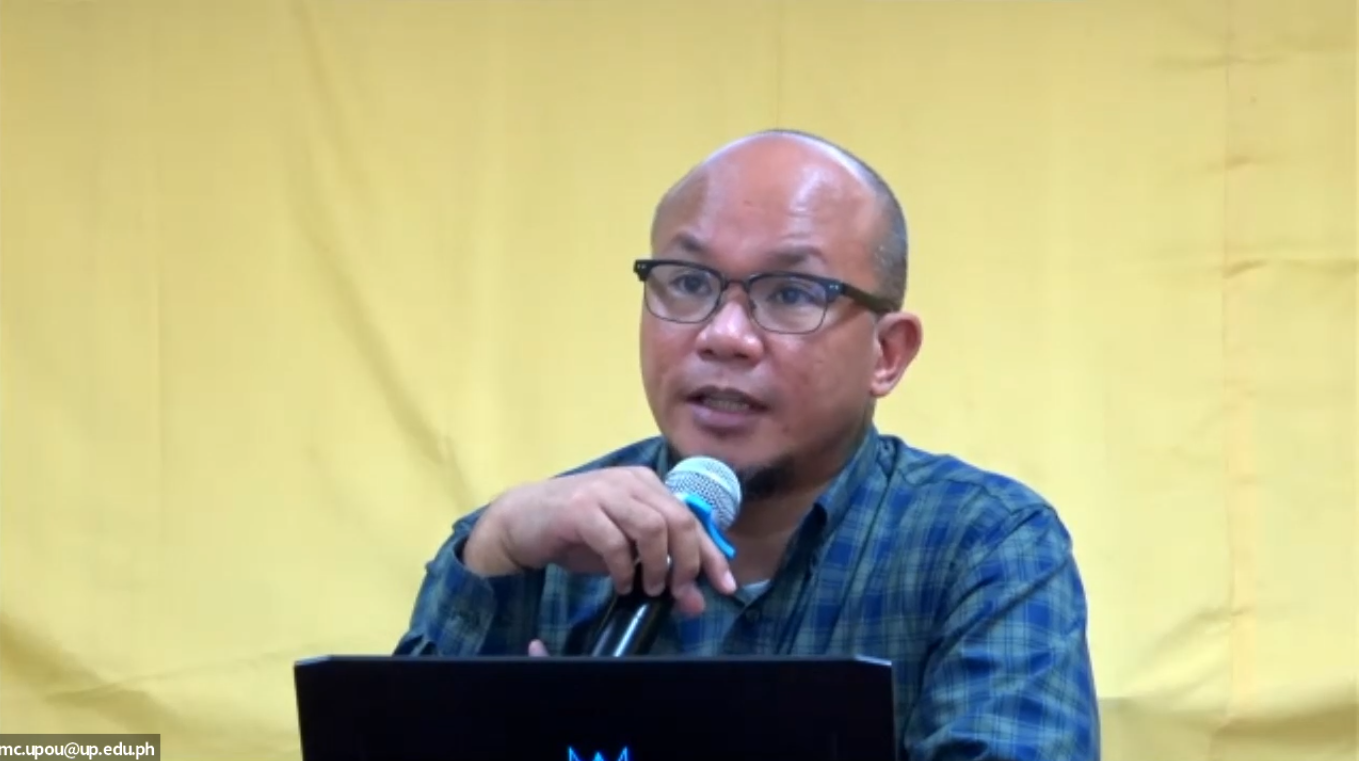 In his talk, Mr. Liñan discussed the types of organizations, community participation, frameworks, and challenges of the CSOs. He also shared ways on how to advocate the improvement of public institutions' efficiency, accountability, and transparency as well as the initiatives and approaches to address complex development situations especially in the community.
He stressed that active engagement is vital in crucial situations and problem resolutions since these concerns may pose a threat to the right to life, values, and the community well being, in general. Along with these rights, he emphasized that the society also has a responsibility to support, uphold, and contribute to the creation and implementation of laws and institutions. This view also recognizes people and state's obligations to respect human dignity and existence.
 He ended his presentation with a poem that addresses creating brave spaces in the community that are hoped to bring venues for community participation towards empowerment and welfare of people and communities.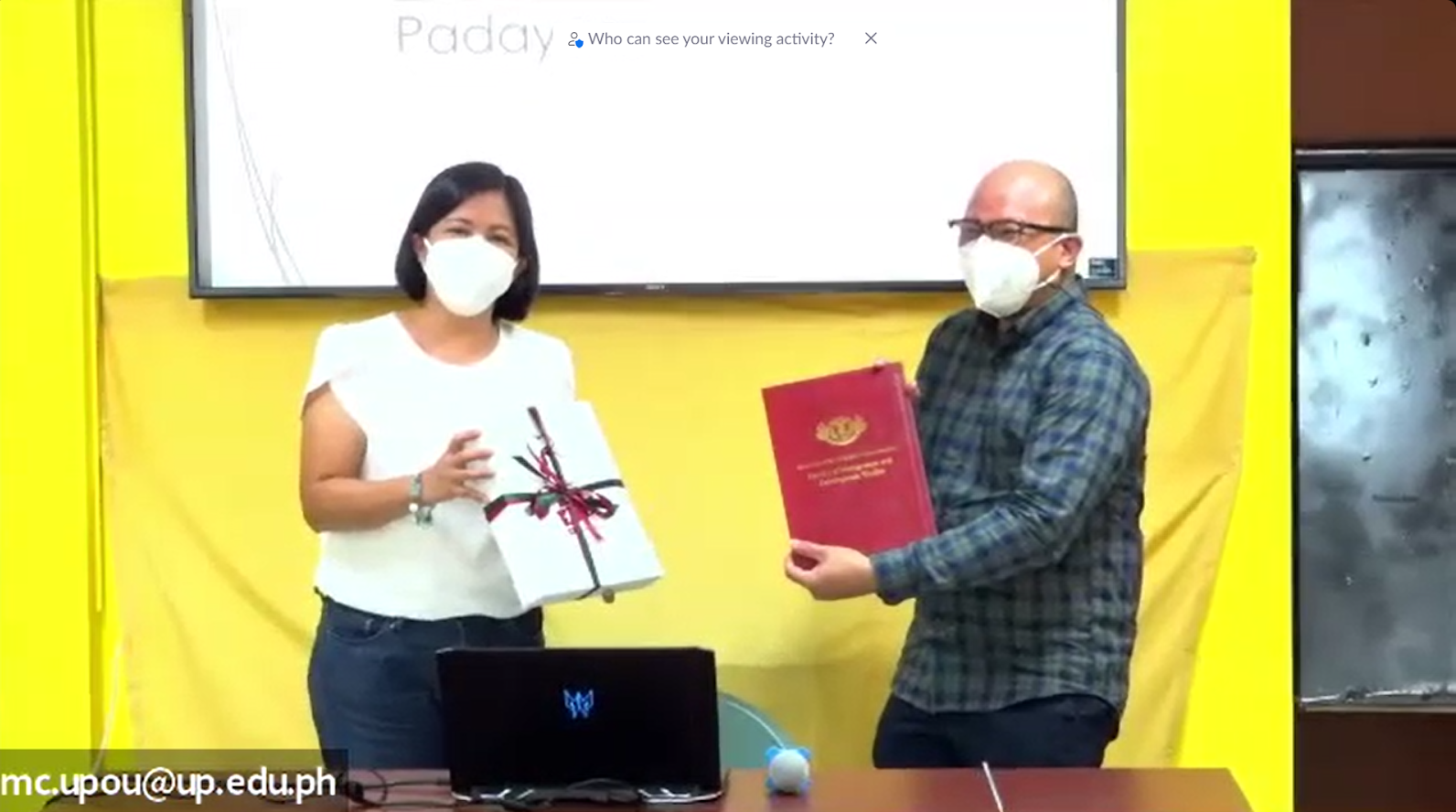 Dr. Joane V. Serrano, Dean of FMDS, delivered the closing remarks and acknowledged the organizers, speaker, and webinar participants.
Written by Ms. Denise Therese Anne Palisoc  • Edited by Dr. Finaflor F. Taylan, Ms. Dona Lyn M. Piamonte & Dr. Joane V. Serrano