A study by Arthur J. Lagbas, a candidate for the degree of Diploma in Land Use Planning (DLUP), has been accepted for the April 2022 issue publication of the Ecosystems & Development Journal (EDJ).
The study, entitled "Visitation and perception of college students on selected urban parks in the city of Manila," assessed the frequency of visits, familiarity, and the perceived urban park benefits and urban environment problems of college students from the Technological University of the Philippines (TUP).
Five public parks with notable historical and cultural heritage significance in Manila City were used in the study, namely the Arroceros Forest Park, Fort Santiago, Intramuros, Paco Park, and Rizal Park.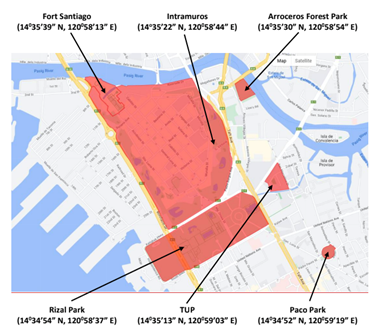 Through the use of an online survey, the researcher examined the students' visitation, familiarity and perception of ecosystem services and disservices, urban environmental problems and land use.
The study revealed that Rizal Park and Intramuros are the most frequently visited parks due to its spacious and openly accessible area, while gated and relatively smaller parks, Arroceros Forest Park and Paco Park, are the least visited. Furthermore, results also showed that the respondents perceived the importance of the urban air quality maintenance and cooling function of the urban parks. This suggests that heat stress caused by the urban heat island effect, climate change, and pollution highly influenced the respondents' perceptions.
The researcher emphasized that maintenance and development of public parks and other open green spaces should remain for the benefit of the public. The perception of the respondents represents the demand for and significance of public open green spaces in the quality maintenance of the urban ecosystem.
In addition, it is also suggested that park management should create opportunities and implement programs for fair access, such as discounted fees, free access on special occasions, and nighttime operation hours, so that the benefits of parks will be more accessible to the public.
The study may be accessed online on page 25-42 of the EDJ Volume 12 No. 1 through this link.
Lagbas also presented the study in the 16th Forest and Natural Resources Research Society of the Philippines (FORESPI) International Online Conference in October 2021 and in the 13th International Conference and Scientific Meeting of the Philippines Network of Educators on Environment Inc. in November 2021.
EDJ is a refereed journal of the College of Forestry and Natural Resources (CFNR), University of the Philippines Los Baños (UPLB). Published semi-annually, the journal focuses on research and policy development articles on sustainable development of natural resources and tropical forest ecosystems.
###
Written by Pauline Alvarez