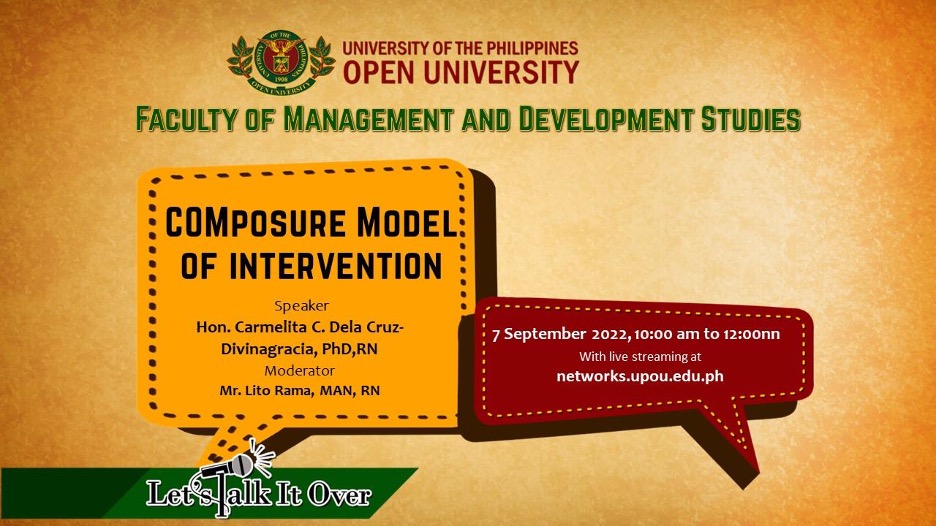 The Master of Arts in Nursing (MAN) program of the UP Open University (UPOU) Faculty of Management and Development Studies (FMDS)  conducted the Episode 2 of the Nursing Theories in the Philippine Context series of webinars. Titled  COMposure Model of Intervention, the second episode was held last 7 September 2022.  The webinar was moderated by Mr. Lito Rama, lecturer  of the MAN program.
Dr. Carmelita C. Divinagracia was the guest speaker for the  episode. Dr.  Divinagracia  is currently the Chair of the Career Progression and Specialization Program in Nursing and a member of the Board of Nursing in the Professional Regulations Commission (PRC). In her talk, she explained that  ComPOSURE is a mnemonic for an intervention standing for Competence, Presence, Prayer, Open-Mindedness, Stimulation, Understanding, Respect, Relaxation, and Empathy.She then elaborated how it affects the patient's wellness after using the model as an intervention. She described how she developed the model, how she was inspired to do it for her dissertation, and how the model was applied in various nursing settings.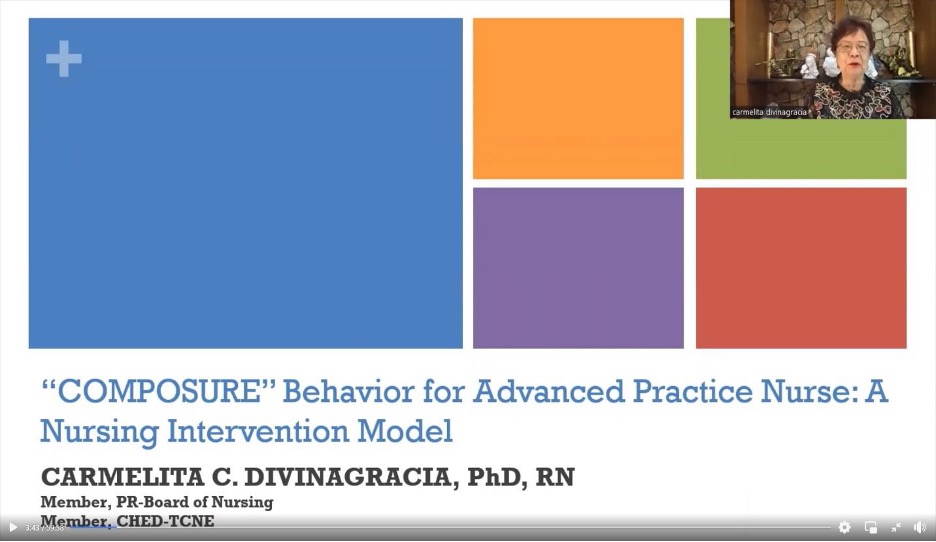 Dr. Divinagracia hoped that through this webinar, the model will be applied by nursing service administrators, nursing educators and curriculum planners, and nurse researchers. She believes that implementing the model could be a beneficial intervention, especially for nurses who have advanced in their profession in terms of practice and education. She also emphasized that in using the intervention, one must ensure that men and women have equal access to the model's elements to prevent gender bias by considering doing gender blind research and projects.
During the open forum, Dr. Divinagracia answered questions regarding the model's elements and its application in different research areas such as removing certain elements of the model, adding more variables, and where they can find the full paper of Dr. Divinagracia since they would like to learn more from it. The participants shared that the webinar was motivating for both nurses and researchers. Video recording of the webinar is available on the UPOU networks website.
Written by: Rachel Anne Joyce C. Sales