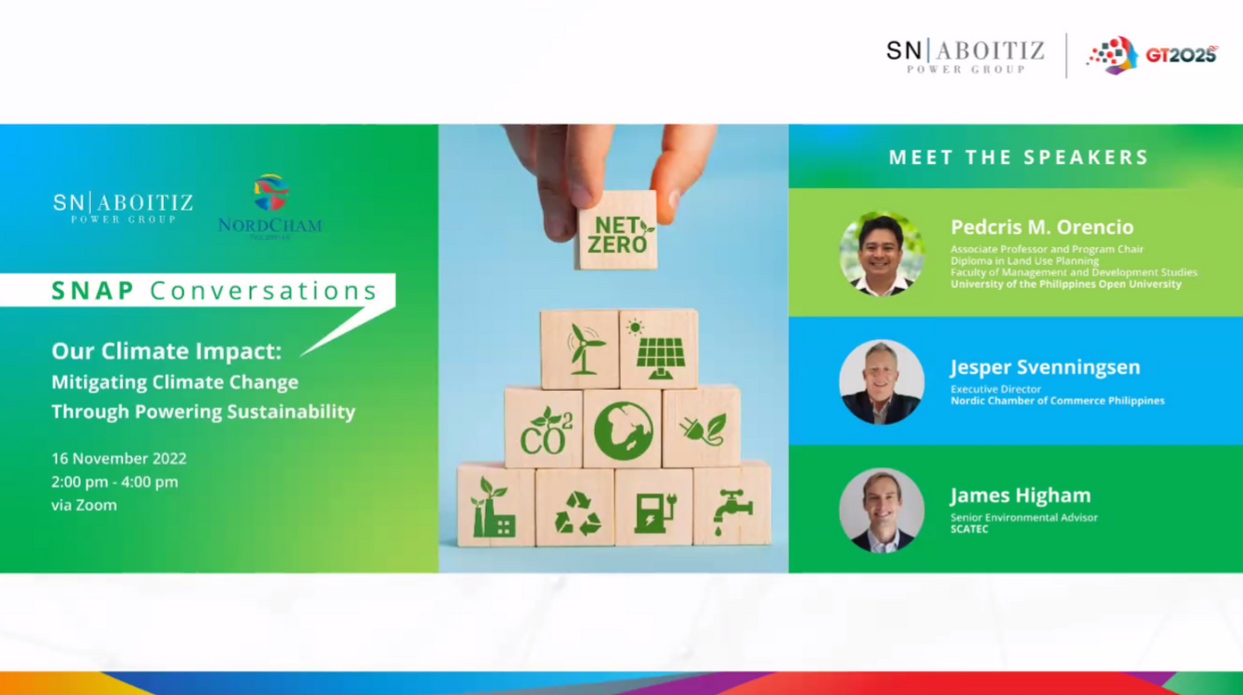 Dr. Pedcris M. Orencio, Associate Professor and Diploma in Land Use Planning (DLUP) Program Chair of the Faculty of Management and Development Studies (FMDS) of the UP Open University (UPOU), presented the impacts of climate change in the fourth leg of SN Aboitiz Power (SNAP) Conversations on 16 November 2022 via Zoom.
Carrying the theme "Our Climate Impact: Mitigating Climate Change Through Powering Sustainability," the webinar aims to draw attention to the threats brought by climate change and how to mitigate and manage the risks.
To provide an understanding of disaster risk and management, Dr. Orencio discussed the climate change processes at various scales and how it affects daily lives. Developing adaptation strategies and programs catered to different sectors in order to build resilience to climate change was also emphasized.
The presentation was concluded by providing suggestions on what courses of action could be done to mitigate the risks of climate change, highlighting the importance of decision-making based on the empirical evidence of climate impact. 
The event, in partnership with NordCham Philippines, also discussed practical guidelines and methods on how companies can reduce their carbon footprints by regular, comprehensive, and effective calculations of their carbon emissions.
SNAP is a joint venture between Scatec, a Norway-based renewable power producer, and Aboitiz Power, holding company of the Philippines-based Aboitiz Group's investment in power generation, distribution, and retail electricity services.
 Written by: Pauline Alvarez • Edited by: Dr. Joane V. Serrano