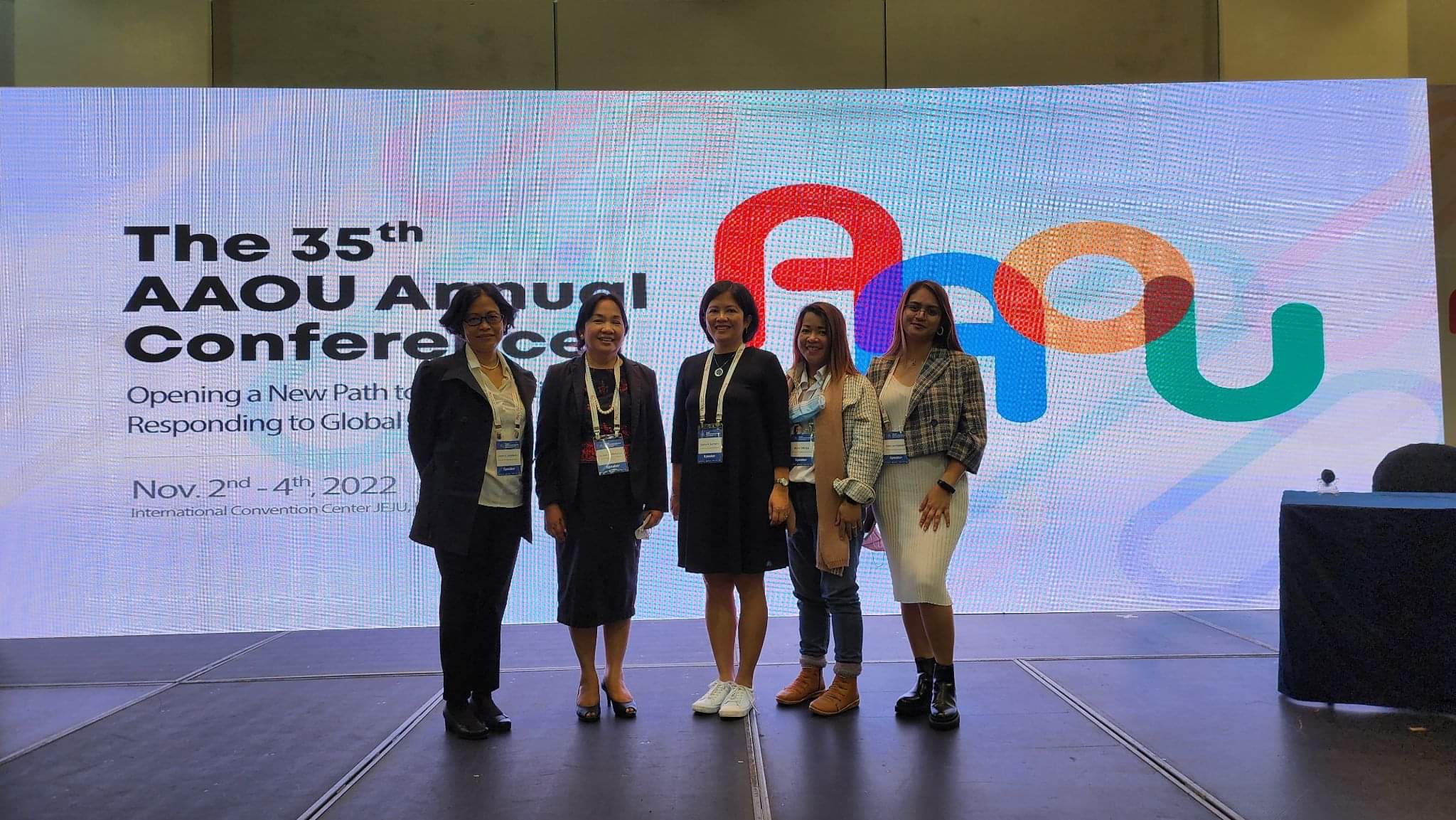 The Faculty of Management and Development Studies (FMDS) Dean, faculty members and REPS participated in the 35th Asian Association of Open Universities (AAOU) Annual Conference held at the International Convention Center in Jeju, South Korea on 2-4 November 2022.
This year's conference hosted by the Korea National Open University (KNOU) has the theme "Opening a New Path to Open Universities: Responding to Global Issues,"with the following sub-themes: Repositioning Open Universities in the Post COVID-19 Era; Innovative EduTech in Distance Education; Assessment in Open Universities: Old vs New; Human Resources Development in Open Universities; Best Practices in Providing Students Service in Open Universities; and Contribution to Society as an Open University and its Implication.
Under the Assessment in Open Universities: Old vs New sub-theme, Dr. Joane V. Serrano, Dean of FMDS, presented her paper titled "Reimagining Assessments Through Open Educational Resources". This study aimed to document the use of Open Educational Resources (OERs) as an assessment tool in promoting peer learning as well as demonstrate its effectiveness in terms of knowledge sharing. Through thematic analysis, it was shown that illustrating OERs are found to be part of Open Educational Practices (OEPs) because it allows the application of specific principles learned in class while creating a material that is open and accessible to the public and widely contributes to the open access movement. Better appreciation of concepts, theories, and principles were also observed through the students' involvement in planning, designing, and co-creating OERs. 
For the Human Resources Development in Open Universities sub-theme, Dr. Jean A. Saludadez, faculty member and Program Chair of the ASEAN Studies Graduate Program and Ms. Dona Lyn M. Piamonte, University Extension Associate presented their paper titled "Teacher Support  in an Online Education  from Three Perspectives:  Implications for Human Resource Development". With the use of autoethnographic analysis, this paper described the support for teachers in a graduate program delivered online from three perspectives: Academic, Assistance for Technology, and Administrative. The analysis surfaced three arenas where support is required: 1) Transitioning from being traditional to being online teacher (consisting of acquiring the Open and Distance eLearning (ODeL) Framework as a shared performance and awareness with the technological nature of online education); 2) Teaching interaction between teacher and students (consisting of  constructing the online classroom and connecting with the students); and 3) Transforming societal role of the university (consisting of program completion of students and  producing competent workforce). 
Lastly, under the Best Practices in Providing Students Service in Open Universities sub-theme, Dr. Myra D. Oruga, faculty member and Program Chair of the Diploma in/Master of International Health presented the paper  titled "Knowledge, Attitude, and Skills of Students in an Open University on an Augmented Reality (AR) and Virtual Reality (VR) Application: Basis for the Development of AR-VR Materials". The paper served as an assessment of what content should be included in the AR-VR materials suited to the needs of the students enrolled in the health program at the University of the Philippines Open University (UPOU) using a self-administered survey questionnaire. Furthermore, it aimed to determine the Knowledge, Attitude, and Skills of target learners and correlate them to their profiles using Chi-Square Test of association. 
The AAOU, where UPOU currently serves as one of the Executive Committee members,  is a non-profit organization of higher learning institutions that are primarily concerned with open and distance education.  The Annual Conference, hosted in turn by AAOU member-institutions, provides a venue for keeping everyone informed on issues, ideas, and developments in the field of open distance learning. 
For more information, you may access the websites of AAOU and 35th AAOU Annual Conference.
Written by: Dona Lyn Piamonte • Edited by: Larry Cruz