UP Open University to conduct International Research Forum in partnership with the University of Padjadjaran in Bandung, Indonesia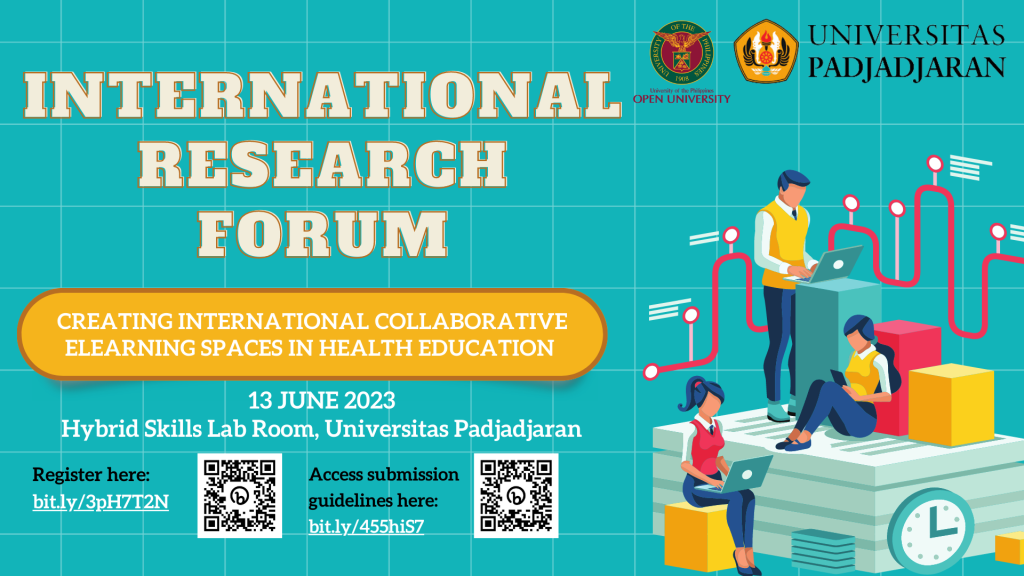 The University of the Philippines Open University (UPOU), in partnership with University of Padjadjaran (UNPAD), Indonesia, will be conducting an International Research Forum on 13 June 2023. The conference is open to all faculty members and students of UPOU, Master of Arts in Nursing (MAN) and Master of International Health, Faculty of Nursing of University of Padjadjaran Bandung, Indonesia.
The conference invites the faculty members and students of UPOU Master of Arts in Nursing, Master of Arts of International Health, and UNPAD Faculty of Nursing to submit abstracts on the following sub-themes:
Innovative Technology in Health

WHO defines health innovation as a new or improved solution with the transformative ability to accelerate positive health impact.

Innovative Technology in  Communicable and Non Communicable Disease

Health Promotion and Education

Mental Health and Digital Technology

Nutrition and Related Diseases

Women and Child Health

Community and Elderly Care

Palliative and End-of Life Care
The international research forum is part of the research events organized jointly by both universities from 13 to 15 June 203 aligned with their collaborative research entitled "Creating International Collaborative eLearning Spaces in a Post-Pandemic Era in Education through Microcredentials." The forum will be on a hybrid setup, available online via Zoom and on site at the Faculty of Nursing, Universitas Padjadjaran, West Java, Bandung, Indonesia. This will also be live streamed via Youtube.
Written by Rachel Anne Sales • Edited by Larry N. Cruz