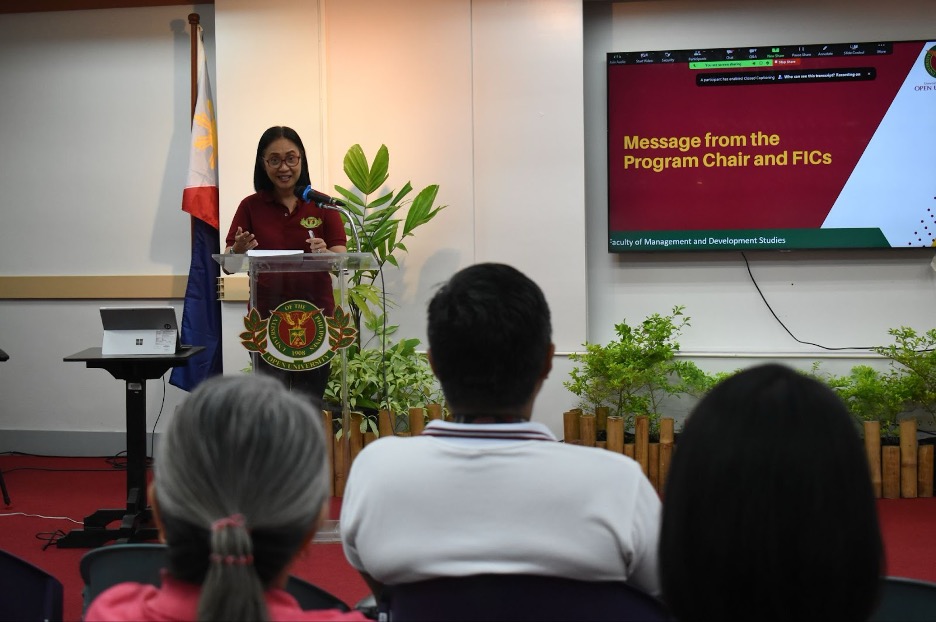 Asst. Prof. Tricia C. Ascan, AADE Program Chair, orients the students about the AADE program.
The Faculty of Management and Development Studies (FMDS) of the University of the Philippines Open University (UPOU) conducted a Hybrid Student Orientation for the first batch of the Associate of Arts in Digital Entrepreneurship (AADE) program held on 14 October 2023 at the UPOU Audio-Visual Room, Los Baños, Laguna and via Zoom. The orientation aimed to familiarize the AADE students with the academic environment, introduce them to essential support services, and ensure a smooth transition into their online learning journey. 
The first part of the program which was formally opened by a welcome remarks from Dr. Joane V. Serrano, Dean of FMDS included a comprehensive introduction to the Faculty, UPOU administrative and academic policies, Student Support Site, a one-stop hub for academic resources, services, and information, and the MindsMatter program aimed at supporting students' mental well-being which was introduced by Ms. Erma Tidon, the psychotherapist and wellness consultant for FMDS.
Led by the AADE Program Chair, Asst. Prof. Tricia C. Ascan, the second part of the orientation provided the students insights into the program's structure and objectives. An open forum concluded the session.
The AADE program is the first undergraduate degree offering of FMDS. It aims to carve a path for individuals aspiring to venture into the digital entrepreneurship landscape. As the students commence their academic endeavors, the FMDS remains committed to nurturing their growth and fostering a community of innovative and informed entrepreneurs.
Written by: Jelaine R. Bagos • Edited by: Larry N. Cruz