UPOU-FMDS MENRM Student participates in the 3rd International Conference on Biodiversity and Climate Change (IConBaCC) 2023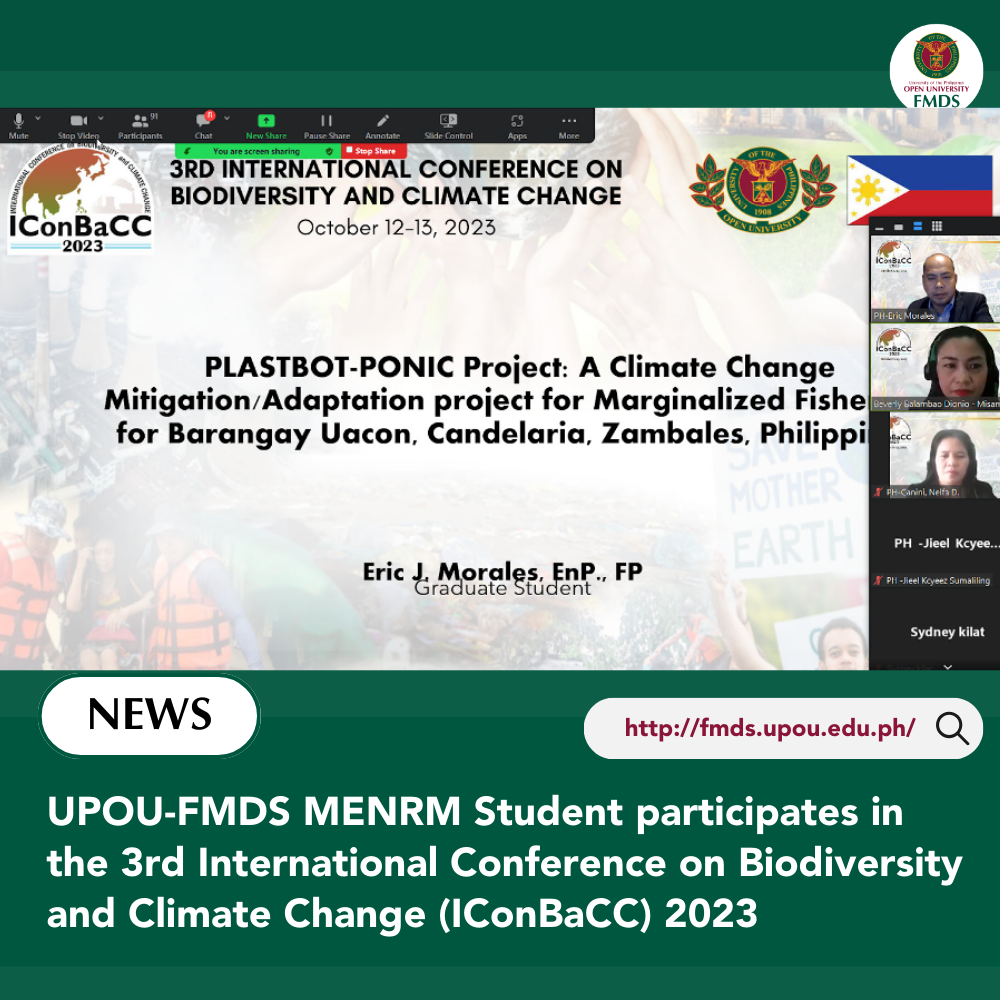 EnP. Eric Morales, a graduating student of the Master of Environment Natural Resources Management (MENRM) Program presented his special project at the 3rd International Conference on Biodiversity and Climate Change (IConBaCC) 2023 with the theme, "Addressing Climate Emergency through Community Empowerment and Innovative Solutions toward Sustainability." Hosted by Misamis University in Ozamiz City, Philippines in collaboration with Vellore Institute of Technology (VIT) University, India; Kalinga Institute of Industrial Technology (KIIT), India; Deemed University, India; and Kasetsart University (KU), Thailand on 12-13 October 2023 via Zoom platform, the event was participated in by various universities and agencies from the Philippines as well as from other countries like Singapore, Thailand, Malaysia, and India.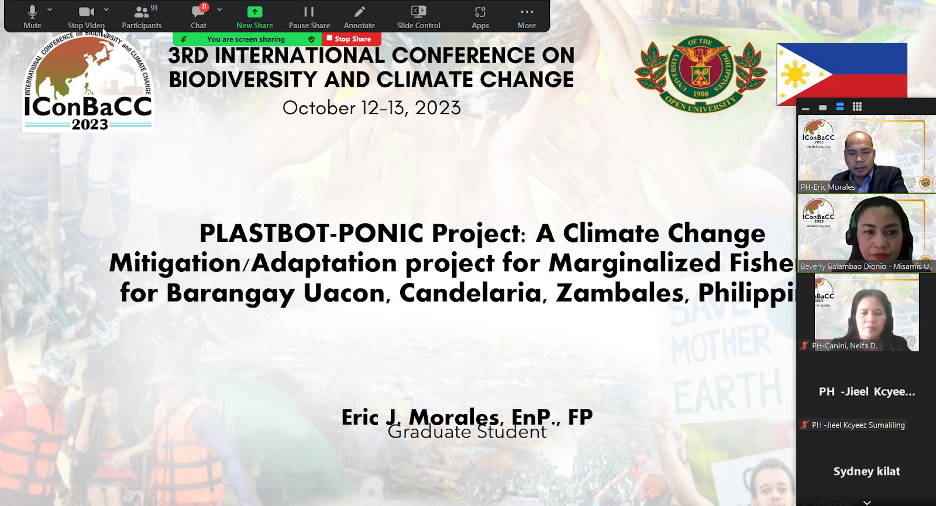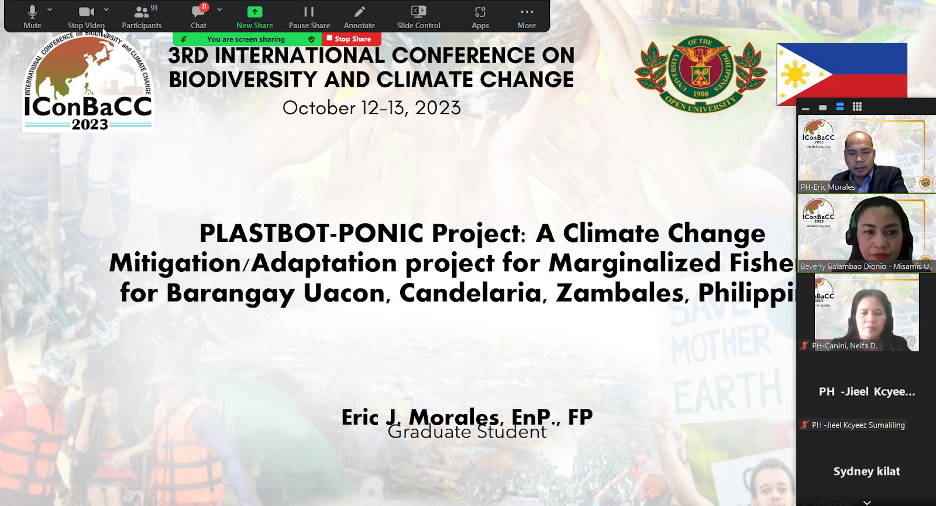 The title of his presentation is "PLASBOT-Ponic Project: A climate change mitigation and adaptation project for marginalized fisherfolk of Barangay Uacon, Candelaria, Zambales, Philippines". It is a capacity-building project for the fisherfolk through an awareness campaign on climate change and plastic pollution's impact on the marine ecosystem and coastal community. Moreover, the project also provided information on alternative livelihood in the context of plastic waste recycling into backyard vegetable production by establishing the PLASTBOT-Ponic Demonstration Project. PLASBOT-Ponic refers to waste PLAStic BOTtle for hydroPONIC system aiming to produce healthy vegetables readily available for the fisherfolk households. 
The project is in harmony with the National Climate Change Action Plan (NCCAP) 2011-2028 addressing three of the seven priority strategies on food security, ecological and environmental sustainability, and knowledge and capacity building development. Lastly, this project is also in unison with the United Nations' Sustainable Development Goals (SDGs) specifically;  Zero Hunger through backyard vegetable production (Goal 2), Gender Equality through women empowerment (Goal 5), Climate Action through capacity-building (Goal 13) and Life Below Water through addressing the marine plastic pollution (Goal 14). 
The PLASBOT-Ponic demonstration project is funded by a local non-government organization (NGO) in Candelaria, Zambales. It is currently on a small scale, hence, the beneficial impact is still relatively low. However, if this project will be implemented in different areas and in different sectors, collective outcome is expected to be substantially high.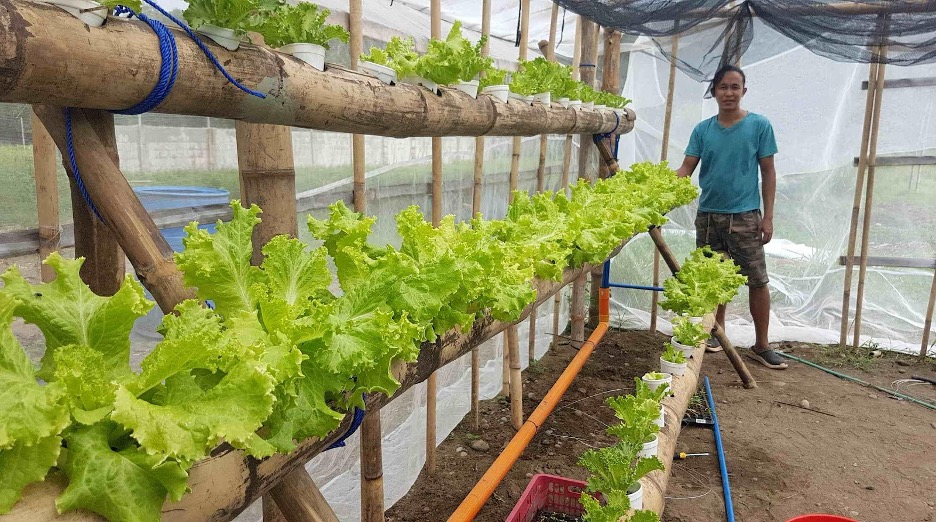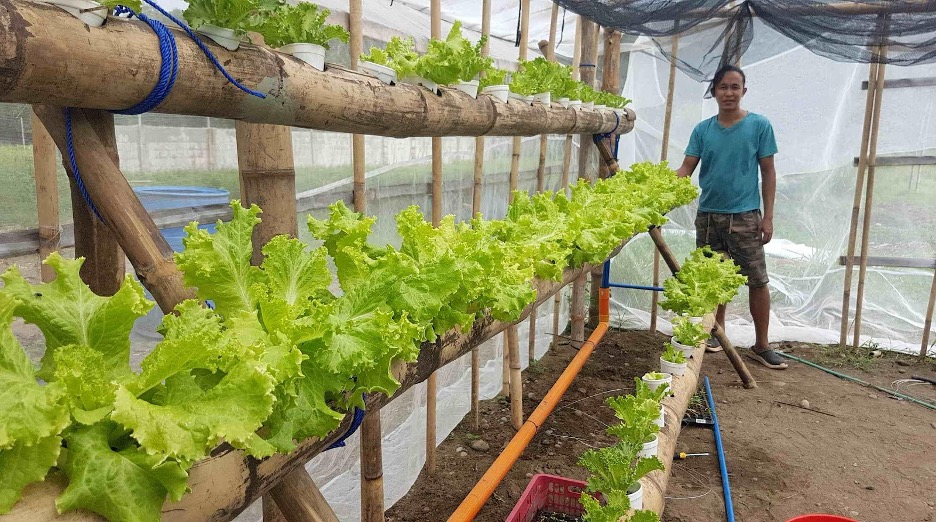 Written by EnP. Eric Morales • Edited by Larry N. Cruz