UPOU faculty, staff, and students participate in the 2017 APRU Global Health Conference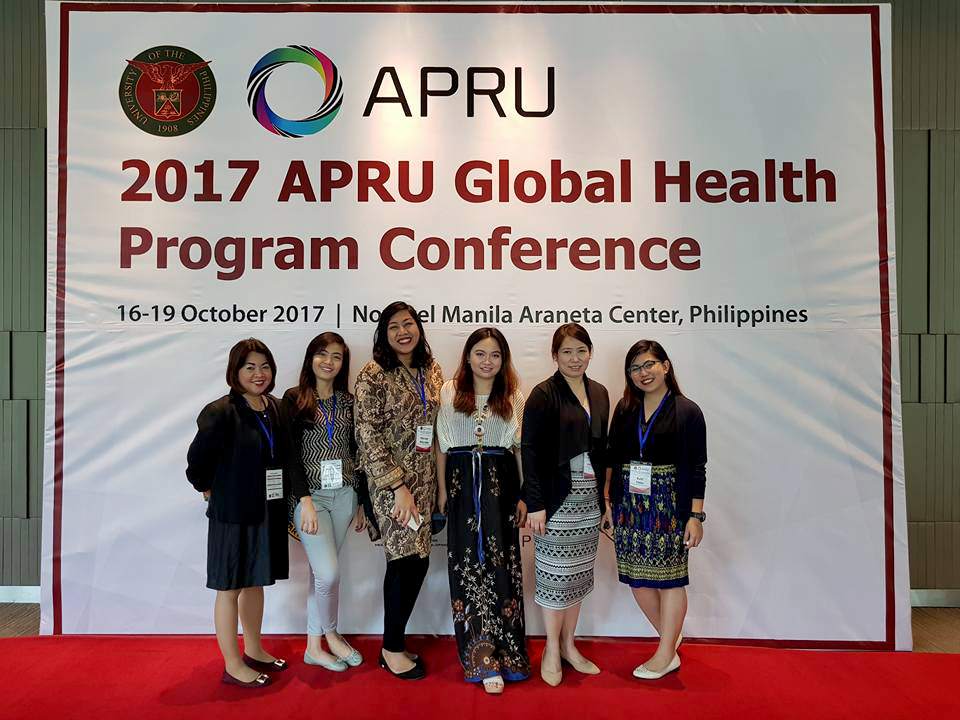 UPOU faculty and staff at the 11th Annual Asia Pacific Rim Universities (APRU) Global Health Conference
UP Open University (UPOU) participated in the 11th Annual Workshop of the Association of Pacific Rim Universities (APRU) Global Health Conference held on 16-19 October 2017 at Novotel Hotel, Araneta Center, Cubao, Quezon City, Philippines and organized by the University of the Philippines (UP) System.
This year's theme, "Environmental Exposures & Cancer in the Pacific Rim," aimed to promote collaboration and exchange of latest research and knowledge among health experts and practitioners, researchers, and policymakers in relation to prevention of cancer and other non-communicable diseases, environmental health, and occupational health.
Two pre-conference workshops were held. The first one tackled drug and substance abuse in the Philippines. The invited speakers were Mr. Benjamin Reyes from the Philip-pine Dangerous Drugs Board, who talked about The State of the Drug and Substance Abuse in the Philippines; Mr. Joselito Pascual from UP Manila, who discussed Psycho-tropic Drugs and Mental Health; and Mr. Patrick Louis Angeles from NoBox Transitions Foundation, who discussed Approaches to Addressing the Drug and Substance Abuse Problem: Learning from the Experiences of Other Countries. Speakers during the second workshop were Asst. Prof. Naruemon Thabchumpon from Chulalongkorn University; Mr. Marc Schenker from University of California, Davis; Ms. Mellissa Withers, APRU Program Director from University of Southern California; Ms. Maruja Asis from Scalabrini Migration Center, Philippines; and Prof. Veronica Ramirez from University of Asia and the Pacific. They all talked about migration and health in the Pacific Rim.
Dr. Curtis Harris, the invited keynote speaker from the U.S. National Cancer Institute, also talked about "Precision medicine strategy: Environment and human cancer." The work-shop concluded with a field trip featuring the UP Campus and the National Museum of Fine Arts.
The Faculty of Management of Development Studies (FMDS), led by Asst. Prof. Myra Oruga, Diploma in/Master of International Health (D/MIH) Program Chair and 2017 APRU Global Health Conference Local Organizing Committee Member, was one of the participating institutions that helped in facilitating the event. UPOU's Multimedia Center, including Ms. Luisa Gelisan, UPOU Networks Program Development Associate (PDA), provided video coverage for the conference. Staff members from the Information Office and FMDS lent administrative support. Some students from the D/MIH Program also participated in the conference.
APRU, of which UP is a member, is a consortium of leading research universities located in countries and regions in the Pacific Rim. It aims to foster collaboration between member universities, thereby contributing to the economic, scientific and cultural advancement in the region.
Article by Jelaine R. Bagos