FMDS celebrates World Social Work Day and National Women's Month with LTIO Lecture Series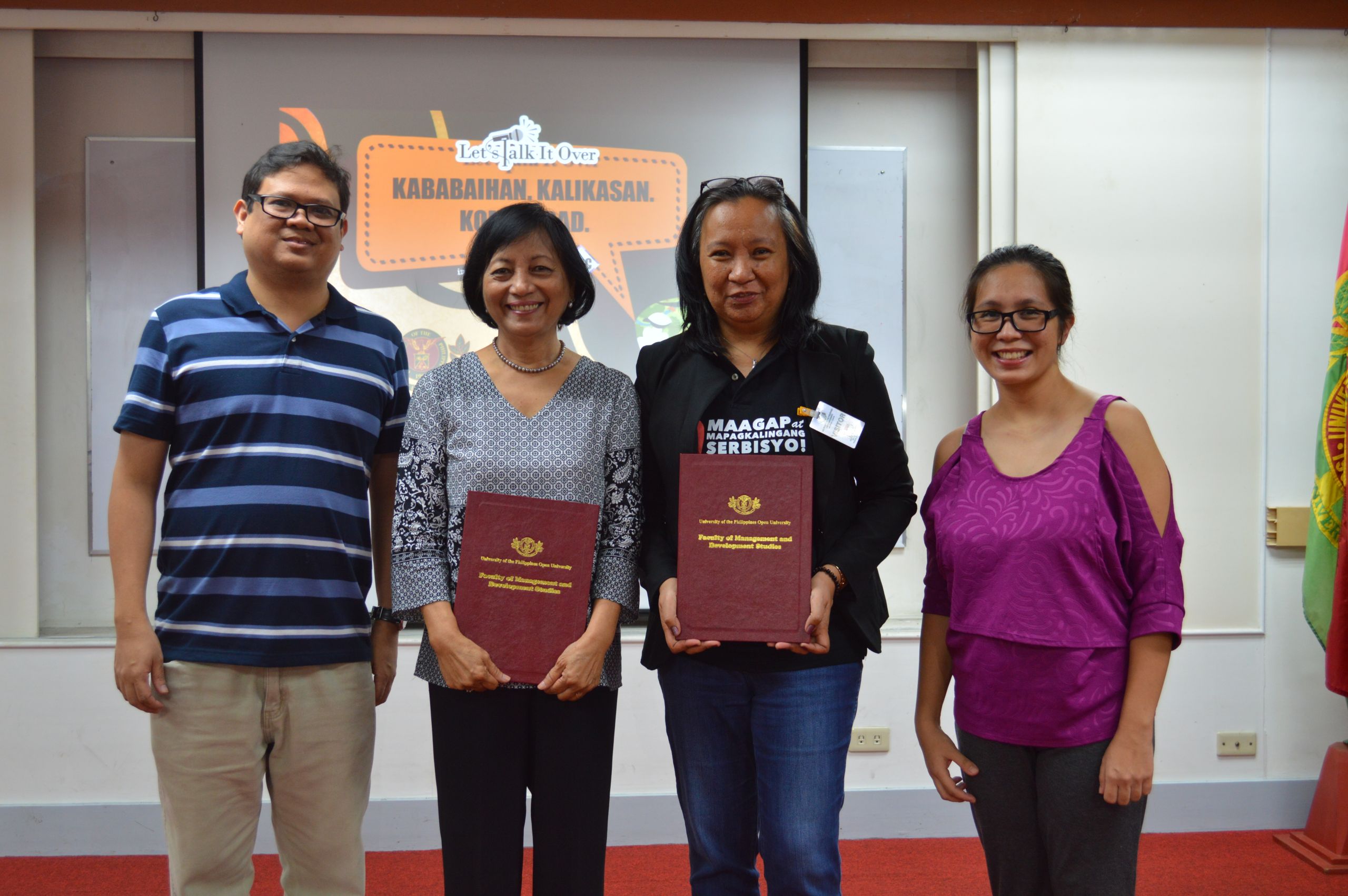 The Faculty of Management and Development Studies (FMDS) celebrated the World Social Work Day and National Women's Month on 21 March 2017 with a Let's Talk It Over (LTIO) lecture series entitled Kababaihan, Kalikasan, Komunidad, which discussed the role of social work to promote sustainable environments and communities and the role of women in climate change mitigation and adaptation.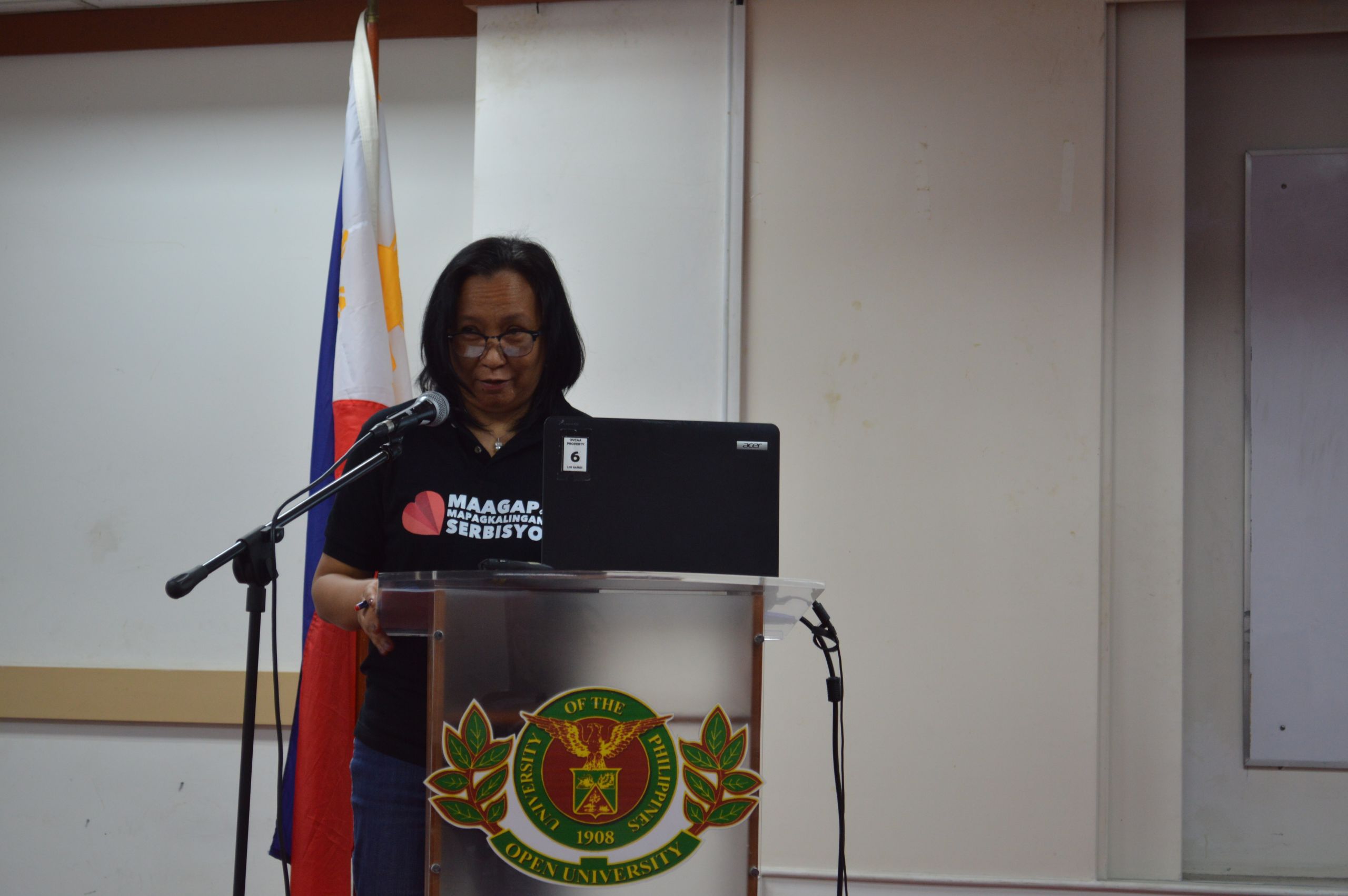 Two leading experts in women and development were invited to speak at the lecture series. Ms. Marita Castillo-Pimentel, the Director for Field Operations of the Department of Social Welfare and Development (DSWD), presented DSWD's tasks in terms of human capital development, improvement of the country's social protection programs, and implementation of the responsible parenthood and reproductive health law. Director Pimentel also shared with the audience DSWD Secretary Judy Taguiwalo's phrase "Gikan sa Masa, Para sa Masa" meaning "From the Masses, For the Masses" which is central to the department's promotive and protective programs characterized by maagap at mapagkalingang serbisyo, serbisyong walang puwang sa katiwalian, at patas na pagtrato sa komunidad. She urged everyone to continuously harness women's participation towards change and advocate for people-oriented and people-centered policies, programs and initiatives at various levels to promote sustainable communities living harmoniously with their natural environments.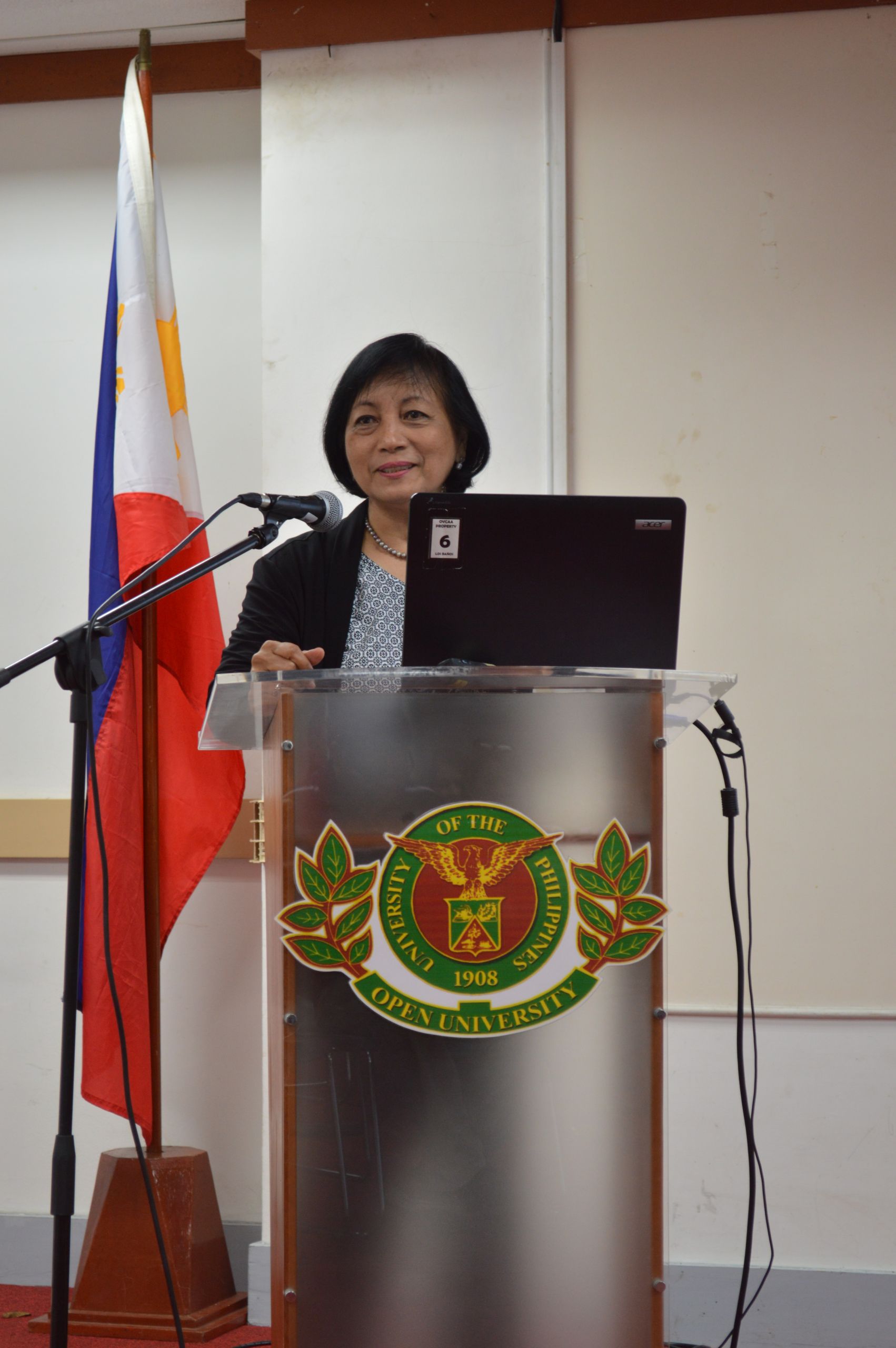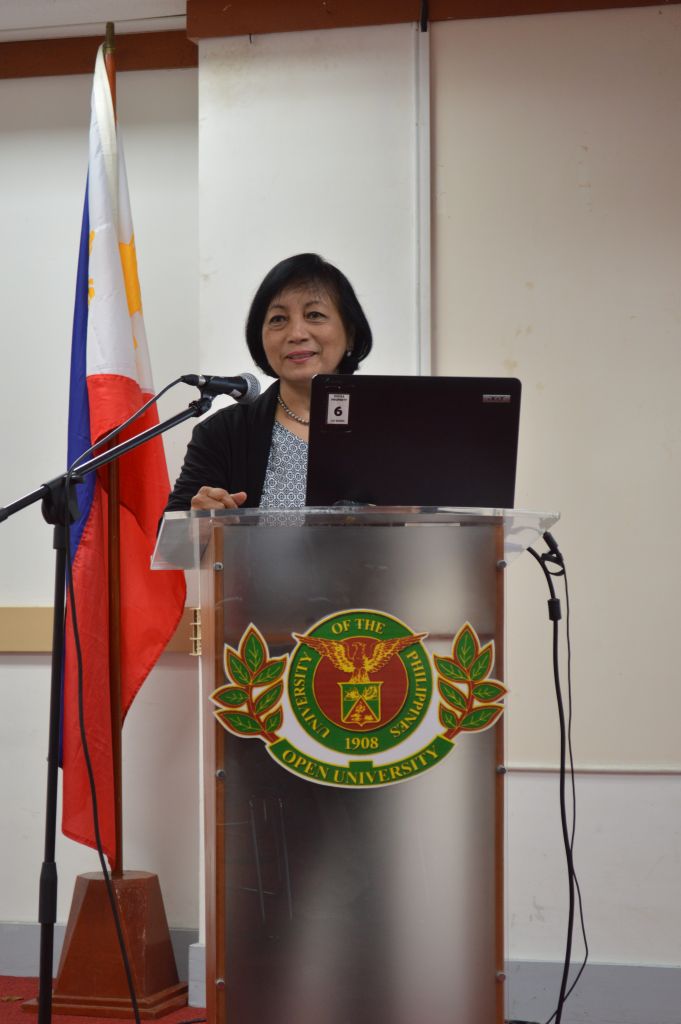 Dr. Thelma R. Paris, an independent consultant and formerly a gender specialist for Climate Change in Agriculture and Food Security (CCAFS) at the International Rice Research Institute (IRRI), discussed the roles of women and men in agriculture and climate change, particularly in in rice-based farming systems, impacts of climate change in agriculture and on rural livelihoods, coping mechanisms and vulnerabilities of men and women in the face of climate change risks, research on climate change, agriculture, food security and gender as well as climate smart agriculture and farming practices.
According to Dr. Paris, "the goal of reducing poverty and hunger, improving human health and nutrition, and climate resilience can be achieved if agricultural research institutions in partnership with extension agencies and NGOs will provide women and men equal access to opportunities and empower women to maximize their skills, talents and inputs for their benefit, their families, the society and the future generation." Dr. Paris also serves as a faculty-in-charge for UPOU's DWD program teaching Women and Work.
Thought provoking questions were raised during the open forum by the live and online viewers from overseas. The speakers and the audience engaged in a discussion of society's perception of women empowerment, lessons learned in terms of improving women's roles in preparing for and overcoming climate-related disasters as well as how can disaster risk reduction and management be gender sensitive. The forum provided insights on rethinking the concept of women's empowerment and gender roles and the interconnection of women, environment and community to further analyze and respond to the issues related to the said three concepts.
Held at the UPOU's Audio-Visual Room with livestreaming via networks.upou.edu.ph, the event was organized by the Diploma in/Master of Social Work (D/MSW) and Diploma in Women and Development (DWD) programs of FMDS in cooperation with the Office of Gender Concerns (OGC) and is in line with the National Women's Month celebration theme "We Make Change Work for Women."
The World Social Work Day is celebrated every 3rd Tuesday of March to recognize the contribution of social work and push for the promotion of the social work profession and its significant role in development. This observance is jointly organized by the International Federation of Social Workers (IFSW), the United Nations Research Institute for Social Development (UNRISD), the School of Social Work Geneva (HETS-Genève) and the International Association of Schools of Social Work (IASSW) where UP Open University is an institutional member through its D/MSW program under FMDS. The theme for this year's celebration is "Promoting Community and Environmental Sustainability" which relates to the 3rd pillar of the Global Agenda for Social Work and Social Development.
Article by Paula Grace Muyco