FMDS Pioneers Student Orientation via Social Media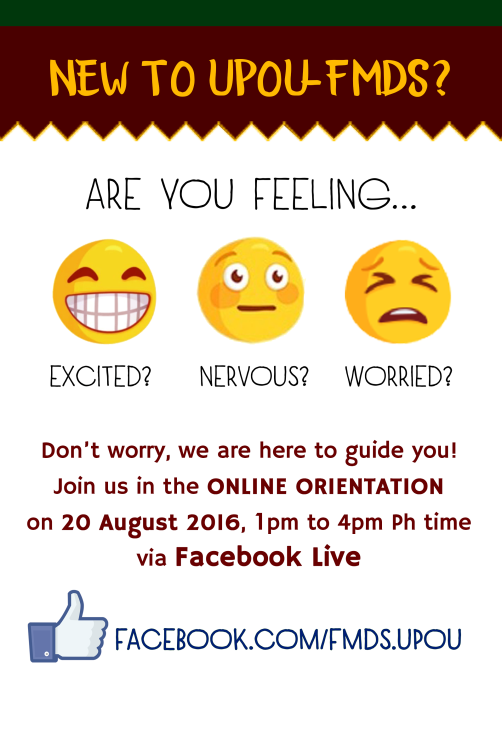 The Faculty Secretary's Office of the Faculty of Management and Development Studies (FMDS) held its very first Online Orientation for New Students on 20 August 2016. Making the most out of today's technology and most popular social media site, the orientation was conducted using Facebook's new live stream feature—Facebook Live.
The online student orientation via Facebook Live was a first for FMDS, which used to conduct its orientation face-to-face. Delivered using social media, the student orientation was made more accessible to students around the country and beyond. The said activity was organized for the newly admitted students as a venue to clarify points regarding the orientation materials, including academic and administrative policies, sent to them before the online student orientation.
The online student orientation was led by Asst. Prof. Rita C. Ramos, Secretary to the Faculty of FMDS, and Ms. Jeniffer F. De Pasion, FMDS Student Support Staff. There were also Program Chairs and Learning Center Coordinators who participated and helped answer some queries through the comments section.
The students who participated in the online student orientation commended FMDS' efforts to make this orientation more accessible. It was very convenient for them as it took place real-time. Some students were able to participate and ask questions even when in transit or while relaxing by the beach. The students were also confident in asking questions unlike in previous face-to-face orientation where students were reluctant to ask or clarify points.
The online student orientation was also recorded so students can go back to and watch it. The online student orientation garnered 3,742 views and 780 comments.