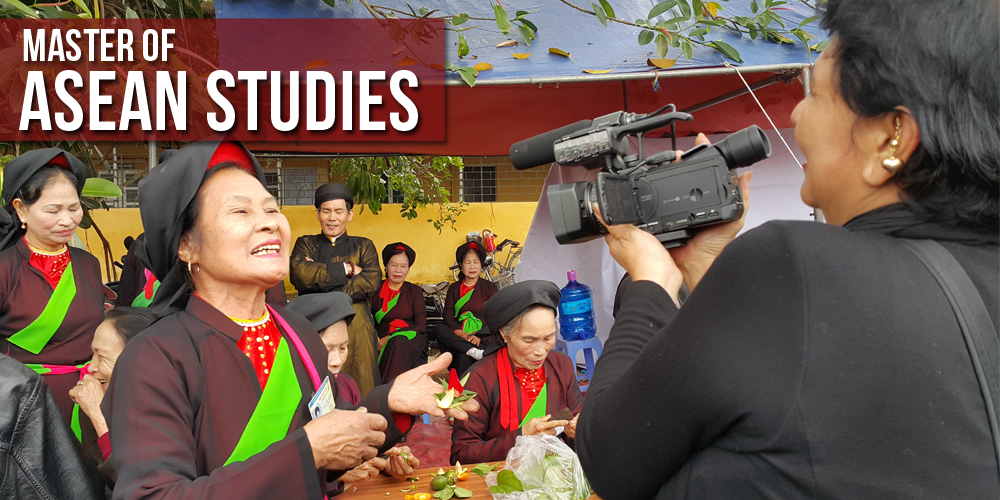 Master of ASEAN Studies
The framework of the program was jointly developed by five Open Universities in the ASEAN region, namely, Universitas Terbuka (Indonesia), Open University of Malaysia, Sukhothai Thammathirat Open University (Thailand), the Hanoi Open University (Vietnam) and the UP Open University (Philippines).
Program Description
The ASEAN Studies Graduate Program consists of a Graduate Certificate and a Master's Degree. It is intended to promote regional and global understanding about ASEAN Countries from the perspective of ASEAN; increase the ASEAN community's consciousness of its common historical, cultural, and regional identity; and obtain a balanced perspective in ASEAN studies.
The program is designed for post-baccalaureate individuals, professionals, practitioners (diplomats, policy analysts, educators, business people, public servants, NGO staff, development workers) and others who are interested, qualified, and academically competent to pursue a graduate level education.
Program Goals
The Master's Program aims to develop graduates who are able to:
Demonstrate comprehensive understanding, insights, and mastery about ASEAN and the countries comprising it;
Contribute to an enhanced and heightened ASEAN community's consciousness and awareness of its ties of history, culture and bound by a common regional identity but celebrating diversity;
Apply balanced theoretical and practical perspectives in engaging with issues and problems in the ASEAN region;
Contribute to knowledge creation, research development and sharing in ASEAN studies; and
Undertake further and advanced study in ASEAN studies and related areas.
Admission Requirements
Applicants should be a graduate of a Bachelor's degree from a recognized academic institution.
Mode of Instruction
Curriculum
The Master's program comprises 34 units of course work, that include 18 units of core courses, 6 units of elective courses, 1 unit of colloquium, a 3-unit research work and 6-unit thesis. A student should also pass the comprehensive examination upon their completion of the required courses (18 units of core courses, 6 units of elective courses, and 3 units of research course) in order to assess their readiness to undertake the master's thesis (ASEAN 300).  Students who completed ASEAN 300 should submit a publishable journal article together with the final copy of the thesis manuscript to earn a degree.
Courses
Program of Study
Students are expected to take the courses in the following sequence:
| Year | First Semester | Number of Units | Second Semester | Number of Units | Mid-Year Term | Number of Units |
| --- | --- | --- | --- | --- | --- | --- |
| 1 | ASEAN 201 | 3 units | ASEAN 202 | 3 units | | |
| | Elective | 3 units | ASEAN 203 | 3 units | | |
| | | | Elective | 3 units | | |
| 2 | ASEAN 204 | 3 units | ASEAN 206 | 3 units | Comprehensive Exam | |
| | ASEAN 205 | 3 units | ASEAN 291 | 3 units | | |
| 3 | ASEAN 300: Thesis | 6 units* | Residency | | ASEAN 299 (Colloquium) | 1 unit |
*Revised as of First Semester of A.Y. 2018-2019 as approved by the UPOU University Council on its 54th meeting on 23 August 2017.
Program Policies
A Student who completes the Graduate Certificate may opt to graduate with the degree and seek admission into the Master's program within three years of earning the Graduate Certificate and provided that he/she has a general weighted average (GWA) of 2.0 or better.   The admission policy of the program and the UP rule on crediting units shall apply.