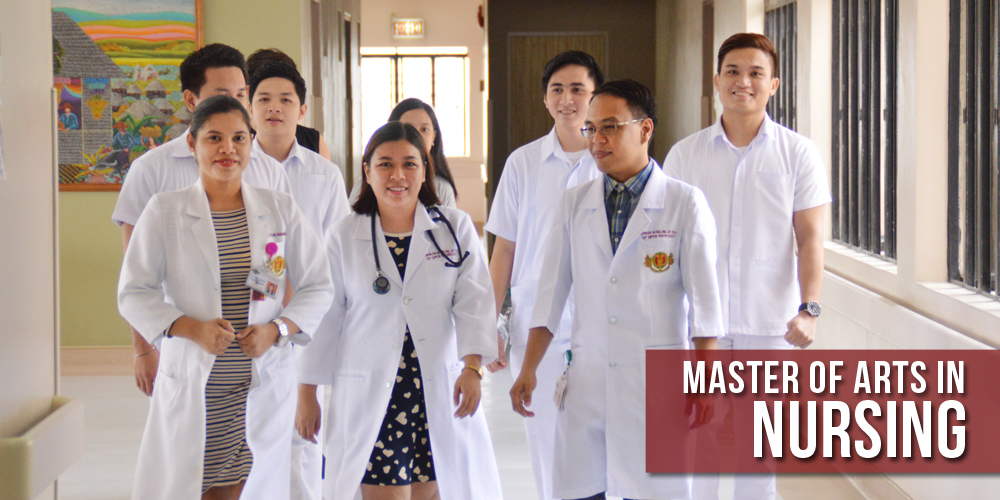 Master of Arts in Nursing
Program Description
The Master of Arts in Nursing program at UP Open University offers quality education available, accessible, and affordable to professional nurses in the country and abroad. It is intended for Filipino nurses working either in the far regions of the country or abroad where getting higher education is difficult. It is the opportunity for nurses working full-time or who cannot leave their work or family to get a post-graduate degree. It provides a flexible program that suit their time, availability and interest.
Students can choose from four major tracks: adult health nursing, maternal child nursing, nursing administration and gerontology and geriatrics nursing. Adult health nursing provides a framework for caring for clients with different health conditions such as cardiovascular and cancer. Maternal and child nursing covers care of the mother and child in different health conditions. Gerontology and geriatrics nursing deals with the care of the older person. Nursing administration provides diverse administrative perspectives in health human resources and organizational development. Major courses include clinical practicum to provide experiential learning.
Program Goals
The program aims to develop professional nurses who are able to:
Apply their understanding of nursing theories, research principles, methodologies to current problems and issues affecting the nursing profession and the health care delivery system;
Gain insight into self and others as fully functioning individuals;
Broaden their understanding of a related discipline that should serve as a further base for specialization in nursing;
Develop innovative measures in the delivery of health care services; and
Help in developing independent nursing practice.
Admission Requirements
Applicant must be a holder of bachelor's degree in nursing, i.e. BS Nursing.
An application form must be duly accomplished and submitted to the Office of the University Registrar, together with the following documents:
Original copy of the official transcript of academic records stating degree obtained, date of graduation, and Special Order from the Bureau of Private Schools (S.O.B. No).
Two letters of reference from former professors or supervisors, using UPOU standard format.
Official receipt of the application fee paid at any Philippine National Bank (PNB) branch.
Admission Policies
Applicants are screened by the Admission committee headed by the Program chair, (i.e. either Adult Health Nursing, Maternal Child Nursing, Nursing Administration or Geriatrics and Gerontology) whichever major program the applicant indicated in his/her application form.
Criteria for screening of applicants are as follows:
For initial screening, GWA of 2.125 is used as cut-off grade.

Applicants who have a GWA of 2.125 or better and who possess at least one year clinical and nursing-related experience are admitted to the program as degree students

Students whose GWA are on the borderlines are further evaluated through the composite scoring system (see box below).

The composite score consists of: equivalent score for GWA, length of experience, and nature of experience.

Applicants who have a composite score of 2.0 or better are admitted as degree students

Applicants who were not able to satisfy the GWA cut-off point or the composite score are admitted as probationary, for evaluation after 12 units.
Applicants who were not able to satisfy the GWA cut-off point or the composite score are admitted as probationary students, for evaluation after 12 units.
Mode of Instruction
Courses are delivered on a semestral basis using various technologies where appropriate. The virtual classrooms run in MyPortal, the learning management system of the UPOU. This is where class announcements are made, course materials uploaded, discussions held and assignments uploaded.
Courses
The courses are composed of core, major and elective. Core courses are foundation courses for both majors (specialization) and should be taken by all students. Major courses are specialization courses and are divided into (1) adult health nursing major, (2) maternal and child nursing, (3) nursing administration and (4) gerontology and geriatrics nursing. Elective courses are special nursing or nursing-related courses (from other disciplines) that students are allowed to choose from to suit their needs and strengthen their program of study.
Program of Study
Structure
The MAN program consists of 30 units of course work and six units of thesis. There are four core courses (12 units), four major courses (12 units) and two elective courses (6 units), and a thesis (6 units).
Program Policies
Practicum
All major courses under each specialty tracks have practicum requirements, namely: N260, N261, N262, and N219.6 (for Adult Health Nursing); N230, N231, N232, and N219.3 (for Maternal Child Nursing); N280, N282, N282, N219.8 (for Gerontology and Geriatrics Nursing. Students are required to go on clinic visits, clinic duties, and to submit case studies, nursing care plans, and other written reports. Specifics of the practicum are described in the Course Guide of each major course.
N219.3, N219.6 and N219.8 are both intensive practicum experience, for adult health nursing and maternal child nursing specialties, and gerontology and geriatrics nursing respectively. These courses can only be taken after the student has completed all other courses. These courses provide a venue for the application of the teaching, research, and clinical skills of the students.
Comprehensive Examination
The student applies for comprehensive examination after completing satisfactorily course work.
A comprehensive committee of five to seven members shall be constituted by the Dean of Faculty Office, (e.g. FMDS) upon recommendation of the Program Chair.
To qualify for the comprehensive examination, a student must have obtained a general weighted average of 2.00 or better of all courses taken; and a grade of 2.00 or better in all required courses in the major field of specialization.
Application for comprehensive examination shall be submitted to the Office of the University Registrar at least one month prior to the sate of examination. The application shall be recommended by the Program Chair and noted by the Dean of the Faculty Office to whom the program belongs.
The written comprehensive examination shall test the student's mastery of all courses taken, which are integrated into two major focus: (1) content) and (2) methodology. Details of the examination shall be left to the discretion of the Comprehensive Examination Committee.
A consensus based on the standards set by the Committee is required to pass the comprehensive examination.
Only one re-examination may be allowed within a year approved by the committee but not later than one year after the first examination. Failure to pass shall bar the student from earning the master's degree.
Master's Thesis
The thesis must be a worthwhile contribution to the nursing discipline and the methods are on the analytical type of research, whether quantitative or qualitative.
A thesis committee of five members, which includes: an adviser, a critic (reader), and three other panel members, shall be constituted by the Dean of Faculty Office, (e.g. FMDS) upon recommendation by the Program Chair as endorsed by the Adviser and in consultation with the student.
The thesis committee shall be in-charge of the oral defense of the thesis. The report of the examination shall be submitted by the adviser to the Program Chair, who will forward it to the Dean of the Faculty Office.
The master's thesis shall be graded either pass or fail.
A copy of the report on the result of the defense of the thesis shall be filed with the Faculty Office.
Frequently Asked Questions on the Program
If I do not satisfy the required work experience, can I still be accepted to the program?

In case you do not satisfy the required work experience, you may still be accepted to the program as a non-degree student. This means you will take the same courses as the regular degree students but you will be re-evaluated after taking up 50% of the courses in the program to assess if you can still continue as a degree student.

Please explain the admission requirement of scholastic ability and potential for profitable study.

The requirement is about maintaining a GWA of 2.0 or better to stay in the program. The program will also require a student to pass a comprehensive examination and defend a thesis paper after taking all the course work.

How long is the clinical practicum?

For major courses, it will take 32 hours and 60-80 hours for the intensive clinical experience.

Where is the clinical practicum conducted?

The clinical practicums are usually taken at the Philippine General Hospital towards the end of the semester.

How about offshore students, are they required to go home for the practicum?

We have some cases wherein offshore students are allowed to take their clinical practicum in their local setting provided the students satisfy the following conditions:

Appropriateness of their local setting for the required competencies of the course
Qualified preceptor (with MA degree in nursing and related clinical experience) willing to supervise the student without compensation from the University